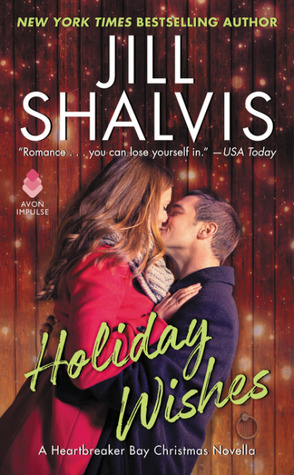 Holiday Wishes
by Jill Shalvis
Series: Heartbreaker Bay #4.5
Published by Avon Impulse on November 7th 2017
Genres: Contemporary Romance
Pages: 128
Format: Paperback
Source: Purchased
Amazon | B&N
Goodreads


It's Christmastime again in Heartbreaker Bay!
When Sean O'Riley shows up at the Hartford Bed & Breakfast for his older brother's bachelor weekend, he's just hoping to make it through the weekend. What he's not expecting is to come face to face with the woman he lost his virginity to a decade ago—a woman he's never really forgotten.
The last time Lotti Hartford saw Sean, she told him she loved him while he said nothing. Now, ten years later, she's just looking for a good time. For once, she wants to be the wild and free one, and Sean – the good time guy – is the perfect candidate.
But as the weekend continues, Sean realizes that after a lifetime of being the hook-up king, he's ready to find happily-ever-after, and he wants it with Lotti. But will she open her heart to him again? As Christmas sweeps through the little B&B, he can only hope love and magic are in the air.
My Review Continue reading →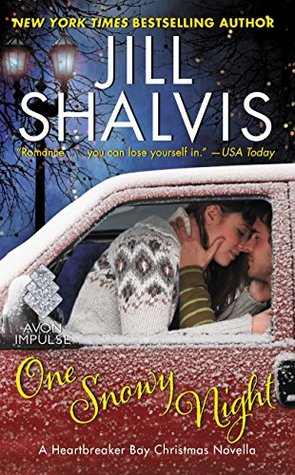 One Snowy Night
by Jill Shalvis
Series: Heartbreaker Bay #2.5
Published by Avon Impulse on November 8th 2016
Genres: Contemporary Romance
Pages: 160
Format: Paperback
Source: Purchased
Amazon | B&N
Goodreads


(A standalone Heartbreaker Bay novella)
New York Times bestselling author Jill Shalvis returns to Heartbreaker Bay with a fun and festive holiday novella!
It's Christmas Eve and Rory Andrews is desperate to get home to the family she hasn't seen in years. Problem is, her only ride to Lake Tahoe comes in the form of the annoyingly handsome Max Stranton, and his big, goofy, lovable dog Carl.
Hours stuck in a truck with the dead sexy Max sounds like a fate worse than death (not), but Rory's out of options. She's had a crush on Max since high school and she knows he's attracted to her, too. But they have history… and Max is the only one who knows why it went south.
They've done a good job of ignoring their chemistry so far, but a long road trip in a massive blizzard might be just what they need to face their past… and one steamy, snowy night is all it takes to bring Max and Rory together at last.
My Review Continue reading →