ARC Review: 'Hard as You Can' by Laura Kaye
February 24, 2014
I received a complimentary copy of the book from the publisher in exchange for an honest review. This does not affect my opinion of the book or the content of my review.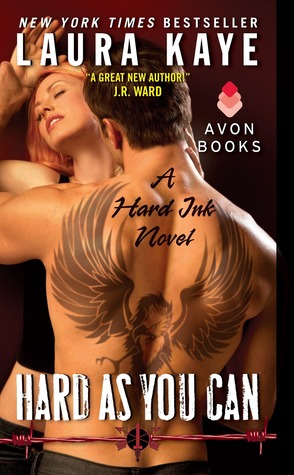 Hard as You Can
by
Laura Kaye
Series:
Hard Ink #2
Published by
HarperCollins Publishers
on February 25, 2014
Genres:
Romantic Suspense
Format:
eArc
Source:
the publisher
Goodreads
Purchase at
Amazon
|
Apple

Five dishonored soldiers.Former Special Forces.One last mission.These are the men of Hard Ink.
Ever since hard-bodied, drop-dead-charming Shane McCallan strolled into the dance club where Crystal Dean works, he's shown a knack for getting beneath her defenses. For her little sister's sake, Crystal can't get too close. Until her job and Shane's mission intersect, and he reveals talents that go deeper than she could have guessed.
Shane would never turn his back on a friend in need, especially a former Special Forces teammate running a dangerous, off-the-books operation. Nor can he walk away from Crystal. The gorgeous waitress is hiding secrets she doesn't want him to uncover. Too bad. He's exactly the man she needs to protect her sister, her life, and her heart. All he has to do is convince her that when something feels this good, you hold on as hard as you can—and never let go.
My Review
Hard as You Can is the second installment to the Hark Ink series by Laura Kaye, and it had the suspense and twists from the first book but add on the way more.
First off, I highly recommend reading Hard as it Gets first before diving into Hard as You Can. You will never know what happened in the first book if you try to read the second book first. (Believe me, you will want to know about Nick) =) Laura Kaye picks up the dilemma of the first book in Hard as You Can, but with different characters playing the principal part in the book. We are introduced to Shane and Crystal in this book, and they were meant to meet each other at the right time.
What can I say about the characters before going into what I loved most about the book? I was not fond of Crystal due to her staying with a guy that continuously hurt her physically. She kept coming up saying why she needed to stay with him, and then she had her sister who had no clue what was going on. Crystal finally won me over a bit when she was there to help her sister and then at the end of the book. She finally realized what she needed to do to get away.
The minute Shane is introduced, he's actually in disguise, but he had already won my heart. He's the gentleman of the bunch who doesn't handle well with women and children getting hurt. He has a past he's trying to get over on what happened with his little sister, so he's got a soft side. He also is scary to mess with when it comes to loved ones getting hurt. I loved how he was there always for Crystal, even when she gave him such a hard time. He was persistent…and he had ways of charming a girl. =)
I loved the suspense of Hard as You Can and how Laura Kaye answered some questions from this book, but of course, opened up new ones. She gripped in from the first page due to what as happening to the characters. She's continuing with what happened to Becca and her brother from the first book into this one. There's some closure in this book, but Hard as You Can make you want more of the Hard Ink guys.
I give this book 4 full moons and recommend it to romantic suspense readers out there, and readers that enjoy sexy ex-military members who are out for vengeance.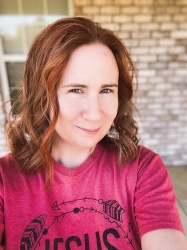 Latest posts by FranJessca
(see all)