ARC Review: 'Heart of Iron' by Bec McMaster
May 9, 2013
I received a complimentary copy of the book from Netgalley, the publisher in exchange for an honest review. This does not affect my opinion of the book or the content of my review.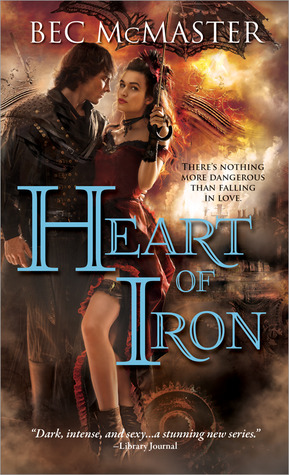 Heart of Iron
by
Bec McMaster
Series:
London Steampunk #2
Published by
Sourcebooks Casablanca
on May 7, 2013
Format:
eArc
Source:
Netgalley, the publisher
Goodreads
Purchase at
Amazon
|
Apple

In Victorian London, if you're not a blue blood of the Echelon then you're nothing at all. The Great Houses rule the city with an iron fist, imposing their strict 'blood taxes' on the nation, and the Queen is merely a puppet on a string…
Lena Todd makes the perfect spy. Nobody suspects the flirtatious debutante could be a sympathizer for the humanist movement haunting London's vicious blue blood elite. Not even the ruthless Will Carver, the one man she can't twist around her little finger, and the one man whose kiss she can't forget…
Stricken with the loupe and considered little more than a slave-without-a-collar to the blue bloods, Will wants nothing to do with the Echelon or the dangerous beauty who drives him to the very edge of control. But when he finds a coded letter on Lena—a code that matches one he saw on a fire-bombing suspect—he realizes she's in trouble. To protect her, he must seduce the truth from her.
With the humanists looking to start a war with the Echelon, Lena and Will must race against time—and an automaton army—to stop the humanist plot before it's too late. But as they fight to save a city on the brink of revolution, the greatest danger might just be to their hearts…
My Review
Usually, when I read out of order, I get the eye twitch and the brain telling me, YOU are in the wrong for reading out of order….but this time I did not. When I read the synopsis of Lena and Will's story I was intrigued to find out about them…and that is why I read this book before the first book.
Bec McMaster's "Heart of Iron" was so good that I found myself sleep deprived, drinking lots of coffee, and forgetting about the real world around me. My husband would try to talk to me, and I would give him the evil eye, and he would back off. (He should know by now not to mess with the redhead while she is reading but he never learns) I loved Will and Lena's story and will be reading the rest of the series…and of course going back to the first book this summer when I have some free time between college classes and moving.
Bec McMaster is a new author to me, and I loved her writing style. I just got an interest in the Steampunk genre, and now I am officially hooked. There is no looking back for me. I am obsessed, and Bec helps my obsession get worst. From the first page to the very last page I was on the edge of my seat. I will not spoil the story and talk about what happened. Instead, I'm going to go over everything I loved and why I gave the story 5 full moons.
One I loved Will…he is one male not to mess with, and he has his reasons why. The poor chap had his hands full with being second-in-command of Blade and trying to avoid the beautiful Lena. He stole my heart the minute his story started to unravel and why he was so dangerous.
Lena is one female character who is going on my list of FAVE kick-butt females. Here this woman went through so much in this book, and she managed to get through it all, even when she put herself in those predicaments. She did not know who to trust though, and I could not blame her. What happened to her, in the end, she embraced it and managed to get through everything.
I loved Bec McMaster's take on the vampires and how they are not to be messed with but feared. She has a whole new world that I cannot wait to fall in love with more.
The villain in this story had me wanting to punch his lights out for Lena, but she managed quite well to put the man in his place. With some help.
The ending of this book was a doozy. I literally was on the edge of my seat with the characters.
There is so much action in this book that you will have a hard time putting down this book. You have the blue blood, the Norwegians, the humanists, etc.
I give this book 5 full moons and highly recommend it to steampunk romance readers and paranormal readers out there.
I have found yet another author who is going on my auto-buy list now, and I look forward to the next book in the series and everything else that Bec McMaster decides to write.
If you have not checked out this series, you are missing out.
I received a complimentary copy of the book from the Publisher via Netgalley in exchange for an honest review.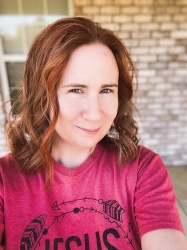 Latest posts by FranJessca
(see all)