ARC Review: 'His Demand' by Lisa Renee Jones
February 12, 2019
I received a complimentary copy of the book from the author in exchange for an honest review. This does not affect my opinion of the book or the content of my review.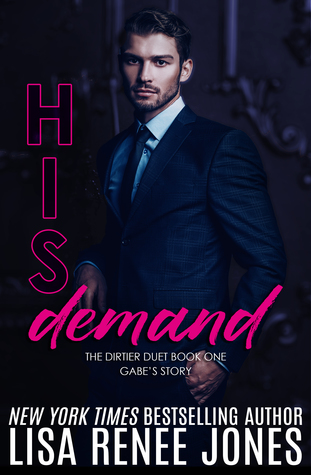 His Demand
by
Lisa Renee Jones
Series:
Dirtier Duet #1
Published by
Self-Published
on February 12 2019
Genres:
Contemporary Romance
Format:
eArc
Purchase at
Apple
|
Barnes & Noble
|
Kobo

Gabe Maxwell is a powerhouse in the boardroom, a man with a dark past he's buried under success and power. He's not a white picket fence and forever kind of guy and he's definitely not into redheads. That is until one corners him, kisses him and thanks him for waking her up. Right before she walks away and leaves him. She's gone and he's obsessed.

Then she walks into his office and back into his life, and he has to have her. It doesn't matter that she's the kind of woman you marry. It doesn't matter that she's everything he avoids because she's everything he wants.

Only Abbie isn't the good girl she seems. She has secrets and a past and soon, she'll pull Gabe into her bed, her life, and that spells more than obsession. It spells danger.

Yes, finally, Gabe's story. I've been anxiously waiting for Gabe Maxwell's story since I found out he was Reid's and Cat's brother in the Dirty Rich series. He's been mysterious since the moment he was introduced, and I wanted to know who the lucky woman would be to tame the player.
The first couple of chapters is when I find out that Gabe doesn't like redheads. What the heck?! What is wrong with redheads, Mr. Gabe Maxwell? I found it ironic though that the heroine he meets at the bar who kisses him is a redhead. Now, Gabe can't get her out of his head and wants more from her.
Abbie, the redhead that swooped in and kissed Gabe at the bar never expected that he was the brother of the lawyer she's trying to hire to help her deal with her ex-husband. Gabe is determined to help the feisty redhead since his brother is away with his wife on their honeymoon, even when Abbie tries to persuade him several times not to help her. She's afraid that Gabe is going to end up getting hurt or killed by her ex and his friends that have it out for her.
Lisa Renee Jones knows how to write some fantastic storylines for her books, and His Demand is no different. There are also the characters in the stories that make the book very exciting. I loved Gabe in the story because I finally got to know him more, instead of being the secondary character in the story. He has a soft side to him, especially when it comes to dogs and puppies. (Yup…he won me over with his sweet side. He also won me over with the steamy scenes too. I'll never think about pancakes the same way thanks to Gabe.) He also wants to help Abbie with her ex-husband. He has his hands full though with her because she is demanding.
The only issues I had with the book was Abbie continually wanting to run away from Gabe and keeping secrets from him. If she would be upfront with him then maybe Gabe and his brother Reid could help her with her ex-husband. Gabe and Reid know how
Forewarning that this book does have a major cliffhanger at the very end of the book. You'll have to wait until the next book comes out in April for what happens next. In the meantime, though, if you have not read the Dirty Rich series, which first introduced Gabe, then I highly recommend reading those books.
---
Story Rating: 4 stars
Steaminess Rating: 4 stars
Standalone or part of series: First book in Dirtier Duet. Gabe appears in the Dirty Rich series, but the Dirtier Duet can be read as a standalone from the Dirty Rich series. Although, I highly recommend reading the Dirty Rich series too. 🙂
Do I recommend this book? Yes. If you are a fan of Contemporary Romance.
Will I read other books from the author? She's one of my auto-buy authors, so yes!
Trope/Elements: Strangers to Lovers who both have secrets. Hero: Lawyer and well-known player, doesn't like redheads for some reason until he meets the heroine. Heroine: Former Lawyer who needs Gabe/Reid (his brother's) assistance on handling her ex-husband who has it out for her. Both characters have a love for animals.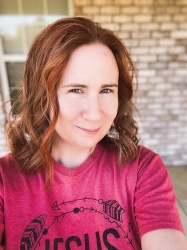 Latest posts by FranJessca
(see all)