ARC Review: 'Rev it Up' by Julie Ann Walker
October 4, 2012
I received a complimentary copy of the book from Netgalley in exchange for an honest review. This does not affect my opinion of the book or the content of my review.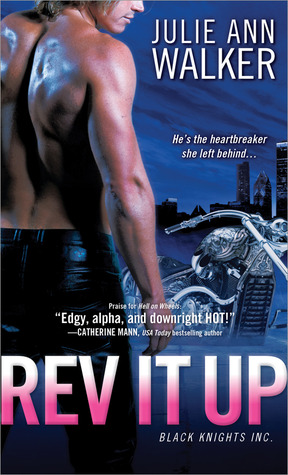 Rev It Up
by
Julie Ann Walker
Series:
Black Knights Inc. #3
Published by
Sourcebooks Casablanca
on October 2nd 2012
Genres:
Romantic Suspense
Format:
eArc
Source:
Netgalley
Goodreads
Purchase at
Amazon
|
Barnes & Noble

He's the heartbreaker she left behind...
He Never Misses a Target
Jake "the Snake" Sommers earned his SEAL code name by striking quickly and quietly—and with lethal force. That's also how he broke Michelle Carter's heart. It was the only way to keep her safe—from himself. Four long years later, Jake is determined to get a second chance. But to steal back into Michelle's loving arms, Jake is going to have to prove he can take things slow. Real slow...
She Aims to Make Him Beg
Michelle Carter has never forgiven Jake for being so cliché as to "love her and leave her." But when her brother, head of the Black Knights elite ops agency, ticks off the wrong mobster, she must do the unimaginable: place her life in Jake's hands. No matter what they call him, this man is far from cold-blooded. And once he's wrapped around her heart, he'll never let her go...
---
"Rev it Up" picks up from where "In Rides Trouble" because Jake Sommers is back and the first words out of his mouth are "he's here for Shell." That kind of cliffhanger needs to be addressed because I wanted to know who the heck Jake was and why he wanted Shell, Boss's sister. Jake, otherwise known as "Snake," is back, and there is only one thing on his mind, and that is convincing Shell he's in love with her and always has been. A few years ago, he broke Shell's heart by saying some nasty stuff and also throwing her into another man's arms that were happy to make Shell happy when Jake would not give her the time of day. Michelle (aka Shell) does not want anything to do with Jake. He broke her heart those years ago, and she's moved on with her life. She has a son she has to take care of, and she also does not need any trouble in her life, especially when a jerk who ran away from her. Michelle, though is about to be caught up on what is happening to the Black Knights.
Boss, who runs the Black Knights secret operation, has to keep his sister and his nephew safe from the people who want him and his men dead. He sends Jake to protect her, but Michelle is not cooperating. Jake will do anything to prove he loves her and will do anything to protect her and her son. Oh boy, this book had some moments in it, especially when it came to the truth coming out between Michelle and Jake. I was upset about that truth, as well as the character that got hurt. Although Michelle did have her reasons in the end and I felt she did the right thing. Jake and Michelle had to bring up the past to fix the present and the future they wanted together. When the truth comes out, though, people will get hurt. Jake should have listened to Michelle a long time ago, but he was downright stubborn and thought he was doing the right thing walking away from her. Michelle was persistent as well, but she was one strong woman to keep Jake at bay when he first came back in town. The person behind trying to kill the Black Knights was downright ruthless, and he would do anything to kill one of the Knights and kill their family and friends.
This is one series I plan on keeping up with when it comes to reading. Julie introduced us to some new characters, and I want to know about Rock and Vanessa and how their story will play out. She also threw in some other characters from the previous book. (Can I say my fave part was when Becky jumped on Boss's back in the hospital. Get him, GIRL!!!) =)
I'm in love with these men at the Black Knights Inc, and I cannot wait until Book 4 and Book 5 come out next year.
If you love romantic suspense, this is the series for you. Make sure you read Hell on Wheels (Book 1) and In Rides Trouble (Book 2) first, though. You want to know about the previous characters. My FAVE characters are still Becky and Boss. Be prepared once you read "Rev It Up"…it's a book full of a lot of action and a lot of emotion. Be ready to ride the emotional roller coaster in this book.

This post contains affiliate links you can use to purchase the book. If you buy the book using that link, I will receive a small commission from the sale. It will help sponsor future giveaways but costs you nothing extra. You can read the full disclosure underneath the Privacy Policy.
---
---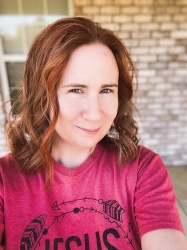 Latest posts by FranJessca
(see all)