Review: 'Angel of Darkness' by Cynthia Eden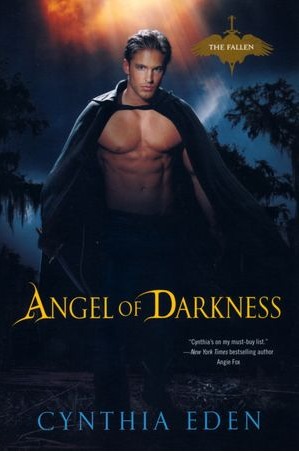 Angel of Darkness
by
Cynthia Eden
Series:
The Fallen #1
Published by
Brava
on November 29th 2011
Genres:
Paranormal Romance
Pages:
305
Format:
Paperback
Source:
Library
Amazon Kindle
|
Amazon Paperback
Goodreads

As an angel of death, Keenan's job is to collect the souls on his list. He's carried out his duty for two thousand years and never faltered once. Until he meets Nicole St. James. When the moment of death comes, Keenan hesitates, and instead of taking Nicole, Keenan touches the vampire who's attacking her.
Cast out of heaven for disobedience, Keenan plummets to earth. Six months later, he finally manages to track Nicole to a bar in Mexico. He's stunned to discover that the woman he remembers has undergone a dramatic change—she's become a vampire. And when he realizes that she's the target of all manner of enemies—other vampires, demons, even shifters—he'll do whatever it takes to protect her, even if all hell breaks loose…
My Review

I saw "Angel of Darkness" on my Recommended Reads from Amazon.com, one day, and thought I would try it out.  It took me a while to receive the book since I borrowed it from my Library, but once I did get it, I had a hard time putting it down.  Cynthia Eden, you are a New Author to me, and I love "The Fallen" Series so far.  I'm used to sappy Angel stories, where the Angel is a girly boy (Yes…I said that).  I needed a Manly Angel who was Dark and Sexy…and you gave me just that and more.
Cynthia Eden throws you into a different world of Fallen Angels.  This book is about Keenan, and he's the Angel of Death.  It's his job to take souls to Heaven after their Death (sometimes horrific).  Unfortunately, Keenan doesn't do that to Nicole's soul.  Instead, he interferes with her death, but instead of a happily ever after for Nicole, she turns into a Paranormal being herself.  She never expected Vampires to exist, let alone Angels.  What's the craziest thing about Keenan and taking the souls are one touch, and you're dead, but you have to be close to death (mostly).
When Keenan interferes of course he's stripped (burned) of his wings.  He crashes to Earth and his main focus to find Nicole again.
That doesn't turn out well for him when he sees Nicole again.  That poor girl is put through hell.  She's hunted down several times, thrown into the chaos of the Paranormal World.  What is Keenan to do to prevent her death again?
I loved everything about this book, the drama, the action, the romance and of course the characters.  I can't wait to see where Cynthia Eden takes us next in the Series.  Although, she does do a sneak peek of who is up next in her Series.  I did think some characters were annoying, and I wanted to BITCH Slap a couple of them…but who doesn't have a Villian or Villians that do that to you.
I wasn't expecting the ending and who was the ACTUAL Big Villain.  What that Villain had to go through at the end to defeat him (He got what was coming to him).
This is recommended read to anyone who loves reading about "Fallen Angels" and loves twists to the Heaven/Hell stories.
This is categorized one of the Best "Fallen Angel" Book I've read in a while…next to "Touch of Crimson" by Sylvia Day of course.  =)


I guess I should type a bio here. I'm FranJessca or Fran for short. I'm the owner of Book Lovin' Mamas and main Reviewer. I've been reviewing books since I got out of the Navy in 2011. Now 8 years later, I'm still reviewing, but this time with my youngest sidekick.
When I'm not reading and reviewing, you can find me at my day job during the week and on the weekend taking care of our little farm.

Latest posts by FranJessca (see all)