Review: 'Blood Law' by Karin Tabke
October 31, 2011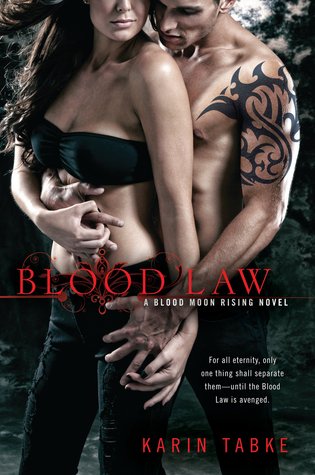 Blood Law
by
Karin Tabke
Series:
Blood Moon Rising Trilogy #1
Published by
Berkley
on May 3rd 2011
Format:
eBook
Source:
Purchased
Goodreads
Purchase at
Amazon
|
Apple

For all eternity, only one thing shall separate them—until the Blood Law is avenged…
The coming of the Blood Moon will lead two Lycan packs into war, spur two rival brothers into conflict, and spark an act of vengeance so evil that its effects will be felt for generations.
One woman stands at the center of it all.
As undisputed Alpha, Rafael must choose a life mate to preserve the dominance of his Lycan pack. He never suspected, his mate would be a human, the same wounded, girl-woman he seduces from the brink of death. Falon is a dangerous combination of Lycan and Slayer—beings bred to destroy his kind. Even more, she's a mesmerizing beauty whose sensuality tempts the seasoned warrior to take unnecessary risks. The primal heat between them is irresistible, yet surrendering to it could destroy them both…for a vengeful foe stands ready in the shadows to fulfill what is rightfully his by Blood Law.
My Review:
(Originally Reviewed on Mrs. Papillion aka "The Book Worm")
I finished this book October '11 and had to get it back to the library in a hurry. Thanks to my local library for ordering this book so I can read it. I gave it 4.5 stars. I enjoyed reading this book and think I will have to buy it eventually for my collection at home.
 Now onto my opinion of the book. Let me say I wasn't really into the book at the beginning. I thought it took a while to get it up to some action and drama that I was used to reading. After a few chapters though, it got fascinating and I had a hard time putting it down. Especially, the sex scenes between the main characters Rafael and Falon. Wow!!!! It got heated and steamy between them, and I don't think I've ever read a book where the characters had so much love and sex with each other except maybe the Anita Blake Series by Laurell K. Hamilton. It even threw in a threesome almost in this book between the two brothers and Falon, but I won't get into how that happened. All I can say is Falon, the poor woman is going through a difficult time in this book and goes through hell…but she is ONE TOUGH CHICK. I loved the ending the most because it left such a KICKASS Cliffhanger that will piss you off. At least it pissed me off because I wasn't expecting it…but in a good way of pissing off. Again, poor Falon that woman sure has gotten herself into a jam.
Now onto the characters, my favorite character has to be Falon of course because she's one strong ass female character. She's been the most influential female I've read since "Dark Taste of Rapture" by Gena Showalter. Noelle and Falon would get along very well together. She goes through a lot in this book which anyone would feel sorry for her. At least I did. The woman didn't know who or what she was exactly, but she knew she was different. She's being tracked down by the Slayers but ends up coming across the Lycans. That is when she meets Rafael who she doesn't think she can trust at first. She doesn't know what world she is landed in when she comes across the Slayers and Lycans, but she has to learn quickly how to survive in their two worlds.
My thoughts on Rafael in this book is this guy has had it hard too. Not only is he trying to save his pack, but he's also having to deal with his twin brother who has it out for him for killing his mate. Whoever Rafael decides to mate; his twin brother has a right to kill as per the Blood Law. Poor Rafael, if he meets his soulmate, he will be forced to turn her over to be killed by his brother. Who would want that? I almost want to hug him. He'll only know love for a while…but what if he's willing to fight the Blood Law? Now that is when it gets exciting.
You will have to read this book to find out what the brothers are fighting about in it. I don't want to spoil it for anyone who hasn't read it. I do want to read more about the twin brother though in the next book, which I know will happen. =) You'll also need to read the book to find out what Falon finds out about herself. Karin Tabke knows how to make you sit on the edge of your seat.
I look forward to reading the next book in the series and getting to know more about the characters and what happens next.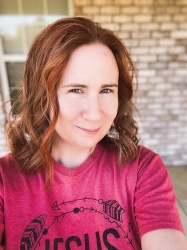 Latest posts by FranJessca
(see all)