Review: 'Caressed by Moonlight' by Amanda J. Greene
November 13, 2012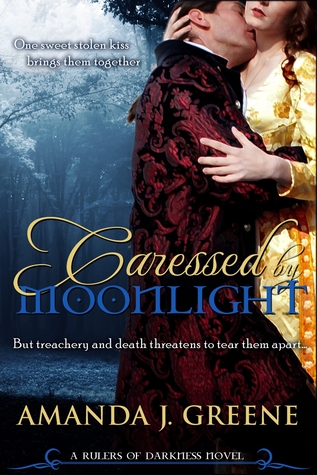 Caressed by Moonlight
by
Amanda J. Greene
Series:
Rulers of Darkness #1
Published by
Amanda J. Greene
on February 10, 2011
Genres:
Paranormal Romance
Format:
eBook
Source:
Purchased
Goodreads
Purchase at
Amazon
|
Apple

Dorian Vlakhos is no ordinary aristocrat. He is a vampire, who will do anything to save his clan from complete annihilation, before an ancient curse can claim his immortal life. Penniless and orphaned, Victoria Kingston has nothing to bring to a marriage, yet she must shackle an unsuspecting gentleman into marriage by the end of the month or forfeit her rights as guardian of her younger sister. With the help of her dearest friend, Victoria begins her hunt, and vows to stay far away from the dark, mysterious, Dorian Vlakhos. After meeting the beautifully innocent Miss Kingston, Dorian had to have her. He would do absolutely anything to make Victoria his. One sweet stolen kiss would bring them together while a force, more powerful than any vampire, would bind them for all eternity, but treachery, war, and death rule Dorian's dark world and Victoria would be fortunate to survive.

I have had this book on my TBR list for a while on Goodreads, and I have wanted to read it since I saw the cover and read the description.
When I found out Amanda J. Greene was going to the Indie Romance Convention…I had to kick my butt into gear and read her books.  I was sucked into the first book of the Rulers of Darkness.
Victoria Kingston, a beautiful woman, whose life is turned upside down one day when her father commits suicide, and she are forced to sell everything that the family had and move her and her sister to London to live with their dreadful Aunt.  Her Aunt has always hated Victoria since she blames Victoria's mother on what her brother did to marry Victoria's Mom.  Plus Victoria looks identical to her mother, so that is another reason why her Aunt despises her.
Victoria's Aunt gives her a choice if she wants to keep seeing her little sister, Margaret in her life, she will have to find a husband in a month.
This will not be an easy task for Victoria since she has never really been to any parties thanks to her father not introducing her to any of the male suitors out there.
She must lean on her best friend for help to find the perfect man to marry.
Dorian Vlakhos is in London after leaving his homeland to get the hunters away from his people's slaughter.  He believes the hunters will follow him where he goes since they want him more than his people.  He is the Vampire King of his Clan and most treasured man to kill.  Dorian is known to the humans as Prince Dorian though and who is to correct them.  When he decides to go to a party one evening, he ends up meeting the stunning, Victoria and he can not stop the feeling of wanting to claim her in bed.
Victoria is not wanting to be with Dorian of course and keeps brushing him off as an eligible suitor for herself, but Victoria's hateful Aunt finds out some gossip and puts the decision of Victoria seeing her little sister to a halt and kicks Victoria out.
Victoria then decides the only person to help her will have to be Prince Dorian.
I could go on and on about the book, but I do not want to give away too much.  It had a lot going on in it, and it flowed very well.  Let's say I did not always get my priorities straight when it came to college homework or reading.  Sometimes "Caressed by Moonlight" won over writing up an essay.  What can I say…I love a book that has a strong male character and an even stronger female character.
Victoria is one determined female character who is just a very caring big sister.  She loves her little sister very much and never expected actually to fall in love with a man, or she at least thinks he is a man.
Dorian who is trying everything to save his people never expected to find Victoria who may be his mate, which is the vampire world was supposedly a myth.
I enjoyed the first book to the Rulers of Darkness, and now I must find time to read the 2nd one before the 3rd book comes out next year.  I will make time though because Amanda left me hanging in the epilogue.  Oh yes, a cliffhanger. I had to re-read it to make sure I was reading the name correctly.
May I also say that the steamy scenes and fight scenes were HOT…but of course in different ways.  Amanda made sure to write out a fight scene that was not too short and not too long.  Some Authors like to make a quick kill or a long dragged out kill…Amanda did it perfectly.  I visualized on what the fight scenes were like if they were real. And the steamy scenes well you'll have to read the book to find out.  *sigh*  =)
If you want an amazing historical paranormal romance book then definitely check out "Caressed by Moonlight."
I'm looking forward to the next book now.  =)  I need to know since the epilogue gave me a sneak peek on whose book is next.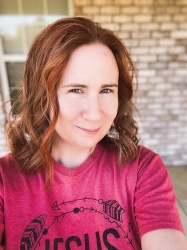 Latest posts by FranJessca
(see all)