Review: 'Caressed by Night' by Amanda J. Greene
February 19, 2013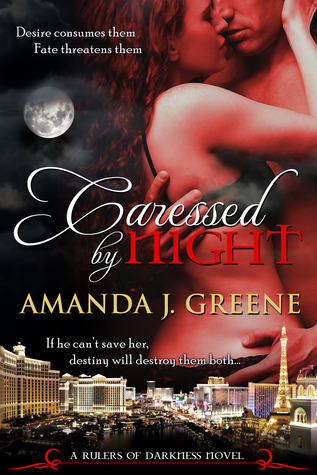 Caressed by Night
by
Amanda J. Greene
Series:
Rulers of Darkness #2
Published by
Self-Published
on February 29th 2012
Genres:
Paranormal Romance
Format:
eArc
Source:
Purchased
Goodreads
Purchase at
Amazon

Dimitri Arsov, the last remaining pure vampire, was thought to be dead for the past four hundred years. Now, he is back and has a score to settle with the traitor that had tried to kill him centuries ago. But as he waits for his prey to blindly step into his carefully laid trap, his overwhelming hunger for blood is triggered when he saves a beautiful art historian.
Kerstyn Ingmar's life was normal and straight up boring until the night she is rescued by the dangerously sexy, powerfully mesmerizing, Dimitri. Unable to resist his diamond blue eyes and intense kisses, she is drawn into his world of darkness and closer to her impending doom.
While their desire consumes them, Dimitri is haunted by images of a bloody and deadly future. As his enemies draw near, he must find a way to save his mate from her destiny before fate destroys them both.

I had to hold off on reading "Caressed by Night" because of being bogged down with other books…but I had to make time for it since the third book came out last month.  I love this series from Amanda J. Greene.
Amanda's "Rulers of Darkness" novels captivate you from the first page to the last page.  Her world of vampires is sexy, dangerous, and very protective of their heroines. In "Caressed by Night," Amanda takes us into modern-day Las Vegas, unlike "Caressed by Moonlight" which was in the 1800s London timeframe.  Dimitri Arsov, King of the Arsov Clan, is back from the dead, at least everyone thought he was killed, but he fooled everyone until he was ready to announce he has always been alive.  He has been waiting patiently until the right moment to get his revenge, while also finding his mate.  She's alive in present-day Las Vegas, and he will stop at nothing to have her.  He has waited for her for centuries.  Now he must save her before she is killed.
Kerstyn Ingmar's life was very predictable until the night her best friend chose her boyfriend's words over hers.  Now she has to start over and find a place to live and work.  Dimitri the stranger who saved her one night is going to save her again, but this time he will introduce her to his world.
Kerstyn never thought the creatures of the night were real until Dimitri tells her what is out there.
Dimitri must keep Kerstyn safe otherwise his visions of her death will come true.  He will ask his vampire friends to help him and also a witch who happens to be Kerstyn's best friend."Caressed by Night" goes further into the Rulers of Darkness series and how vampires are everywhere among the humans.  They are trying to get back their clans the way they used to be by having the real rulers come back into power.  In "Caressed by Night," we have Dimitri's enemy that is living a lie because he believed he killed Dimitri and Dimitri will do anything to knock him off that pedestal.
I was a little confused at first because when I read "Caressed by Moonlight" it was set in the 1800s and I did not realize until about mid-way that "Caressed by Night" was based in modern day.  One thing that intrigued me was how Amanda brought back previous characters into the storyline and how they are doing now in modern day, Dorian and Victoria, two characters who stole my heart in the first book.
Dimitri is one sexy and powerful vampire king who won me over. He had his moments though where he was over-protective, but for someone who sees visions of what is to come, I would be overprotective as well.
My favorite character was Kerstyn though in this story.  She had gone through a lot and still managed to be strong.  She even put Dimitri in his place every once in a while. She was also able to accept Dimitri's world and was happy to know the truth about him and his friends. This seriously is probably one of my top fave vampire series that I have read since I started reading like crazy in 2009.  I love Amanda's writing and how she makes vampires not those sweet and sparkly kinds.  She makes them powerful, dark and commanding and I look forward to the next book in the series. If you like your vampires like they are supposed to be, then you should check out this series from Amanda J. Greene. I give this book 4.5 moons and highly recommend it to paranormal romance readers and vampire lovers out there.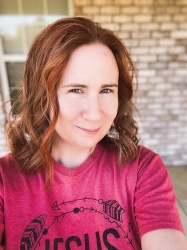 Latest posts by FranJessca
(see all)