Review: 'Crescendo' by Becca Fitzpatrick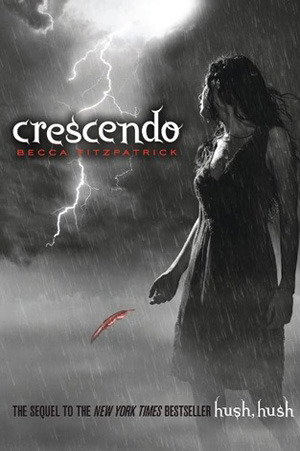 Crescendo
by
Becca Fitzpatrick
Published by
Simon & Schuster Books for Young Readers
on October 19th 2010
Pages:
427
Format:
eBook
Source:
Purchased
Amazon Kindle
|
Amazon Paperback
Goodreads

Nora Grey's life is still far from perfect. Surviving an attempt on her life wasn't pleasant, but at least she got a guardian angel out of it. A mysterious, magnetic, gorgeous guardian angel. But despite his role in her life, Patch has been acting anything but angelic. He's more elusive than ever (if that's possible) and what's worse, he seems to be spending time with Nora's archenemy, Marcie Millar.
Nora would have hardly noticed Scott Parnell, an old family friend who has moved back to town, if Patch hadn't been acting so distant. Even with Scott's totally infuriating attitude, Nora finds herself drawn to him - despite her lingering feelings that he is hiding something.
If that weren't enough, Nora is haunted by images of her murdered father, and comes to question whether her Nephilim bloodline has anything to do with his death. Desperate to figure out what happened, she puts herself in increasingly dangerous situations to get the answer. But maybe some things are better left buried, because the truth could destroy everything - and everyone - she trusts.
My Review
(Originally Reviewed on Mrs. Papillion aka "The Book Worm")
This Book had me so UPSET, but in a good way because I couldn't put it down. I ended up crying several times because of what Nora was put through in this book. Let's say I despised Patch in this book and wanted nothing more, but to go into my Kindle and smack him to find out why he was putting Nora through Hell. It wasn't fair to her and to make her go through him being with Marcie, another person I wanted to smack around. I am very proud of Nora and her sticking up for herself though. She proved to be a Strong willed girl in this book. I wasn't expecting the part about her Father though. Wow, Becca, you had me on the edge of my seat on that one. I also wasn't expecting the ending. I was upset that you left me hanging…but that's okay…I got over it. Now I can't wait for the next book. Thank you, thank you for this fantastic book. I read it faster than I wanted, but that's okay…gives me more time to ponder on what you may put Nora and Patch through next. I can't wait!!! =)


I guess I should type a bio here. I'm FranJessca or Fran for short. I'm the owner of Book Lovin' Mamas and main Reviewer. I've been reviewing books since I got out of the Navy in 2011. Now 8 years later, I'm still reviewing, but this time with my youngest sidekick.
When I'm not reading and reviewing, you can find me at my day job during the week and on the weekend taking care of our little farm.

Latest posts by FranJessca (see all)