Review: 'Fire on the Island' by J.K. Hogan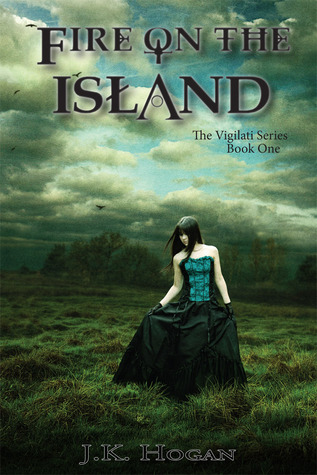 Fire on the Island
by
J.K. Hogan
Series:
Vigilati #1
Published by
Sapphire Star Publishing
on August 2nd 2012
Genres:
Paranormal Romance
Pages:
376
Format:
eBook
Amazon Kindle
Goodreads

"She who wields the mark is the barrier between man and monster. She is the daughter of gods, the mother of man, protector of all. Vigilati Usque Ad Mortem"
All Isla Macallen wanted was a simple existence on her little Scottish island, free from her mother's insanity and the prying eyes of neighbors. What she got was embroiled in a war for the souls of mankind. A war of good versus evil, of witches versus demons, and Isla learns that she alone can end it.
Dr. Jeremiah Rousseau was a self-proclaimed nomad, traveling the world researching paranormal phenomena. He doesn't expect his research to lead him to Scotland, and to the woman who will turn his world upside down.
Together with a facetious shapeshifting animal spirit guide, Jeremiah and Isla discover that she is part of an ancient bloodline bred to protect the gateways between the human world and the spirit world, to keep evil demons from destroying them. They must find the key to defeating Alastore, the demon king, and closing the gate before Samhain, when the veil between the worlds is lifted. As the war for their souls wages around them, Isla and Jeremiah will risk it all for love—a love neither had ever thought possible.
My Review
I always love a good witch story and of course this book definitely had me intrigued when it was set in Scotland.  I absolutely adore Scotland!  Cannot wait to make a trip out there myself.  =) Isla Macallen has come to the little Scottish island to get away from what happened to her when she was 8 years old.  The people on the little island are not so intrigued by her.  They actually fear her because they're not sure about her.  Something is different about her and they are not sure what it is. Isla is trying to keep a low profile and she is working as a tour/hiking guide on the island….but when people in her tour come up missing, she is the prime suspect. Dr. Jeremiah Rousseau studies the paranormal and he knows there is something about witches that he has been fascinated with for awhile.  He goes to Scotland to find the witch that he has heard stories about.  In the mean time, he comes across Isla and falls for her the minute he sees her.  What he does not realize, is that the witch he wants to find, he actually is looking at. Isla is attracted to the doctor as well, but she's not too sure at first about him. It is up to the doctor to tell Isla what and who she is…but can Isla really believe it. Fire on the Island brings you the paranormal…which includes witches, shape shifters, and demons. My thoughts on the Fire on the Island is that it definitely is a great starter to a series.  J.K. Hogan definitely builds up the story very well.  She even leaves you hanging on what may be the next adventure for the characters.  The ending with the bad guy though, happened to quickly though in my opinion. Maybe because the bad guy annoyed me and wanted more to happen to him. He was nothing, but a pain in the booty. Other than that, I really enjoyed reading about the witches and how everything came together. The love between Jeremiah and Isla is a love that is instantaneous, and J.K. Hogan explains why that it is in the book.  =) I loved the shape shifter in the book (won't go into details about him…because I don't want to give away what role he plays). I recommend this book to paranormal romance readers out there who enjoy reading about witches and other paranormal creatures.  =) Looking forward to seeing what J.K. Hogan does in Book #2.  =)


I guess I should type a bio here. I'm FranJessca or Fran for short. I'm the owner of Book Lovin' Mamas and main Reviewer. I've been reviewing books since I got out of the Navy in 2011. Now 8 years later, I'm still reviewing, but this time with my youngest sidekick.
When I'm not reading and reviewing, you can find me at my day job during the week and on the weekend taking care of our little farm.

Latest posts by FranJessca (see all)