Review: 'Forever and Ever' by Eva Simmons
March 17, 2023
I received a complimentary copy of the book from Grey's Promotions in exchange for an honest review. This does not affect my opinion of the book or the content of my review.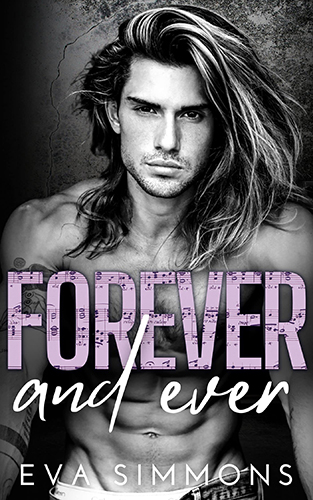 Forever and Ever
by
Eva Simmons
Series:
Enemy Muse #2
Published by
Self-Published
on March 17, 2023
Genres:
Contemporary Romance
Format:
eArc
Source:
Grey's Promotions
Goodreads
Purchase at
Amazon

If I'm looking for trouble, I don't need a rock star like Noah Hayes to find it. I play the bad girl well enough on my own.
While millions of people might idolize these so-called Rock Gods, I party with them on a daily basis. I know the truth. They're just as flawed and damaged as the rest of us. So, while Noah's charms may work on his many groupies, I'm immune.
But ever since Noah first laid eyes on me, it's been his life mission to get a taste. And what he lacks in discretion, he makes up for in determination. Only, I'm stubborn, I'm angry, and I'm broken in ways he'll never know or understand.
Noah says he's willing to wait for me forever. What he doesn't realize, is he just might have to.
---
I must be in my Rockstar Romance Era in 2023 because I can't get enough of this trope. I'm thankful to Grey's Promotions for introducing me to Eva Simmons and her Enemy Muse series. I love this series from Eva Simmons and have fallen hard for the characters. I read Heart Break Her and loved Sebastian and Cassie's story, but Noah and Merry may have taken top place in my heart in their book, Forever and Ever.
Storyline/My Thoughts: This book does touch on some dark topics, such as suicide being mentioned and alcohol and drug addiction. There are other things, and the author lists them on her website (It may contain spoilers, though, if you read those trigger warnings).
Noah is the drummer to Enemy Muse, and Merry works for the band thanks to Adrian giving her a job. The first time these two meet, it's awkward, and Noah immediately falls for the dark goddess, Merry, who intrigues him. She is the opposite of the girl he dated back in his hometown, but he knows Merry doesn't want anything to do with him, so he continues living the rockstar life. The issue is sometimes, that rockstar life leads you down a dark path.
Noah and Merry think they will be rid of each other when Enemy Muse is working on their album in Colorado, but Merry is given an opportunity to work on her dream of becoming a rockstar herself, and she ends up staying with Noah.
This is a slow-burn romance, so don't expect Noah and Merry to get together immediately. Merry does not do relationships; she lets Noah know, and he respects her wishes, even if he secretly pines for her when he is with other women. No, there is no cheating, so get that out of your head now.
I'm going to give you a quote from the book from Noah himself on how he feels when it comes to Merry when she lives at his place:
"Let's get something straight." … "I'm not going to be f**king other people under this roof as long as you're here." … "And you won't be either."
Yeah, this man will let it be known with that and other things being said how he is willing to wait for Merry. She does put him in his place and reminds him of her stance of him sharing his true feelings, but Noah is patient with her. This guy has his heart set on winning her over, and he repeatedly does with me with how he cares for her.
Noah is the sunshine character in this story to Merry's grumpy side, which makes their constant push and pull with each other addictive (at least to me). I love the Opposite's Attract and Grumpy Vs. Sunshine tropes in romance stories. They are up there with my all-time fave trope, Enemies to Lovers.
Why do I like Noah Hayes over Sebastian now? You want the real reason. This man was there for Merry at her most challenging times when she finally revealed what she was keeping from him. The man was there and took care of her. Yes, he immediately goes on top-tier book boyfriend/husband material for me. Sorry, Sebastian. He also was not forceful when it came to Merry. He respected her wishes, even if he disagreed with them. There was also the way he was in the bedroom. This man takes charge in the bedroom, and you listen to his commands because you will get a 'Good Girl' when you listen to him. Merry is one lucky gal. 😉
Now, why do I love Merry? She may be a grumpy character and is keeping a secret from everyone, but in my eyes, this woman is a strong character, especially with what she is going through. I loved how she handled Noah Hayes initially and may have pushed him away, but internally, she cared for him as a friend first and later. She also learns his secret and is there for him when he needs someone.
Eva Simmons did warn that this book would be emotional, and I had tissues, but I was not expecting a character like Merry to hit me so hard because she suffers from something I suffer with and my mother suffered with when she was younger. It hit me later in life, but my mother suffered from it throughout her life and went through something similar that Merry went through in this book. I don't want to spoil for readers what is going on with Merry, so I'm just going to say, Eva Simmons, thank you for writing Merry's story and having Noah Hayes be her forever. These two are favorites (so far) in the series. I'm unsure who could top them because I love them so much.
I give this book five stars, and I'm calling it now that this is my TOP read of March 2023. Even now, I can't stop thinking about Noah and Merry when typing up this review. I loved their ending too. Beautifully written; Eva Simmons and I look forward to the rest of the Enemy Muse series—two more books.
Standalone/Part of Series: It's part of the Enemy Muse series. Each book can be read as a standalone, due to being focused on new couples. (You'll miss out on Sebastian/Cassie's story if you don't start with Heart Break Her first, though.)
Steam/Spice: 🌶 🌶 🌶
Genre(s)/Trope(s)/Element(s): Contemporary Romance. Rockstar Romance. Grumpy (FMC) vs. Sunshine (MMC). Opposite's Attract. He Falls First. Forced Proximity. Slow Burn Romance. Damaged Rockstar. Addiction and Dark Secrets.
Would I recommend this book? Yes. I recommend this book and the series to readers like me in their Rockstar Romance Era. Eva Simmons writes emotional rockstar romances that make you fall hard for the characters. These Enemy Muse rock stars deserve HEAs, that's for sure.

---
---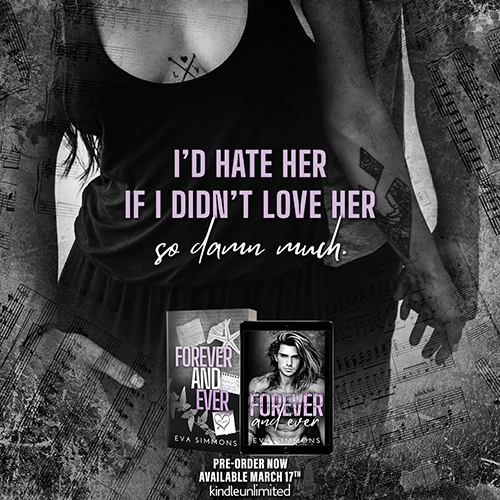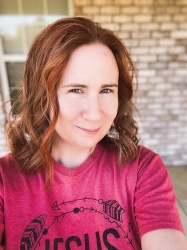 Latest posts by FranJessca
(see all)