Review: 'Heart Break Her' by Eva Simmons
January 6, 2023
I received a complimentary copy of the book from in exchange for an honest review. This does not affect my opinion of the book or the content of my review.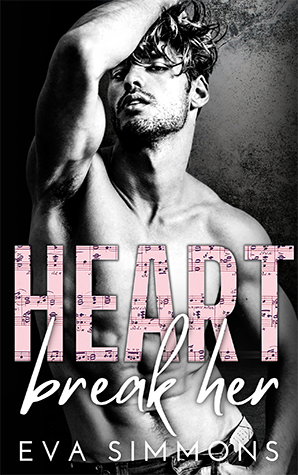 Heart Break Her
by
Eva Simmons
Series:
Enemy Muse #1
Published by
Self-Published
on January 6, 2023
Genres:
Contemporary Romance
Format:
eArc
Goodreads
Purchase at
Amazon

I know better than to get involved with celebrities. Especially a Rock God like Sebastian Kane. A man who knows how to make the ladies scream, as evidenced by the leak of his recent sex tape.
Which leads to my problem... I'm the girl in the video with him.
Grief will make you do crazy things. After all, I'm the smart girl, the good girl, not the rebel.
But now I'm face to face with the one man I was never supposed to see again. A man with a gorgeous dark smile and even darker secrets.
They say hindsight is 20/20.And that's the problem with rock stars.They make bad decisions so damn irresistible, right before they break your heart.
---
Thanks to Grey's Promotions for introducing Eva Simmons to me, Heart Break Her has become a TOP Book for 2023. This book will hold a special place in my heart, which is why I bought a paperback copy after reading it. That should tell you how much I enjoyed it because I've been trying not to buy too many physical books lately, but this book will forever be cherished in my library. (I have over 1000+ books already) It's the book I can find myself rereading because of the characters and storyline. It was unforgettable, and I'm still thinking about it, and I finished this book before the end of 2022. It was hard to put down, and I'm glad I finished 2022 with a 5-star read.
Storyline/My Thoughts: I loved everything in this book: the main squeezes, Sebastian and Cassie, the secondary characters, and the storyline. When the rest of the books in the Enemy Muse series are released, I will gladly hand over my bank card to have them for my library. Don't tell my husband.
I knew this book was going to involve some dark topics in it. Eva Simmons does warn her readers to check out the triggers before reading this book. I'll touch on some that may bother readers, which include alcohol and drug use, death, and loss of a loved one, which will cause grief and depression to certain characters in this book.
The way Eva Simmons touches on the subjects makes your heart wrench, especially when a specific character is down spiraling and everyone fears what will happen to that person. It takes one person/character to guide them back from the darkness.
I'm the reader who goes for the broken, damaged, and troubled MMCs. This is precisely what Sebastian is in this book, so of course, I'm going to feel for him, even when he's described as a Rock God, and every woman wants to be with him, and every guy wants to be him. He comes off as the player in the beginning until he meets the good girl who will turn his world upside down to right side up. Cassie is the pink-tipped hair beauty who catches the rock god's eyes in the front row of one of his concerts. He knows immediately when he meets her, he'll corrupt her and doesn't want to ruin the sunshiney innocence of Cassie. Cassie knows she shouldn't mess with the rock god who happens to be her celebrity crush, but she decides to break the rules for once and what happens to her makes her world turn from right side up to upside down.
These two characters constantly push and pull with each other in this book. Yes, there is an ONS in the beginning, but it comes off as more of a slow-burn romance since they try to stay away from each other. They know the risks of being together, and Cassie has other reasons why she shouldn't be in Sebastian's world. Some things are revealed that make Sebastian back off on pursuing Cassie, too.
If there is one big reason why I loved this book, it is the feelings I had when reading it. I felt for the characters, their happiness, their pain, and their grief. I literally cried during one scene I read. Any author who makes me go through so many emotions instantly becomes an auto-buy author to me.
The ending, though, was perfect in every way. Yes, there is a HEA for the characters, so don't worry through the pain; there is happiness and love.
I give Heart Break Her five stars, and I'm so ready to read the other books in this series, especially being introduced to the other band members. I need their books. I need to know what happens next in this world that Eva Simmons has created for her readers.
Standalone or Part of Series: It's part of the Enemy Muse series.
Steam/Spice: 🌶 🌶
Genre(s)/Trope(s)/Element(s): Contemporary Romance. Somewhat of a ONS. Slow Burn Romance. Rockstar Romance. Celebrity Crush. Forced Proximity. Brother's Best friend. Rockstar MMC. Bad Boy MMC. Good Girl/Sunshine/Innocent FMC. Illustrator FMC.
Trigger(s)/Content Warning(s): Alcohol and Drug Use. Loss of Loved One. Grief. Death. (Check the author's website for a full list to trigger warnings before diving into this book).
Would I recommend this book? Yes. I recommend this to readers looking for a gut-wrenching rockstar romance where the good girl meets the bad boy, and she brings him out of the darkness into the light.

---
---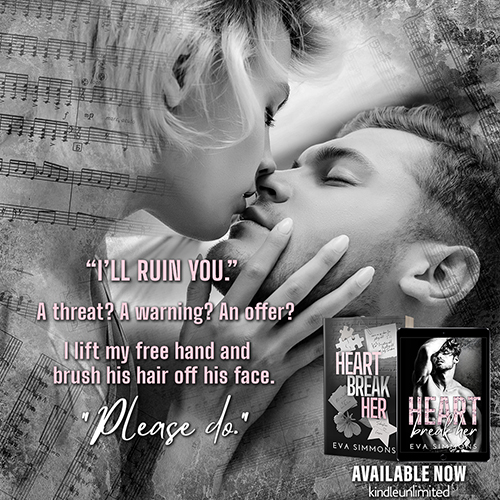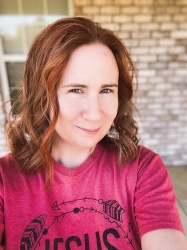 Latest posts by FranJessca
(see all)