Review: 'Freed' by Amanda Carlson
October 17, 2016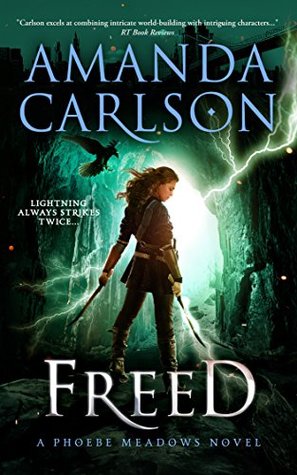 Freed
by
Amanda Carlson
Series:
Phoebe Meadows #2
Published by
Self-Published
on September 18, 2016
Genres:
Urban Fantasy
Format:
eArc
Goodreads
Purchase at
Amazon

Phoebe Meadows has one thing on her mind: Free her mother.
For the last month, Phoebe has been training in the Valkyrie stronghold readying for battle. But when she stumbles into a secluded valley after a day of grueling practice, she's given a dire prediction. Phoebe must leave the stronghold immediately with the aid of the giant, Junnal, to rescue her mother from the dark elves. If Phoebe fails, Leela will be transported to a place that can no longer be reached.
Leaving Fen behind threatens to undo her, but Phoebe stays true to the mission. Along the way, she allies with the god Baldur and an old white elf mage. Together, they storm the realm, and with the help of an angry wolf and her Valkyrie sisters, they just might stand a chance to free the valiant shieldmaiden.
But Phoebe soon learns that rescuing her mother comes with a price, and she's about to lose something too precious to sacrifice…
My Review
I've been meaning to post this review for a while now, but unfortunately I had a house full of sickness for the past couple of weeks. This Book Lovin' Mama ended up getting the crud too and I'm finally getting over it. Rambunctious preschooler got it worst, so this mama took a couple of days off from work, so she could take care of her girl.
The second book in Amanda Carlson's Phoebe Meadows series definitely was action-packed and full of craziness. Poor Phoebe got thrown into a world that she doesn't know much about it, but she's actually handling it pretty well for a newbie half-Valkyrie, half-demigod. I have to give her props, especially with everything that happened in the second book. She deals with Valkyries that pretty much don't like her or train with her too hard. She's told to save her mom pretty quickly after only having a month of training and with no Valkyrie backup. She does have her giant friend, Junnal for backup, but she's about to face the dark elves, where she's never been before. She's going to meet two allies, while she's there to help her find her mom.
Amanda Carlson has Phoebe go through so much in Freed, before she even attempts to save her mom. It's very fast-paced, but like I said before very action-packed. One of the many reasons why I love Amanda Carlson's books. Don't even get me started with how Phoebe didn't tell Fen about leaving him to save her mom. Fen is one guy I wouldn't want to piss off ever. He cares for Phoebe and he's proves it in this book toward the end. I just wish I could have more of him. He didn't have much of a role in this book like he did in the first. I enjoy his character because he's very protective of Phoebe.
The ending is what blew me away with the second book. First let me back up on how Phoebe finds out something interesting, when she is trying to save her mom. I won't tell you what it is, but I was happy that Phoebe would have someone there to help her along the way. Although, it's not a happily ever ending at the end of the book. I feel for Phoebe and what she has to deal with next. Yup…be prepared to be left hanging at the end, but that is what makes it so much better. The reader gets to anxiously wait for the next installment. I know Amanda is going to make the installment just as exciting and more. I hope I get some more Fen in the next book though. I enjoy Phoebe and Fen together. I also hope Phoebe eventually gets to meet her dad in person. He's there, but he's not there. He's the dad that protects her from afar with the help of others. He also sends cool things.
I highly recommend this book and the series to Urban Fantasy readers out there and fans of Valkyries, gods, demigods, etc. I give this book 4 stars and look forward to finding out what Amanda puts poor Phoebe through next.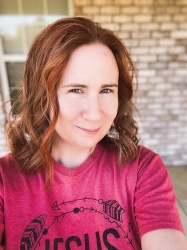 Latest posts by FranJessca
(see all)