Review: 'Ghost Town' by Rachel Caine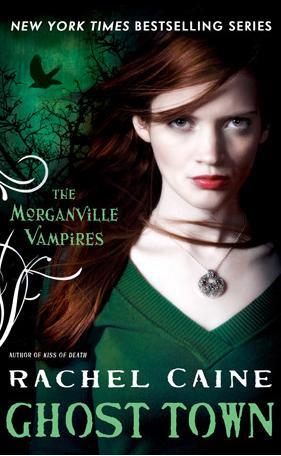 Ghost Town
by
Rachel Caine
Series:
The Morganville Vampires #9
Published by
New American Library
on October 26, 2010
Pages:
335
Format:
Hardcover
Source:
Purchased
Amazon Kindle
|
Amazon Paperback
Goodreads

Deep in the heart of Texas, Morganville is a small college town full of laid-back students and eccentric townies, not to mention the sort of creatures you wouldn't want to run into after dark. Despite their obvious differences, the human and vampire residents of Morganville have learned to coexist, but that doesn't stop genius student Claire Danvers from keeping up her guard. Because in Morganville, nothing is as it seems...
While developing a new system to maintain the town's defences, Claire discovers a way to use the vampires' powers to help keep outsiders from spreading news of Morganville's "unique" situation once they've crossed the city limits.
But the new system has an unexpected and possibly deadly consequence: People inside the town start forgetting who and what they are - even the vampires. And when Claire's boyfriend, Shane, and her best friend, Eve, start treating her like a perfect stranger, Claire realizes she has to figure out a way to pull the plug on her experiment - before she forgets how to save herself... and Morganville.
My Review
(Originally Reviewed on Mrs. Papillion aka "The Book Worm")
Let me say this, I would never, ever live in Morganville and that's a PROMISE. There is always something going wrong in that town, and that's not just because it's full of Vampires. Poor Claire is thrown into another obstacle, and I'm so glad she made it out of this dilemma in this book, and I'm shocked by what Amelie decides to do to her. I'm also SHOCKED by what happened in the ending. Wow! Wasn't expecting that to happen in the story. Rachel Caine had me on the edge of my seat because the book was full of action. I'm impressed with Claire, and I'm also impressed with Shane. I'm so glad these two are together. I don't care what Claire's parents think. They are perfect together. I'm looking forward to the next book. Yes, I need my fix of Morganville. I need to find out more about Myrin and Claire. I'm a little concerned about those two…but we'll see. Thanks, Rachel Caine. I LOVED this book. =)


I guess I should type a bio here. I'm FranJessca or Fran for short. I'm the owner of Book Lovin' Mamas and main Reviewer. I've been reviewing books since I got out of the Navy in 2011. Now 8 years later, I'm still reviewing, but this time with my youngest sidekick.
When I'm not reading and reviewing, you can find me at my day job during the week and on the weekend taking care of our little farm.

Latest posts by FranJessca (see all)