Review: 'Lethal Rider' by Larissa Ione
June 8, 2012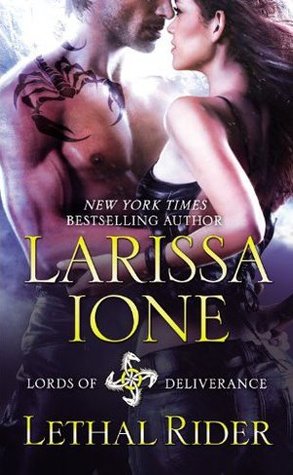 Lethal Rider
by
Larissa Ione
Series:
Lords of Deliverance #3
,
Demonica #8
Published by
Grand Central Publishing
on May 22nd 2012
Genres:
Paranormal Romance
Format:
Paperback
Source:
Purchased
Goodreads
Purchase at
Amazon
|
Apple

They're here. They ride. The Four Horsemen of the Apocalypse.
Born of a match between good and evil, four siblings stand between hell's minions and everything they want to destroy. They are the Lords of Deliverance, and they have the power to ward off Doomsday...or let it ride...
LETHAL RIDER
Thanatos, the most deadly Horseman of the Apocalypse, has endured thousands of years of celibacy to prevent the end of days. But just one night with the wickedly sexy Aegis Guardian, Regan Cooper, shatters centuries of resolve. Yet their passion comes with a price. And Thanatos must face a truth more terrifying than an apocalypse-he's about to become a father.
Demon-slayer Regan Cooper never imagined herself the maternal type, but with the fate of the world hanging in the balance she had no choice but to seduce Thanatos and bear his child. Now, as the final battle draws closer and his rage at being betrayed is overshadowed by an undeniable passion for the mother of his child, Thanatos has a life-shattering realization: To save the world, he must sacrifice the only thing he's ever wanted-a family.
My Review
I was going to wait to type up my review until my partner in crime read "Lethal Rider," but the anticipation of my review has been haunting me. =) I type haunting because I've been dreaming about this book ever since I read it. I came across Larissa Ione's Demonica books one day a couple of years ago at Barnes & Noble. I skimmed through the book's descriptions and then proceeded to grab them up. I read them ALL pretty quickly that I was craving more of her writing after I was done. I was excited when she announced a new series…Lords of Deliverance. Lethal Rider is the third book in the series. Larissa never disappoints with her books at all. She keeps me enthralled from the first chapter to the last chapter. Once I'm at the last chapter though, I want more. "Lethal Rider" is finally about Thanatos aka Death, the fourth Horseman of the Apocalypse. He has been stuck in a paralyzed state since the end of last book "Immortal Rider." His brother and sister had to immobilize him otherwise he would've slaughtered everyone, and anyone had his sister's Wedding. He was used by Regan Cooper who is part of the Aegis organization. The organization wanted her to seduce Thanatos and become pregnant with his child. They were told the child would save the apocalypse from happening. Thanatos had been celibate for thousands of years thinking his celibacy was the key to him not turning evil like his brother Reseph, aka Pestilence. He was on a warpath after he realized what Regan did to him. When Thanatos is finally able to get out of his paralyzed state, he tracks down Regan for revenge. Unfortunately, others have been tracking her down to kill her. When Thanatos gets a hold of her finally, he is upset that no one bothered to tell him she is pregnant. I could go on and on about this book, but I do not want to spoil the book to anyone who hasn't read it like my partner in crime. "Lethal Rider" had a lot of other parts in the book that left you are hanging, and it will pick up next in Reseph's book. My thoughts on "Lethal Rider" was I enjoyed reading Thanatos book finally. He has fascinated me since the first book "Eternal Rider." He can go from joking with you one second to turning into a dark, dangerous immortal next. Let's say, if you piss him off, you better start running, but you most likely won't make it because he'll find you. Anyone who is in his way when he turns into "Death" will be killed because he can't control himself. Regan was a little annoying at times, but it's to be expected. She is pregnant…and pregnant can make you very hormonal. VERY hormonal! She did have some solid qualities in her that I adored. She didn't like being told she couldn't do certain things. She's one tough woman, and she'll stand up to any man to prove she can do what they do. Thanatos and Regan were perfect for each other because Thanatos needed Regan, she helped balance him out. She could control him to be calm. You'll find out in this book Regan has special powers and Larissa will tell you how Regan's powers came to be. I loved how everything came together and who ended up being the BAD guy at the end. Wow! Let's say the horsemen were surprised too. No, Reseph is not the only bad guy. =) In "Lethal Rider," the angels played a significant role in the storyline. I recommend this book to paranormal romance readers, fans of the four horsemen of the apocalypse, and of course diehard fans of Larissa Ione. You'll have a hard time putting down this book and the first two books. If your a Reseph fan like I am…you'll get a sneak peek into his book "Rogue Rider" which can't come fast enough.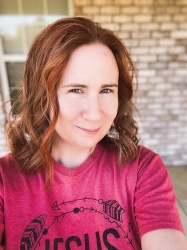 Latest posts by FranJessca
(see all)