Review: 'Nuts' by Alice Clayton #Romanceopoly2020
April 30, 2020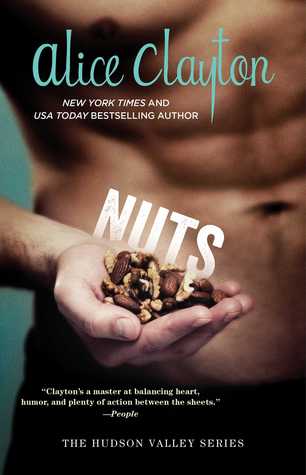 Nuts
by
Alice Clayton
Series:
Hudson Valley #1
Published by
Gallery Books
on October 20, 2015
Genres:
Contemporary Romance
Format:
eBook
Source:
Purchased
Goodreads
Purchase at
Amazon
|
Barnes & Noble

Roxie Callahan is a private chef to some of Hollywood's wealthiest, and nastiest, calorie-counting wives. After a dairy disaster implodes her carefully crafted career in one fell ploop, she finds herself back home in upstate New York, bailing out her hippie mother and running the family diner.
When gorgeous local farmer Leo Maxwell delivers her a lovely bunch of organic walnuts, Roxie wonders if a summer back home isn't such a bad idea after all. Leo is heavily involved in the sustainable slow food movement, and he likes to take his time. In all things. Roxie is determined to head back to the west coast as soon as summer ends, but will the pull of lazy fireflies and her very own Almanzo Wilder be enough to keep her home for good?
Salty. Spicy. Sweet. Nuts. Go on, grab a handful.
---
I finished reading Nuts by Alice Clayton during the #Romanceopoly2020 Challenge, and it fulfilled the Farmer's Market square on the Romanceopoly Board. I can't believe I just now read this book because this was one book I had a hard time putting down. This was also the first time I read a book written by Alice Clayton, and now I've added her other books she's written because I enjoyed this book.
I have never laughed so hard while reading a book until Nuts. My poor husband was afraid to come into the bedroom because I could not stop laughing at one particular scene in the book. I ended up laughing so hard that my stomach hurt me afterward. My husband thought I was crazy, and it didn't help when he gave me his 'crazy' eyes, and I ended up laughing even harder. I love my husband because he deals with my crazy laughing fits at night and still loves me for me. 🙂
Female Protagonist: Roxie Callahan is a private chef for some wealthy Hollywood wives in California. She's one female protagonist that I felt connected within the story because she says what is on her mind. Sometimes she ended up getting in trouble for speaking her mind, but there were several times that she was witty. She knows how to handle herself, and I loved that about her. She has some past issues she gets dealing with, but it doesn't stop her from being a successful chef. She may be one of my favorite female protagonists in a Contemporary Romance story, and I hope I get to read more about her in the next upcoming Hudson Valley book that I'll need to make time to read.
Male Protagonist: Leo Maxwell is summed up as a Millionaire/Billionaire and sexy Farmer, who I fell hard for in the book. He's not a playboy, and he doesn't come off as being a rich boy in the story. You'll learn though he has a backstory to him, and it's heartbreaking. I loved how he was devoted to his farm and everyone in the Hudson Valley community. He never expected to find someone like Roxie, and it changed him a bit with opening up more.
Storyline: Roxie ends up moving back home to Hudson Valley (upstate New York), where she has to run her mother's diner. Her mom and her sister (Roxie's Aunt) are going to be on the show 'The Amazing Race.' Roxie doesn't want to be back in her hometown because it's small, and everyone knows everybody. She has no choice, though, after getting fired by one of the wealthy Hollywood wives that make her life difficult in California. She's only in Hudson Valley for the summer, and she doesn't do relationships because of what happened to her mother and her relationships. Unfortunately, Roxie is going to change her mind, once she meets the sexy farmer that brings the diner nuts and vegetables from his farm. She considers him perfect for a summer fling until everyone tells her, he keeps to himself and hasn't been seen with everyone. The minute Roxie meets Leo, though, it's an instant attraction for both of them. There are quite a bit of funny scenes between the two since Roxie speaks her mind with Leo. There are a couple of times she thinks it's to herself, but it's not. Roxie may have trouble keeping to just a summer fling when it comes to Leo until she starts finding out some things about Leo that may have running away. I could go on and on about the storyline, but don't want to give anything away.
Steaminess: Steamy! ⭐️ ⭐️ ⭐️ ⭐️ Yes, this book gets very steamy. Roxie + Leo = HOTNESS!
Cliffhanger: No
Trope: Small Town Romance
Standalone or Series: It's part of series, but each follows a new couple. You do not have to read in order.
Would I recommend this book? Yes, definitely!! If you are a fan of Contemporary Romances and Romantic Comedies, then this book is for you. Be prepared ahead of time because there are some hilarious moments in this book. My favorite scene will always be the time Roxie gets confronted with bees, and she ends up climbing up Leo. This was the scene that had me laughing so hard that my stomach hurt. There were also many other scenes, but you'll have to read the book to find them out.

This post contains affiliate links you can use to purchase the book. If you buy the book using that link, I will receive a small commission from the sale. It will help sponsor future giveaways but costs you nothing extra. You can read the full disclosure underneath the Privacy Policy.
---
---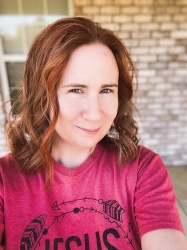 Latest posts by FranJessca
(see all)