Review: 'Pool of Crimson' by Suzanne M. Sabol
October 12, 2014
I received a complimentary copy of the book from the blog tour host in exchange for an honest review. This does not affect my opinion of the book or the content of my review.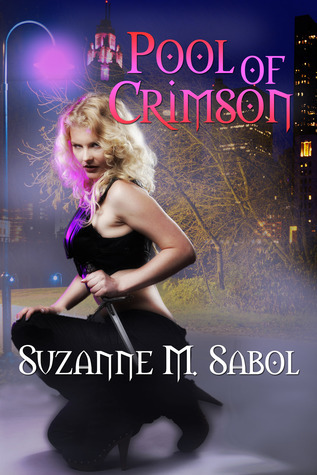 Pool of Crimson
by
Suzanne M. Sabol
Series:
Blushing Death #1
Published by
Soul Mate Publishing
on February 6, 2013
Genres:
Urban Fantasy
Format:
eArc
Goodreads
Purchase at
Amazon
|
Apple

Killing vampires is easy. Trusting one will be the hardest thing Dahlia Sabin has ever done.
Dahlia has lived a lonely existence as a killer of the undead. Known as The Blushing Death to those that fear her, Dahlia uncovers a plot by Columbus's Master Vampire, Ethan. He intends to raise a demon from the depths of hell to destroy the city, cement his power, and take control.
In her pursuit to stop a demon from manifesting, Dahlia sinks deeper into the city's supernatural underworld and discovers that vampires are not only deadly; one in particular could be dangerous to her very soul and her heart. Patrick, the Master vampire's second-in-command with dark penetrating eyes and a cool, deadly sophistication, can't stay away and Dahlia can't tell him no. There's something that neither of them knows, Ethan wants Dahlia's unleashed power for himself and is willing to do anything to get it.
Dahlia is in a race against time to send the demon back to hell, at war with her better judgment, trusting a dark and intriguing vampire with his own agenda, while struggling to save her own neck. As the portal to hell opens, Dahlia has only herself to rely on in order to survive, if she can …
Also be sure to check out more action with Dahlia Sabin in the second book of the series, Midnight Ash, and the third book in the series, Sliver of Silver.

Pool of Crimson is the first book from Suzanne M. Sabol's Blushing Death series, and I'm so glad I was able to be apart of the blog tour for this book. I was introduced to another author through Paranormal Cravings Books Tours and brought back to reading one of my favorite genres, Urban Fantasy.
In Pool of Crimson, readers are introduced to the main character, Dahlia who reminded me of Buffy the Vampire Slayer because she is a killer of the undead. She's the feisty, kick-ass female character that supernaturals are scared of and she's on a mission. She needs to know why the Master vampire, Ethan wants to raise a demon from hell, and she has to figure it out by putting herself into sticky situations. In the mince of dealing with what the Master Vampire has up to his sleeves, she is dealing with Ethan's second in command showing interest with her. She can't stop herself from being intrigued by the second in command as well. Life is going to get even trickier when she realizes she's something that interests a lot of the supernaturals, but she has no idea why.
Suzanne opened up her series with a bang by having the novel start as action-packed in the first chapter. There's no slow build-up with the action because Suzanne puts Dahlia through a lot in Pool of Crimson. She also opened the series by introducing each of the characters that will play a role in the in the series. I loved every bit of how the story unfolded from the beginning to end because it kept me flipping through the pages in my Kindle.
I adored Dahlia's character because she reminded me of my favorite 90s-00s character in Buffy the Vampire Slayer. She was kicking butt a lot in this book, even when she was scared out of her mind. The best part about Dahlia is how she gave the supernaturals nicknames and some of the nicknames were crazy fun. (I love when humor is thrown in a book, even when it's supposed to be a nerve-wracking scene) The only thing that bothered me was how swiftly the ending happened. I was expecting a little more with the climax of the story. Maybe I just wanted Dahlia to give a slow pounding to the evil guys in the book. They deserved it after what she went through. (Oh…but one particular scene was great she earned to give a certain someone a good butt-kicking) The epilogue did give a sneak peek on what is going to happen next to the characters. =)
I give this book 4 full moons and recommend it to Urban Fantasy readers out there. If you miss the show, Buffy the Vampire Slayer (like I do), you'll need to check out the first book to The Blushing Death series.
I look forward to diving into the next book to find out what Dahlia has to deal with next. She's one character that doesn't let a bad day get to her.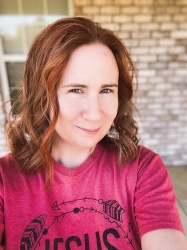 Latest posts by FranJessca
(see all)