Review: 'Silent Night Theme Park' by C.A. Rene and Story Brooks
December 27, 2022
I received a complimentary copy of the book from in exchange for an honest review. This does not affect my opinion of the book or the content of my review.
This book may be unsuitable for people under 18 years of age due to its use of sexual content, drug and alcohol use, and/or violence.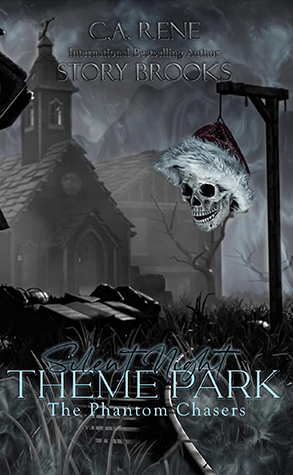 Silent Night Theme Park
by
Story Brooks
,
C.A. Rene
Series:
The Phantom Chasers #2
Published by
Self-Published
on December 27, 2022
Genres:
Dark Romance
,
Dark Romantic Suspense
,
Reverse Harem
Format:
eArc
Goodreads
Purchase at
Amazon

Hey, Phantom Hood!

What a crazy ride Bedlam was right?!

Well, after a much needed vodka break and some spanktastic pizza,

we decided to put the requests to use again!

You guys decided and now we are headed to one hell of a Silent Night!

Stay tuned for our next investigation at the abandoned Silent Night Theme Park!

Looks like there's at least one place where Santa will never go.

We'll be seeing you!

Sincerely,

Your Phantom Chasers.

Mary, Nick, Connor, and James
---
Silent Night Theme Park by C.A. Rene and Story Brooks is the second book of the Phantom Chasers, which picks up from the first book. After what happened to Mary, James, Nick, and Connor in Bedlam's Playground, I needed to find out what ghost adventure they were onto next, especially with one of them being possessed by a ridealong from their last adventure together.
Storyline/My Thoughts: After what happened in the first book, I knew the characters were still recovering. They did get violated by a ghost named Conroy, who unfortunately hitched a ride in them. They are on a new adventure at an abandoned theme park with a dark past that had so many people unalived. It's up to the Phantom Chasers to uncover everything that happened at the theme park for their fans, and once they do, Conroy will be the last of their worries since something dark and more sinister than Conroy is at Silent Night Theme Park is wreaking havoc on the poor souls that are trapped there.
I love how the authors opened the book with a prologue that gives readers a sneak peek into the past of what happened at the theme park. It's not for the faint of heart, that's for sure, which is why I'm suspicious of theme parks in real life, especially ones that don't do constant testing and maintain their rides. Unfortunately, this theme park was not run by Disney or Universal Studies and was doomed from the beginning to go haywire.
I enjoyed getting all the characters' POVs on their situation together. Yes, they are going to endure some crazy things again. They seemed to handle things better, and I liked seeing how they had grown together. Mary's relationship with the guys has grown, and the guys are very protective of her and each other.
Are there more spicy scenes in this book? Yes, definitely. There are MF, MM, and group scenes. There is a scene that may bother some readers, which involves the brothers, but to me, it wasn't a big deal. It involves Mary and all of them together. James is one of my favorite MMCs in the book since he is such a dirty talker and knows what kind of things Mary needs. I loved when they were together, or he was involved.
Readers get Conroy's POV and learn more about his character in this book. He may be growing on me. He's not all bad. Yes, he possesses one of them, but without him, they would have never made it off that island. He's what I consider an anti-hero. He also has a tragic past, and everything he went through may have been for a reason that was out of his control. I'm a sucker for characters that have tragic pasts.
Overall, I give the second book four stars and look forward to the next book, especially after the ending of this book. I can't wait to read about the Phantom Chasers' next adventure. I'm looking forward to seeing them grow more together, too.
Standalone or Part of Series: It's part of the Phantom Chasers series, and I would recommend reading in order.
Steam/Spice: 🌶 🌶 🌶 🌶
Genre(s)/Trope(s)/Element(s): Dark Romance. Reverse Harem/Why Choose. MF, MM, and group scenes. Poltergeist. Ghosts. Demons. Possession. BDSM/Bondage. Dirty talker MMCs. Praise. Pierced MMC.
Content Warning(s)/Trigger(s): Blood. Murder. Ghost Dub/Con. Sexual Degradation. Explicit Sex Scenes. Brother on Brother.
Would I recommend this book? I recommend this book to readers who enjoy adventurous Dark Romance stories that have Why Choose and Poltergeist/Ghost storyline. Check the triggers in the authors' list at the beginning of the book before diving into it, though.

This post contains affiliate links you can use to purchase the book. If you buy the book using that link, I will receive a small commission from the sale. It will help sponsor future giveaways but costs you nothing extra. You can read the full disclosure underneath the Privacy Policy.
---
---
---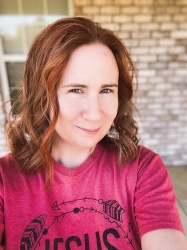 Latest posts by FranJessca
(see all)