Review: 'You Had Your Chance, Lee Burrows' by Piper Rayne
December 27, 2022
I received a complimentary copy of the book from the blog tour host in exchange for an honest review. This does not affect my opinion of the book or the content of my review.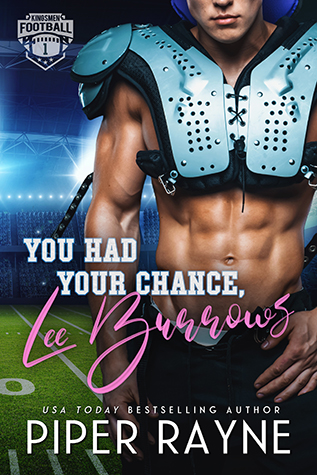 You Had Your Chance, Lee Burrows
by
Piper Rayne
Series:
Kingsmen Football Stars #1
Published by
Self-Published
on December 27, 2022
Genres:
Contemporary Romance
,
Romantic Comedy
Format:
eArc
Goodreads
Purchase at
Amazon
|
Apple
|
Barnes & Noble
|
Google Play
|
Kobo

USA Today Bestselling Author, Piper Rayne, begins the Kingsmen Football Stars series with an enemies-to-lovers, second chance story set in the world of professional football.
Lee f'ing BurrowsThe Kingsmen's star quarterback.Legendary throwing arm.Six-pack abs.Kissable lips.
Oh, but don't forget, he's also a lying, heartless egomaniac who broke my heart in college.
It took me years to build myself back up after his deceit, and now I have the dream opportunity to prove myself working as a sports therapist for a professional team.The hurdle? Or mountain to be more accurate…
The job is with the San Francisco Kingsmen.
Back when I was a naïve college girl, I felt lucky that he even noticed me. Now eight years later, he'd be lucky if I gave him the time of day.
Which I won't. Not ever.
Some people don't deserve a second chance and Lee Burrows is one of them.
Now if someone could only tell him that because he's hell-bent on scoring the winning touchdown and won't accept that it's game over for us.
---
I read the synopsis of You Had Your Chance, Lee Burrows and knew I had to read this book. I've been reading many Dark Romance books and needed a Contemporary Sports Romance book with a mixture of the following tropes: Enemies to Lovers, Forced Proximity, and Second Chance at Love. Piper Rayne delivered something fluffy to read when I needed it most during the Holiday season. Plus, they gave me a hot football quarterback star that had to do a lot of groveling to win over the FMC again after what he did to her in college.
Storyline/My Thoughts: The authors, Piper Rayne, had me hooked on the prequel, False Start, which introduces Lee Burrows and Shayna Kudrow. They gripped me even further into these characters' storylines in the full-length novel. What I loved most about this book was that Lee didn't have it easy when it came to winning over Shayna. He had to do some groveling and prove himself to her. 
The kicker in this story, though, is that Lee never thought he would see Shayna and have a second chance with her. The issue with winning her again is that she works for the Kingsmen's Football team as one of the Athletic Trainers. They can't be together due to the team's policy of not fraternizing with each other. Yeah, that puts a damper on him groveling, especially since Shayna is not that easily persuaded that he has changed since college.
Thanks to False Start, I already loved the main characters in this story and fell head over heels for their love story again in this book. Lee and what he had to do to win over Shayna and how he proved to her how he cared for her instantly made me fall for him. He was such a sweetie to her. Shayna did make it difficult for him, which in my eyes, she should've since she was not going to hand over her heart until he proved himself. He did this in so many ways in this book. The scene that won me over was when he took care of her when she was sick. Any guy willing to stay over and ensure his girl takes her medicine and eats wins me over immediately. This scene reminded me of when I first dated my hubs and how he cared for me when I had the stomach bug. My husband has cared for me for twenty years whenever I'm sick, and I do the same for him. Lee being there for Shayna during this time, I knew how much he cared for her. He didn't care about the consequences. Yes, Lee, you instantly won over my heart, and I'll forever remember how he never gave up when it came to getting back with Shayna.
Shayna didn't make it easy for him and may have reacted a certain way in this book a few times, which drove me bonkers, but other than that, I did like her character. She worked her butt off to become an Athletic Trainer for the Kingsmen Football team and didn't want to jeopardize losing her job. I'm glad she found a friend while dealing with Lee groveling. That friend helped her adjust to her new life in San Francisco. Shayna was one of those FMCs I'll never forget either because of her drive to prove that she was independent and could handle whatever the world threw at her, especially after what happened at the end of this book. I was proud of her and how she handled that situation.
Do the characters get a HEA? Yes, they do, and a much-needed one was perfect for them both. I give this book 4.5 stars and can't wait to read more from these authors, especially from this series. I loved how the authors introduced the other football star players in this book that will be getting their books too. After reading this book, I'm invested in finding out who wins over the rest of the football stars' hearts. Oh, and I've already added the authors' backlist of books they have written to my ever-growing TBR. I loved this story and know I'll enjoy the rest of the books they've written.
Standalone or Part of Series: It's part of the Kingsmen Football Stars series, but each book can be read as a standalone. I do recommend reading False Start, prequel to this book. You'll find out why Lee Burrows has to grovel with the FMC in this book.
Steam/Spice: 🌶 🌶 🌶
Genre(s)/Trope(s)/Element(s): Contemporary Romance. Romantic Comedy. Sports/Football Romance. Enemies to Lovers. Second Chances. Forced Proximity. Workplace Romance. Football Player MMC. Athletic Trainer FMC.
Would I recommend this book? Yes. I highly recommend it to readers who enjoy Second Chance stories where the MMC has to grovel to win over the FMC. I've always loved these types of stories in romance books. If you are also a fan of Sports/Football Romances where the characters are forced back together since one is the star quarterback, and the other is their athletic trainer.
Favorite Quote(s): Taking her hand, I pull her up so she's standing in front of me. Then I pick her up by the waist, walk to the far side of the table, and deposit her on the end. "What the—" "Did you forget? I lean in close, my breath tickling her ear. "You're dessert, shy pie."

---
---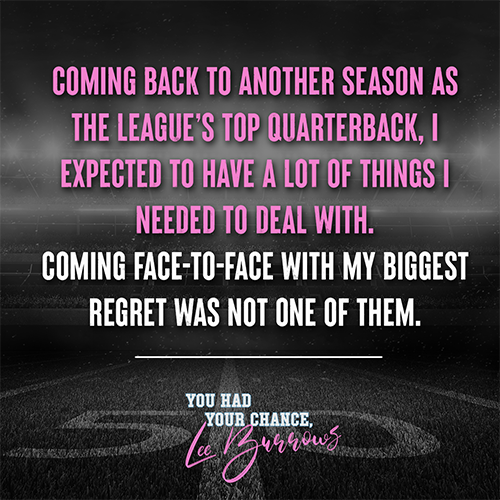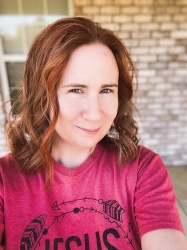 Latest posts by FranJessca
(see all)