Review: 'Struck' by Amanda Carlson
May 30, 2016
I received a complimentary copy of the book from the author in exchange for an honest review. This does not affect my opinion of the book or the content of my review.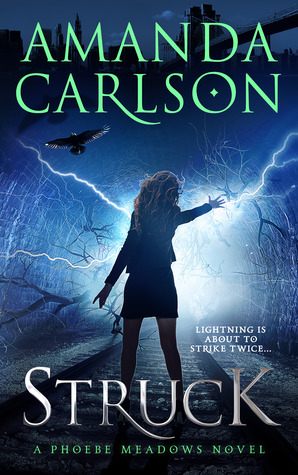 Struck (Phoebe Meadows, #1)
by
Amanda Carlson
Series:
Phoebe Meadows #1
Published by
Self-Published
on May 24th 2016
Genres:
Urban Fantasy
Format:
eArc
Goodreads
Purchase at
Amazon
|
Apple

When Phoebe Meadows gets struck by a strange light in the stockroom of Macy's, life as she knows it flies out the window. As if being hit by lightning isn't bad enough, she's accosted in the subway by a man with a missing hand, arrives home to find a raven on her kitchen counter, and her neighbor, Ingrid, shows up dressed like a gladiator hell-bent on protecting her.
Before Ingrid can shuttle her to safety, Phoebe is kidnapped and tossed into one of the Nine Worlds where she's quickly forced to come to terms with what she is: A valkyrie. The only problem is, she has no idea what that means.
After a narrow escape, she finds an unlikely ally in Loki's son, Fenrir. Together the valkyrie and the wolf must battle their way back to New York City and reach the valkyrie stronghold where Ingrid is waiting for her. But with danger and obstacles at every turn, she might not live long enough to learn the full truth about who and what she really is…
My Review
Struck is the first book in Amanda Carlson's new Urban Fantasy series, and it definitely is a great introduction to her new Phoebe Meadows series.
The first scene alone opens up the story with the character Phoebe Meadows being struck and her world is about to be turned upside down because of it. The minute she gets back to her studio apartment she finds a black raven in her apartment, who she can understand for some reason. Maybe she's going crazy, or maybe something is about to happen that she's not aware of, especially when her neighbor from across the hall comes crashing into her apartment wearing battle gear. Poor Phoebe is about to be hunted down by some crazy characters and it's up to the raven and her neighbor, Ingrid to keep her safe. Unfortunately, Phoebe is going to end up in a whirlwind of chaos because she's not prepared for what is ahead.
I've never read a story, where the main character is a valkyrie. Once Phoebe finds out what she is and who her father is the minute she thinks she's going crazy.
I enjoyed the first book in the new series and look forward to reading the next book in the series, especially how Amanda left the characters. Amanda didn't make it easy for Phoebe in the first book. She put her through a lot, especially with someone who just learned what she is, where she came from, and who her parents are. She's a special girl, who needs to be protected at all costs.
The characters Phoebe meets in Struck are also interesting. I really liked Fen in the story, even though he tended to be stubborn and crazy at times. He had reasons though due to being a prisoner for a so long and just wanted to escape his prison. The person who put him there is someone very interesting too.
The storyline of Struck is the most interesting part of the story, especially since Amanda is introducing it all to Phoebe and the readers at the same time. Phoebe is going to be one kick-butt character, even though she just got introduced to this new world. There's no doubt about it Amanda Carlson always writes the most kick-butt and addicting characters ever, which is one of the main reasons why I've always enjoyed her books. Urban Fantasy is my first love and this series is definitely going to be one I will definitely enjoy a lot.
I give this book 4 stars and highly recommend it to Urban Fantasy readers out there.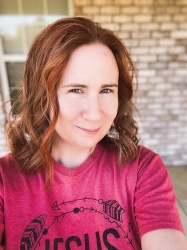 Latest posts by FranJessca
(see all)