Review: 'Unbroken Bonds' by J. Bree
January 14, 2023
This book may be unsuitable for people under 18 years of age due to its use of sexual content, drug and alcohol use, and/or violence.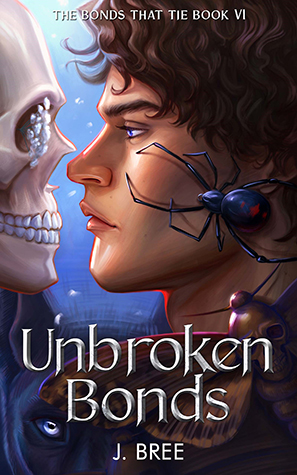 Unbroken Bonds
by
J. Bree
Series:
The Bonds That Tie #6
Published by
Self-Published
on October 28, 2022
Genres:
Dark Paranormal Reverse Harem Romance
,
New Adult Paranormal Romance
,
Reverse Harem
Format:
Paperback
Source:
Purchased
Goodreads
Purchase at
Amazon

The gods live among us.
I thought that the death of the man who tortured me, broke me, and then hunted me to the ends of the Earth would be the end of our fight; but it's only the beginning.
After thousands of years of being apart, our god bonds are reunited once again; and they're not ready to go down without a fight.
They've woken up hungry.
All of the research in the world couldn't have prepared us for what's to come, enemies and wars fought over millennia. Now we're being forced to act, but this time, we have the advantage.
This time, we're Bonded.
Are we strong enough to survive the gods and their plans? Will we ever live in the peaceful world we've fought so hard for, or is history doomed to repeat itself?
*Unbroken Bonds is a full-length reverse harem PNR novel with material that may be difficult for some readers. This book is the final installment and will not end on a cliffhanger. It's recommended for 18+ due to language and sexual situations. Book 6 in the 6 book series.
---
I held off long enough to finish reading the last book in The Bonds That Tie series. I'm going to admit that I was scared to finish it since I didn't want to let go of this world and the characters that J. Bree created. I don't like saying goodbye, which is precisely what is happening with me finishing the last book in a series. I knew it had to end, though, eventually. Oli and her bonds deserved a happily ever after everything they have endured in the last several books.
Storyline/My Thoughts: What can I say without spoiling the book for anyone who has waited to read the last book or has yet to pick up the series? (What are you waiting for if you haven't?) J. Bree, I will always remember this series. The characters will live forever in my head now. Will I find myself rereading the series in the future? Yes. This series may be one where if I find myself going into a reading slump, I'll pick up this series and revisit the characters and world that comforted me before.
All the gods have awakened in Oli's bond group, and they are not gods you want to mess with, especially when it comes to their Central Bond, The Eternal, who is in Oli. I loved learning each of the god bonds' names and learning more about their past lives together. All of it is devastating since they have lost The Eternal a lot in the past, and all they want is to live in peace together, which is precisely what they will get in this book. It takes time to get there, and it takes time for people to accept the gods living in the Draven group only pose harm to them if they hurt Oli. No one touches her without dealing with The Crux, The Corvus, The Soothsayer, The Draconis, and The Cleaver.
The Draven group has found out who wants them all unalived, not just the Resistance. It's up to them to finally make it all come to an end so they can live happily for once. This group deserves it more than anything, as does everyone else they have saved from the Resistance.
I know some readers felt disappointed while reading the last book. I was slightly disappointed with the build-up of finding the people that wanted to hurt Oli and her bonds. I felt cheated because they didn't deserve a quick death. They deserved torture from Oli and her bonds for the lifetimes they had to lose each other over and over again. However, I understood why, in the end, they chose to burn them to the ground quickly, especially with one character getting murdered. It was hard to learn that they had done everything possible to protect themselves, but in the end, someone got hurt and that someone had impacted Oli from the beginning of the series.
What did I think of the characters after finishing the series finally? Oli will forever be one of my favorite kick-butt heroines in a NA PNR RH series. She is on my top five list of female characters. I'm unsure where to rank her, but she may be in the top spot since she's not an FMC I would want to encounter in real life, especially since she can rip my soul out of my body and make me disappear for good. I knew from Book One she would be the FMC that took no names and handled her business. She even handled her bond in the beginning. Nox redeemed himself since the first book. He no longer needs to kick rocks, and I'm so glad he finds peace with Oli and the other bonded. He deserves it with what he was put through when he was younger. North, what I can say about him is that he is possessive and jealous and wants Oli to himself at times, but he is willing to share. He does in this book quite a bit. Here's hoping he never finds out what Oli said to Gabe in this book about their future. He'll be the first to make it come true. Atlas was the one from the beginning that I respected the most since he gave up his life with his family that tried to brainwash him to find his bonded, Oli and he would do anything for her, even escape with her alone. Yes, Atlas will always hold a piece of my heart. Gabe, my sweet on the outside and scary on the inside when he shifts, guy; I loved how he was always the most reasonable of the bunch and was always there for Oli. He was the perfect snuggler, even in his other form.
Last but not least, and the most important, is my Gryphon. Gryphon is the one who I will never forget, and he became my favorite when he helped Oli in Book One with her menstrual cramps. He was the smooth, dirty talker Tac Team Leader who knew how to give Oli what she needed the most, especially in the bedroom. (He has a way with his tongue, enough said.)
For the readers that read these books when they were first released, I applaud you for waiting each time. I respect you, but I'm so glad I waited until Unbroken Bonds was released before diving into this series due to those brutal cliffhangers. I don't know how you handled waiting each time, but you have more strength than me, and I'm not afraid to admit it.
Overall, the last book in the series gets 4.5 stars from me. I loved how J. Bree ended the series, and I know some readers were disappointed, but for me, it was what the characters needed in the end. I wished J. Bree would have a spin-off of Sage and her bonded. Sage was always a secondary character I appreciated and respected since she was there for Oli at the beginning when her bonded wasn't. She also had gotten stronger with what she endured with herself and her bonds.
J. Bree, thank you for writing this series. You became an auto-buy author for me, and I look forward to your new series and tackling the other books you've written. ❤️
Standalone or Part of Series: It's part of The Bonds That Tie series. This is the last book in the series, and I highly recommend reading in order.
Steam/Spice: 🌶 🌶 🌶
Genre(s)/Trope(s)/Element(s): New Adult Paranormal Reverse Harem Romance. Why Choose. Fated Mates. Founded Family.
Trigger(s)/Content Warning(s): Violence. Murder. Death. Grief of Loss. Explicit Content.
HEA: Yes.
Would I recommend this book? Yes. I recommend this book/series to New Adult Paranormal Romance fans. If you enjoy Reverse Harem/Why Choose, where the FMC doesn't have to choose, this book is for you, too. I'm going to miss this series and its characters, and so glad I made time for these books last year. 😢
Favorite Quote(s): "There is no use being here unless we're together. There is no me without you."
"I don't deserve him or his love, but I'll do my best to take care of it."
"Burn it all to the ground Oleander. Burn it, and let's be done with it."

This post contains affiliate links you can use to purchase the book. If you buy the book using that link, I will receive a small commission from the sale. It will help sponsor future giveaways but costs you nothing extra. You can read the full disclosure underneath the Privacy Policy.
---
---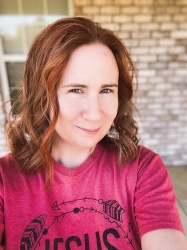 Latest posts by FranJessca
(see all)