Review: 'When the Four Winds Collide' by Hildie McQueen
May 24, 2013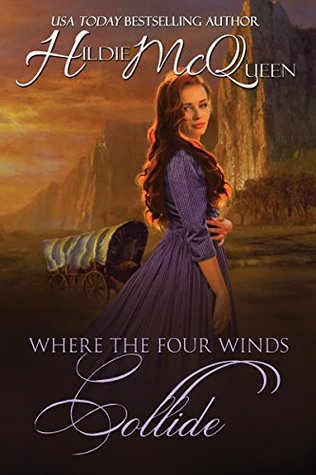 Where the Four Winds Collide
by
Hildie McQueen
on February 21, 2013
Genres:
Historical Romance
Format:
eBook
Goodreads
Purchase at
Amazon

Adeline Buckley escapes her abusive father only to find herself in a brothel, on a stagecoach to the untamed west and married to a stranger, all in that order. Plotting another escape becomes harder, the more she gets to know her new husband.
Jackson Pruitt didn't expect a secretive mail order bride to show up the same week cattle wrestlers absconded with a large part of his herd. The bigger surprise was the loveliness of the woman. Why would a beauty like her need to travel so far to marry?
Jackson and Adeline learn that secrets and marriage do not go hand-in-hand when both of their pasts comes knocking and both have to come to grips with the reality, that sometimes trust comes only after you lose it all.
My Review
I had the chance to meet Hildie McQueen in person this past February, and I have wanted to read her books ever since. I went searching through Goodreads and added them to my TBR list right away after I met her. When I received an email to be apart of Hildie McQueen's Where the Four Winds Collide, I jumped at the chance. It gave me a chance to read one of her books finally and also to kick myself in the butt for not making time sooner to read her books. Now it is my goal to read everything she has written.
I adored every bit of this sweet Western Romance by Hildie McQueen. I have only read a few Western Romances and find this genre up my ally. Brings back memories of me watching my Grandfather watching Western Movies on television whenever I visited him.
Hildie introduces you to Adeline Buckley, and how she is running away from the life, she has known due to what happened between the man she was supposed to marry and what her father did to her and wanted her to do. The only way to get away from it is to run away.
She ends up at a brothel where the women there take her in, but once Adeline gets word that her father is looking for her, the women put her on a stagecoach to get out of town as soon as possible.
When she reaches Four Winds, she is married by accident to the handsome Jackson Pruitt (who happened to steal my heart because he was such a sweetheart to Adeline). Adeline is mistaken to be a mail order bride, and Jackson has no idea until much later why Adeline happened to be on the stagecoach.
This story has some rough moments in it that may have some people bothered. Poor Adeline has gone through so much; I just wanted to go through the book and comfort her and tell her everything would be alright. She was strong-willed though. It only took her a while to trust Jackson due to what happened to her in the past. Jackson was bull-headed in one part of the book, I wish I could have slapped him silly, but he had his reasons of being shocked by the news of why Adeline showed up in Four Winds.
Hildie McQueen gives you a sweet western romance about two strangers who fall in love with each other. It may take them a while to realize it, but once they do, they are inseparable. Adeline and Jackson do have similarities, and that is why I believe they were meant to be with each other.
There is not only Adeline and Jackson's story in the book. You will be in the head of Jackson's younger brother, Heath, and his dilemma that he has gone through and what he puts himself into as well. There is also the issue of Jackson's cattle that goes missing and Jackson's and Heath's father appearing after so long being away. There is Adeline's past creeping up to get her as well, and I am glad that her past got dealt with quickly and efficiently.
I give this book 4 full moons and highly recommend it to western romance readers out there. Hildie takes you back in time where you find yourself wanting a cowboy for yourself. =)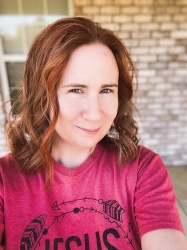 Latest posts by FranJessca
(see all)