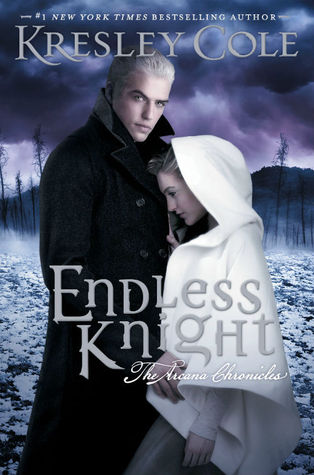 Endless Knight
by Kresley Cole
Series: The Arcana Chronicles #2
on September 2nd 2014
Pages: 320
Format: AudioBook
Source: Purchased
Amazon Kindle | Amazon Paperback
Goodreads


In this seductive follow-up to Poison Princess, #1 New York Times bestselling author Kresley Cole takes us deeper into the dark world of the Arcana Chronicles.
Evie has fully come into her powers as the tarot Empress. And Jack was there to see it all. In the aftermath of killing Arthur, Evie realizes that there is a war brewing between the teens who've been given powers following the apocalypse, and it's kill or be killed. When Evie meets Death, the gorgeous and dangerous Endless Knight, things get even more complicated. Somehow the Empress and Death share a romantic history. One that Evie can't remember, but Death can't forget. Evie is drawn to Death, but in love with Jack. She is determined to discover why she's been granted these powers, and in the process, struggles to accept her place in the prophecy that will either save the world, or destroy it.
My Review Continue reading →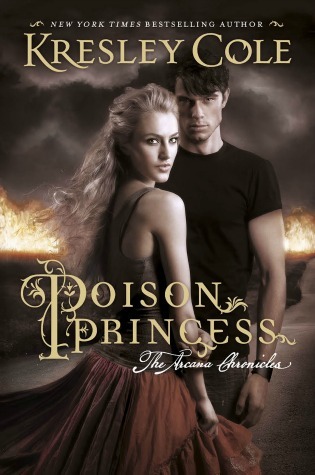 Poison Princess
by Kresley Cole
Series: The Arcana Chronicles #1
Published by Simon & Schuster on October 2nd 2012
Pages: 369
Amazon Kindle | Amazon Paperback
Goodreads


An alternate cover edition for this ISBN13 can be found here.
She could save the world—or destroy it.
Sixteen-year-old Evangeline "Evie" Greene leads a charmed life, until she begins experiencing horrifying hallucinations. When an apocalyptic event decimates her Louisiana hometown, Evie realizes her hallucinations were actually visions of the future—and they're still happening. Fighting for her life and desperate for answers, she must turn to her wrong-side-of-the-bayou classmate: Jack Deveaux.
But she can't do either alone.
With his mile-long rap sheet, wicked grin, and bad attitude, Jack is like no boy Evie has ever known. Even though he once scorned her and everything she represented, he agrees to protect Evie on her quest. She knows she can't totally depend on Jack. If he ever cast that wicked grin her way, could she possibly resist him?
Who can Evie trust?
As Jack and Evie race to find the source of her visions, they meet others who have gotten the same call. An ancient prophesy is being played out, and Evie is not the only one with special powers. A group of twenty-two teens has been chosen to reenact the ultimate battle between good and evil. But it's not always clear who is on which side.
My Review Continue reading →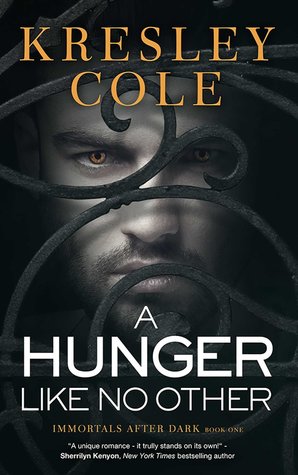 A Hunger Like No Other
by Kresley Cole
Series: Immortals After Dark #2
Published by Pocket Star on April 1st 2006
Genres: Paranormal Romance
Pages: 356
Format: AudioBook
Source: Purchased
Amazon Kindle | Amazon Paperback
Goodreads


In New York Times and USA TODAY bestselling author Kresley Cole's sizzling series, a fierce werewolf and a bewitching vampire become unlikely soul mates whose passion will test the boundaries of life and death.
After enduring years of torture from the vampire horde, Lachlain MacRieve, leader of the Lykae Clan, is enraged to find the predestined mate he's waited millennia for is a vampire. Or partly one. Emmaline Troy is a small, ethereal half Valkyrie/half vampire, who somehow begins to soothe the fury burning within him.
Sheltered Emmaline finally sets out to uncover the truth about her deceased parents—until a powerful Lykae claims her as his mate and forces her back to his ancestral Scottish castle. There, her fear of the Lykae—and their notorious dark desires—ebbs as he begins a slow, wicked seduction to sate her own dark cravings.
Yet when an ancient evil from her past resurfaces, will their desire deepen into a love that can bring a proud warrior to his knees and turn a gentle beauty into the fighter she was born to be?
My Review Continue reading →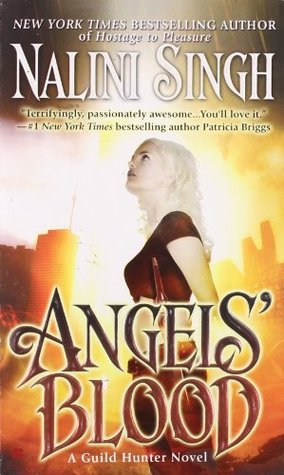 Angels' Blood
by Nalini Singh
Series: Guild Hunter #1
Published by Berkley Sensation on March 3rd 2009
Genres: Paranormal Romance
Pages: 339
Format: AudioBook
Source: Purchased
Amazon Kindle | Amazon Paperback
Goodreads


Vampire hunter Elena Deveraux knows she is the best- but she does not know if even she is good enough for this job. Hired by the dangerously beautiful archangel Raphael, a being so lethal that no mortal wants his attention, Elena knows failure is not an option—even if the task is impossible.
Because this time, it's not a wayward vamp she has to track. It's an archangel gone bad.
The job will put Elena in the midst of a killing spree like no other—and pull her to the razor's edge of passion. Even if the hunt does not destroy her, succumbing to Raphael's seductive touch just might. For when archangels play, mortals break.
Review Continue reading →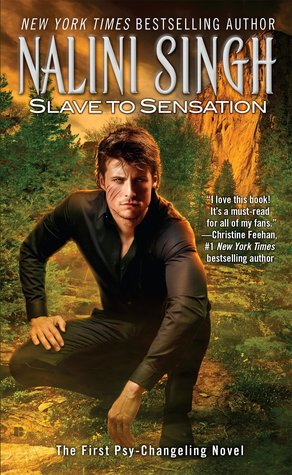 Slave to Sensation
by Nalini Singh
Series: Psy-Changeling #1
Published by Penguin on May 1, 2015
Genres: Paranormal Romance
Pages: 352
Format: AudioBook, Paperback
Source: Purchased
Amazon Kindle | Amazon Paperback
Goodreads


Previous edition for this ISBN found here
Nalini Singh dives into a world torn apart by a powerful race with phenomenal powers of the mind-and none of the heart.
In a world that denies emotions, where the ruling Psy punish any sign of desire, Sascha Duncan must conceal the feelings that brand her as flawed. To reveal them would be to sentence herself to the horror of "rehabilitation" - the complete psychic erasure of everything she ever was...
Both human and animal, Lucas Hunter is a changeling hungry for the very sensations the Psy disdain. After centuries of uneasy coexistence, these two races are now on the verge of war over the brutal murders of several changeling women. Lucas is determined to find the Psy killer who butchered his packmate, and Sascha is his ticket into their closely guarded society. But he soon discovers that this ice-cold Psy is very capable of passion - and that the animal in him is fascinated by her. Caught between their conflicting worlds, Lucas and Sascha must remain bound to their identities - or sacrifice everything for a taste of darkest temptation.
My Review Continue reading →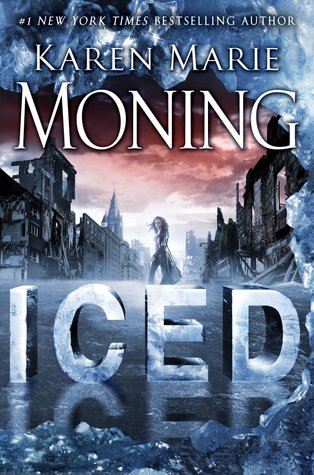 Iced
by Karen Marie Moning
Series: Fever #6
Published by Delacorte Press on October 30th 2012
Genres: Urban Fantasy
Pages: 512
Format: AudioBook
Source: Purchased
Amazon Kindle | Amazon Paperback
Goodreads


From #1 New York Times bestselling author Karen Marie Moning comes the first book in her hotly anticipated new urban paranormal trilogy, set in the world of her blockbuster Fever series.
The year is 1 AWC—After the Wall Crash. The Fae are free and hunting us. It's a war zone out there, and no two days are alike. I'm Dani O'Malley, the chaos-filled streets of Dublin are my home, and there's no place I'd rather be.
Dani "Mega" O'Malley plays by her own set of rules—and in a world overrun by Dark Fae, her biggest rule is: Do what it takes to survive. Possessing rare talents and the all-powerful Sword of Light, Dani is more than equipped for the task. In fact, she's one of the rare humans who can defend themselves against the Unseelie. But now, amid the pandemonium, her greatest gifts have turned into serious liabilities.
Dani's ex–best friend, MacKayla Lane, wants her dead, the terrifying Unseelie princes have put a price on her head, and Inspector Jayne, the head of the police force, is after her sword and will stop at nothing to get it. What's more, people are being mysteriously frozen to death all over the city, encased on the spot in sub-zero, icy tableaux.
When Dublin's most seductive nightclub gets blanketed in hoarfrost, Dani finds herself at the mercy of Ryodan, the club's ruthless, immortal owner. He needs her quick wit and exceptional skill to figure out what's freezing Fae and humans dead in their tracks—and Ryodan will do anything to ensure her compliance.
Dodging bullets, fangs, and fists, Dani must strike treacherous bargains and make desperate alliances to save her beloved Dublin—before everything and everyone in it gets iced.
My Review Continue reading →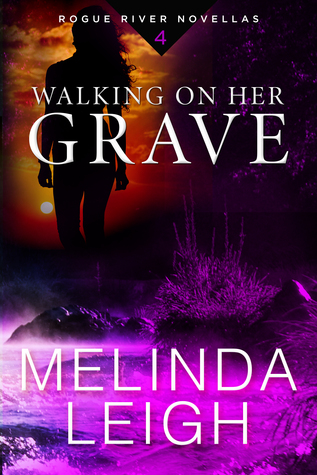 Walking on Her Grave
by Melinda Leigh
Series: Rogue River #4
Published by Montlake Romance on November 14, 2014
Genres: Romantic Suspense
Pages: 100
Format: AudioBook
Source: Purchased
Amazon Kindle
Goodreads


The electrifying conclusion of the romantic suspense novella series from Melinda Leigh and Kendra Elliot.

The sleepy town of Solitude, Oregon, has turned into ground zero for a turf war between the manufacturers and distributors of a lethal new drug. When a teenage witness disappears, social worker Carly Taylor must find him before he's silenced permanently.
Rogue County investigator Seth Harding wants to keep Carly, his estranged wife, out of harm's way, but she refuses to let his concern keep her from doing her job. When one of her young charges vanishes, Carly gets pulled even deeper into the deadly case, and Seth knows he must help her…even if it leads them right into the criminals' crosshairs.
Explosive and exciting to the last page, Walking on Her Grave is the fourth and final thrilling addition to the new romantic suspense series from Melinda Leigh and Kendra Elliot.

Continue reading →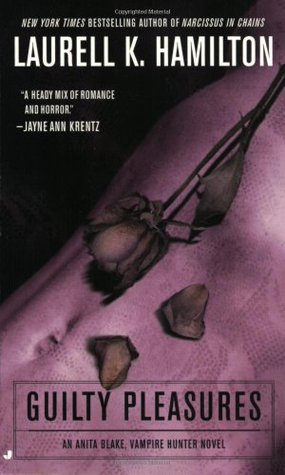 Guilty Pleasures
by Laurell K. Hamilton
Series: Anita Blake Vampire Hunter #1
Published by Berkley on August 3, 2004
Genres: Urban Fantasy
Pages: 355
Format: Paperback, AudioBook
Source: Purchased
Amazon Kindle | Amazon Paperback
Goodreads


Anita Blake is small, dark, and dangerous. Her turf is the city of St. Louis. Her job: re-animating the dead and killing the undead who take things too far. But when the city's most powerful vampire asks her to solve a series of vicious slayings, Anita must confront her greatest fear—her undeniable attraction to master vampire Jean-Claude, one of the creatures she is sworn to destroy...
My Review Continue reading →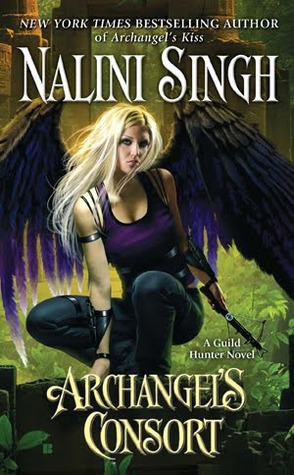 Archangel's Consort
by Nalini Singh
Series: Guild Hunter #3
Published by Berkley Sensation on January 25, 2011
Genres: Paranormal Romance
Pages: 324
Format: Paperback, AudioBook
Source: Purchased
Amazon Kindle | Amazon Paperback | Apple iBooks | Audible
Goodreads


Nalini Singh steps back into the shadows of her heartbreakingly original world where angels rule, vampires serve, and the innocent can pay the greatest price of all ...Vampire hunter Elena Deveraux and her lover, the lethally beautiful archangel Raphael, have returned home to New York only to face an uncompromising new evil ...A vampire has attacked a girls' school - the assault one of sheer, vicious madness - and it is only the first act. Rampant bloodlust takes vampire after vampire, threatening to make the streets run with blood. Then Raphael himself begins to show signs of an uncontrolled rage, as inexplicable storms darken the city skyline and the earth itself shudders. The omens are suddenly terrifyingly clear. An ancient and malevolent immortal is rising. The violent winds whisper her name: Caliane. She has returned to reclaim her son, Raphael. Only one thing stands in her way: Elena, the consort who must be destroyed ...

Continue reading →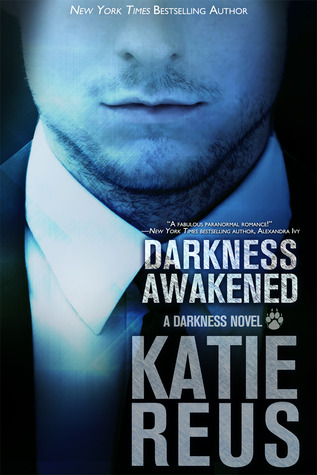 Darkness Awakened
by Katie Reus
Series: Darkness #1
Published by Katie Reus on November 3, 2013
Genres: Paranormal Romance
Pages: 161
Format: AudioBook
Source: Purchased
Amazon Kindle | Amazon Paperback | Audible
Goodreads


Years ago he ended things between them to protect her…
As leader of one of the fiercest werewolf packs in the south, Finn Stavros is in full battle mode 24/7. He has no choice—he's one of the few beings strong enough to fight the Akkadian demons, whose mysterious escape from hell threatens the entire world. With the battle turning bloodier by the second, Finn is ready for anything…until his vampire long lost love shows up on his doorstep in desperate need of his help, sending his heart into a tailspin. He agrees to help her, unaware that she carries a shocking secret that will turn his life upside down.
This time, he's not letting her go…
Vampire Lyra Marius curses the day she met Finn. The ruthless werewolf promised to love her forever, but he rejected her instead—before she could share her life altering news. Pregnant, kicked out of her coven, and cast aside by the love of her life, Lyra struggled to raise their rare shifter-vampire daughter Vega alone among humans. When the 16-year-old is kidnapped and used to fulfill a frightening prophecy, Lyra swallows her pride and turns to Finn for help. But how long can she fight her feelings for him and keep him from guessing the truth about who Vega really is? As they race against the clock to save their daughter, they must defeat the lethal threat imposed by demons infiltrating the human world and a hell gate that could not only reveal their existence to mankind, but destroy the world in the process.
My Review Continue reading →