ARC Review: 'Collateral' by Natasha Knight
I received a complimentary copy of the book from the Blog Tour Host in exchange for an honest review. This does not affect my opinion of the book or the content of my review.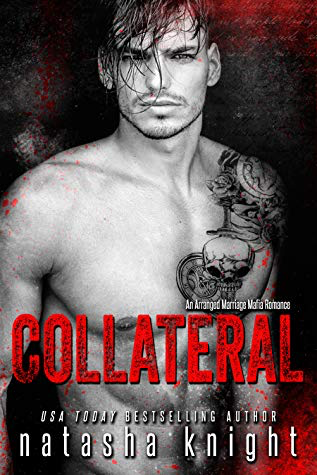 Collateral
by
Natasha Knight
Series:
Collateral Damage #1
Published by
Self-Published
on September 23, 2019
Genres:
Dark Romance
Format:
eArc
Source:
Blog Tour Host
Amazon Kindle
|
Apple iBooks
|
Barnes & Noble
|
Kobo

Gabriela

Stefan Sabbioni showed up in my bedroom on my sixteenth birthday. Uninvited, he stood in the shadows smelling of whiskey and death and wrapped a broken, blood-crusted necklace around my neck.

I thought he'd strangle me with it.

That night, he left a message for my father. He said he'd be back to take something precious.

I never delivered that message, though. I wonder if things would be different if I had because now, two years later, he's back. And he's not hiding in any shadows.

He's come to make good on his promise.
He's back to take that something precious.
Me.

Stefan

Marchese is the manipulator of my family's tragedy. I won't just bring him to his knees. I'll bury him for what he did.

Taking his daughter is only the beginning. I'll do it knowing I'm starting a war. I'll do it knowing my enemies will become his allies. They'll stop at nothing to destroy me and he'll stop at nothing to get her back.

I've never shied away from war, though. I'm not one to play nice and I don't share my toys. I'll demolish you if you touch what's mine.

And she is most definitely mine.
I've been meaning to read one of Natasha Knight's books and finally got a chance to and thank goodness I did. I had a hard time putting down her latest book, Collateral, which is the first book in the Collateral Damage Duet. Be prepared for an addicting Dark Mafia Romance that will have you wanting more, especially after that crazy cliffhanger. 
Gabriela Marchese has never been a Daddy's girl to her father. The first part of the book should tell you how she has been treated by her father, especially when he gives her over to Stefan Sabionni. Stefan wants revenge in this book and forces Gabriela's hand by having him sign over his daughter to him in an arranged marriage. Gabriela had just witnessed her friend, Alex, get beaten, and had his legs broken in front of her for helping her try to run away from her father. Gabriela remembers Stefan though since he visited her with a gift on her sixteenth birthday. She never expected the sexy stranger to come back and want her hand in marriage. He has a hidden agenda, though, and she has no idea what it is until he finally tells her. 
These two characters are utterly explosive around each other. Gabriela has no trust in anyone and will fight Stefan in every way in this book, especially when he takes her to Palermo, Sicily at his home. She meets his cousins and finds out that she has been traded to another monster who is like her father, but could be possibly worse. This book is full of tension between the characters, which made me want more with these two characters. Gabriela is a fighter and lover when it comes to her only friend and her brother. Stefan is a fighter and a lover too. He won't admit the lover part until he realizes how much crap Gabriela went through with her father. He finds out things about her when she's with him that makes him revisit his agenda a couple of times. 
Forewarning ahead of time that there are trigger moments in this book, but not as much as what I've read in other Dark Romance books, which is why I enjoyed this book tremendously. Gabriela is being forced into an arranged marriage and feels like a pawn between Stefan and her father's war. Stefan can't stand her at first until he gets to know the 'princess.' Yes, he calls her a princess and treats her as one in the story. 
I loved this book and are anxiously waiting for the next book in the Duet. The only thing that bothered me was the ending. I won't give it away, but I'm afraid that Gabriela made the wrong choice. Is her father the biggest monster or is Stefan?
If you are looking for an addicting Dark Mafia Romance that involves an alpha sexy dark male character and a fierce, beautiful female character, then don't look any further than this book. 
---
Story Rating: 4.5 stars
Steaminess Rating: 2 stars
Standalone or part of series: Part of Duet and highly recommend reading in order.
Do I recommend this book? Yes.
Will I read other books from the author? Yes.
Tropes/Elements: Arranged Marriage; Mafia Romance; Age-Gap Romance
Hero: Powerful; Wealthy; Part of the Sicilian Mafia; Alpha; Scary; Sexy
Heroine: Abused; Damaged; Immature; Virgin; Prisoner


I guess I should type a bio here. I'm FranJessca or Fran for short. I'm the owner of Book Lovin' Mamas and main Reviewer. I've been reviewing books since I got out of the Navy in 2011. Now 8 years later, I'm still reviewing, but this time with my youngest sidekick.
When I'm not reading and reviewing, you can find me at my day job during the week and on the weekend taking care of our little farm.

Latest posts by FranJessca (see all)