ARC Review: 'Passionate Addiction' by Eden Summers
November 16, 2013
I received a complimentary copy of the book from the author in exchange for an honest review. This does not affect my opinion of the book or the content of my review.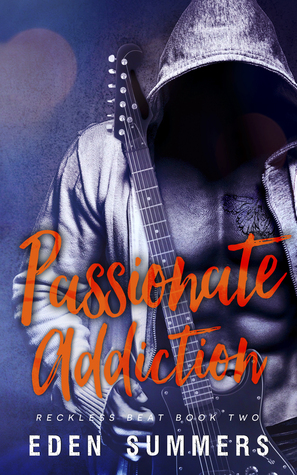 Passionate Addiction
by
Eden Summers
Series:
Reckless Beat #2
Published by
Createspace Independent Publishing Platform
on November 14, 2013
Genres:
Contemporary Romance
,
Erotic Romance
Format:
eArc
Source:
the author
Goodreads
Purchase at
Amazon
|
Apple


He's been her ultimate untouchable desire.

Nothing says happy birthday like a rock god flying thousands of miles to surprise a woman he's never met. But that's exactly what happens to Gabi Smith when she gives her long distance best friend a flippant invitation to her laid back girl's night out. She never expected to turn on the dance floor and find Blake Kennedy's gaze holding her body captive.

She's his everything and he's never laid eyes on her.

Gabi means more to Blake than life itself. She's his strength, his savior, and the only person who helped to vanquish his demons. No one means more to him than his angel. So when things between them start to sizzle, he's ready to fight for the future he never thought he would deserve.

Skeletons from his past will threaten his only chance at love...

Blake has come a long way—with Gabi's help—to leave the hell of his youth behind him, but sometimes memories don't want to stay buried. Determined to stand on his own for once, Blake is willing to stretch the truth to keep his troubles from burdening the woman he adores.

Little white lies can create black holes in any relationship. Only time will tell if an Aussie with a heart of gold will forgive her bad-boy boyfriend or if the deceit will end his passionate addiction.

My Review
Passionate Addiction is the second book in the Reckless Beat series, and it happens to be my favorite member of the band, Blake's story. *sigh* I fell in love with him in Blind Attraction and this book…I fell even harder.
Eden Summers made me smile, laugh, and cry (several times) while reading Passionate Addiction due to the truth of what Blake has gone through and continued to go through. I feel for the hot and sexy tattooed guitarist. He managed to get through the addictions he had thanks to a certain beautiful Aussie online friend named, Gabrielle. He met her on one of the online chat support groups, and she helped save his life from getting worst.
Now, Blake wants to thank Gabi in person for saving his life, and he is finally going to meet the one person, he cares so much about in the story. He ends up surprising her before his band gets to Australia on tour at Gabi's birthday event with her friends at a bar.
Gabi is surprised to see the sexy, tattooed friend she has talked to for years now. Feelings of him are going to brew even further once they finally meet and both of them are going to be inseparable. Unfortunately, Blake's past is going to rear its head and try to ruin the one person in his life that he loves. Gabi's past is also going to show up, but that is because she has dealt with loss before. She wants to keep Blake from going back to his past, but Blake is trying to fix something that he should have taken care of a long time ago. He thinks he can manage it by himself, but so many things are going to jeopardize what he has with Gabi, and their friendship and love are going to be put through so much.
Blake is the sweetest and most loving person ever. I thought he was such a sweetie in Blind Attraction, but in Passionate Addiction, he shares so much more. He opens up on what he has gone through and continues to go through, and even with all his dark secrets coming out, I still love his character. He manages to fight what he goes through thanks to Gabi, but he forgets to realize he had the strength already inside him. He just needed someone to help guide him.
Gabi is such a caring person towards Blake, and she has gone through a lot to in the past due to what her brother put her through and what happened to him. She helped the broken Blake find himself again and make him realize he has the most loving people all around him that would never judge him for what he did…instead they would support him 100%.
We get all the other Reckless Beat characters in Passionate Addiction as well. There is a continuation of Mitch and Alana and what happens to them in this book. (I LOVE those two). We get some drama in Passionate Addiction not only with Blake and Gabi but with some others in the Reckless Beat band.
I'm intrigued to find out more about Mason and Sean after reading this book, and I have to say Mason is one dirty minded individual, but he grew on me because he is not afraid to speak his mind. LOL
Eden Summers did another great job on making me love Blake and making me wish Reckless Beat was a REAL band. I love these guys!! They have taken over my life since the minute I read Blind Attraction because I feel for every one of them. In a world of craziness due to their popularity, they manage to realize they are a family that will do anything for each other.
Oh…and let me not forget that Blake has some moves to him. He knows how to sweep a girl off her feet…literally in this book. The sexy scenes between Blake and Gabi will have you grabbing for the cold water to cool yourself off and maybe even making you take a VERY COLD shower too. I'm telling you…I'm still hot and bothered. ( I'm a little jealous that Gabi got to lick at and touch this sexy god ) =)
I give this book 5 full moons and highly recommend it to readers out there that love books about hot, sexy rock band members and love the contemporary romance genre.
I look forward to the next book in the series and hope it comes out soon because I need me some more of my fictional Rock Band that has won my heart. Oh..and sorry for the long review…but, unfortunately, this is one book that deserves the gushing and loving. =) I could go on and on why I loved this book…but I would give too much away..and you have not read the first book…you are missing out. Get to it and BUY the first book and then get this one. You will LOVE both!!!!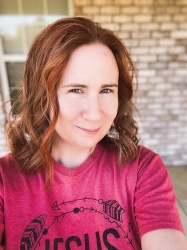 Latest posts by FranJessca
(see all)