ARC Review: 'Provocative' by @lisareneejones +Giveaway
April 21, 2017
I received a complimentary copy of the book from the author, the blog tour host in exchange for an honest review. This does not affect my opinion of the book or the content of my review.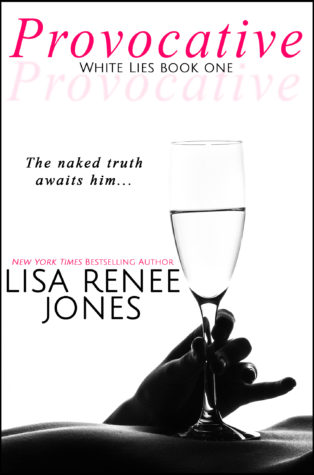 Provocative
by
Lisa Renee Jones
Published by
Self-Published
on April 18, 2017
Genres:
Contemporary Romance
Format:
eArc
Goodreads
Purchase at
Amazon

Book 1 of a duet *
Special release week sale for this full-sized book! Bonus: Includes a FREE novella during the first week of purchase!Book one in the sexy and intense new White Lies duet by Lisa Renee Jones!
There are those moments in life that are provocative in their very existences, that embed in our minds forever, and sometimes our very souls. They change us, mold us, maybe even save us. But some are darker, dangerous. If we allow them to, they control us. Seduce us. Quite possibly even destroy us.
The moment I walked into Sonoma's Reid Winter Winery and Vineyard and made eye contact with Faith Winter for the first time was one of those moments. Provocative because I know at least one of her secrets, of which, I suspect she has many. Provocative because she believes I was a stranger to her when we met, but I am not. Provocative because I sought her out, with no intention of touching her. But now I have. Now I want her. Now I have to have her. But that changes nothing. It doesn't change why I came for her.
Book two: Shameless will be out on July 11th!
My Review
Oh, Lisa, you sure know how to grab a reader's attention with such sexy secretive storylines and characters.  I literally finished this book in two days. I would've definitely finished it sooner, but unfortunately the day job got in the way of my reading time. That's okay though because I got to spend much needed time with Nick Rogers aka 'Tiger' and Faith Winter.
The minute these two meet it's instant sexual tension. Hot sexual tension! Like put down the book because it may scorch your hands, while reading it. 🙂 *One of the main reasons why I could not read this book during lunch break at work. I could only see it now during lunch break. My co-workers wondering why I'm smiling at my kindle.* 🙂 
Provocative is dual POV, so readers will get to read both main characters point of views in the story. Right in the beginning I was thrown into Nick's point of view and how he notices Faith. Let's just say Nick doesn't get called 'Tiger' for nothing. He's determined to find out Faith's secrets because he believes she's definitely hiding something and he'll stop at nothing to find out those secrets. He is a big time lawyer and lawyers know how to find the facts. Faith has no idea that Nick is not someone new in her life.
Then Lisa takes you to Faith's POV and the poor woman has had a rough time. Here she is trying to run a winery, while being harassed by the bank about collecting money and dealing with the heartache of what her mother left her. She just wants to go back to her passion. When she meets Nick though, her world gets turned upside down. She's not prepared to be taken care of by Nick. She's also not aware of his own secrets.
A one-night stand turns into something else with these two. I could not get enough of this crazy seductive world and characters that Lisa created. I'm a little sad though because it's only going to be two books. Although, I know Lisa is going to do a fantastic job with the sequel of the story. She always manages to keep me turning the pages with everything she writes.
One of the best moments in Provocative was getting to read about Chris and Sara again. If you haven't read Lisa Renee Jones Inside Out series you may not get the excited like I did. In fact, I highly recommend you dive into those books as soon as you can because you will not be disappointed.
I give this book 5 stars and highly recommend it to Contemporary Romance readers out there and fans of Lisa Renee Jones.
Warning this book does get really HOT. I warned you earlier in the review, but just in case you didn't read it thoroughly….this book gets HOT!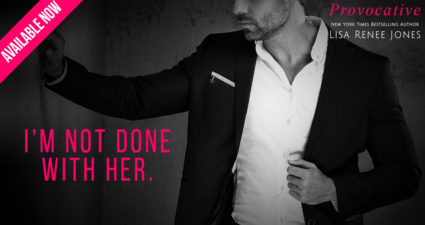 A NOTE FROM THE AUTHOR:
Hi everyone!
I'm so excited that PROVOCATIVE is available now! Just a few notes: if you order PROVOCATIVE this week only you will get $1 off and it will only be $2.99 – I will be increasing this price at the end of the week! You'll also receive the FREE novella Rebecca's Forgotten Journals (these are NEW journal entries) in the back of your copy!
PS – if you missed your chance to receive any of my bonus scenes from Amy & Liam, Chris & Sara, or Ella & Kayden, this is your last chance to get them! Register your order of PROVOCATIVE here – http://bit.ly/2pkQ49b and you'll receive them early next week!
Check out the Trailer: http://bit.ly/ProvocativeTrailer
READ CHAPTER ONE ➜ http://lisareneejones.com/duet
Book two: SHAMELESS will be out on July 11th!
Amazon US | Amazon UK | Barnes & Noble | iBooks | Kobo

a Rafflecopter giveaway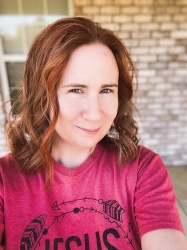 Latest posts by FranJessca
(see all)