Review: 'Craved by her Cougar' by Felicity Heaton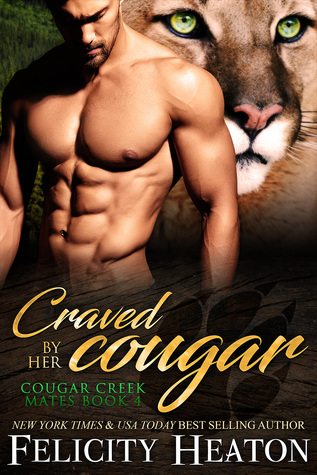 Craved by her Cougar
by Felicity Heaton
Series: Cougar Creek Mates #4
Published by Self-Published on September 29, 2018
Genres: Paranormal Romance
Format: eBook
Source: Kindle Unlimited
Amazon Kindle | Amazon Paperback
Goodreads


For the last twenty years, Cobalt has burned with a need of one female, a beautiful raven-haired cougar who captured his heart the moment he set eyes on her. His position as pride protector has been a blessing at past mating gatherings, keeping females away, but this time it feels like the worst of curses, because the female who has bewitched him so thoroughly is taking part for the first time and all he can do is watch as males battle for her.
As much as she hates the way her mother controls everything in her life, Ember is thankful for it as she constantly turns away suitors, unaware of the pain she's sparing Ember from with every male she rejects. Every male who isn't the gorgeous blond with darkness in his eyes and an easy smile she burns for with an intensity that scares her, awakens feelings in her that have her verging on doing something reckless. Damaged goods he might be, dangerous and unpredictable, but with every contest over her that pulls her closer to her doom, she grows more determined to follow her heart, no matter the consequences.
With every fight over the right to Ember, the tethers on Cobalt's feelings twist and threaten to snap, a torment he cannot bear and one that has him willing to risk it all, because a single kiss would make even the harshest punishment worth it. He would die for one moment with her… his fated mate.
Discover four sexy cougar shifter brothers guaranteed to become your next book boyfriends in this hot new shapeshifter romance series from New York Times and USA Today international best-selling author Felicity Heaton, set in the same rich and addictive world as her Eternal Mates paranormal romance series. Book 1: Claimed by her Cougar Book 2: Captured by her Cougar Book 3: Courted by her Cougar Book 4: Craved by her Cougar
Craved by her Cougar is the fourth and final book in Felicity Heaton's Cougar Creek Mates series and now that I've read all four books I'm sad that it's over now. I should have read the novellas a little slower. I'm glad though that Cobalt was the last of the brothers to get his book. He has it just as hard as the rest of the brothers, especially since his true mate is there at the gathering, but he can't have her. She's there with her mother, and her mother wants her with someone more worthy than Cobalt. Ember though has had feelings for Cobalt for years now, but she doesn't think he likes her that way. Although, Craved by her Cougar both characters are going to find out the truth about each other. Unfortunately, it's not going to be easy for either one of them. Cobalt has his issues and Ember and her controlling mother.
What are my thoughts on the last book though? I enjoyed the last book, especially since Cobalt and Ember were meant for each other from the beginning. They were stubborn to figure it outer until now. Cobalt though doesn't think he's worthy of Ember. Poor guy! He is worthy of her. He was watching the rest of his brothers be with their true mates, so he definitely should be with his mate. Ember never thought Cobalt liked her, but she came to the gathering to hopefully see him. There's a lot of tension between the two, and they both have or are going through a lot. Ember's mother was annoying the whole time in the story since she was trying to pawn Ember off to a shifter of worth. Cobalt is worthy and more worthy than most shifters there at the gathering. He had won Ember over, he just needed a push towards her, and he gets it in his book.
This book was a very entertaining book for being the last of the Cougar Creek Mates books. I give the final book in the series 4.5 stars and highly recommend this book and the series to Paranormal Romance readers. If you're a fan of Felicity Heaton's book, then you'll enjoy these series. If you haven't read this series yet, now is the time to start it.
I hope I get to read about these brothers again, but if I don't, I have these books to re-read over and over again. 🙂


I guess I should type a bio here. I'm FranJessca or Fran for short. I'm the owner of Book Lovin' Mamas and main Reviewer. I've been reviewing books since I got out of the Navy in 2011. Now 8 years later, I'm still reviewing, but this time with my youngest sidekick.
When I'm not reading and reviewing, you can find me at my day job during the week and on the weekend taking care of our little farm.

Latest posts by FranJessca (see all)