Review: 'Dead Witch Walking' by Kim Harrison #romanceopoly
April 24, 2019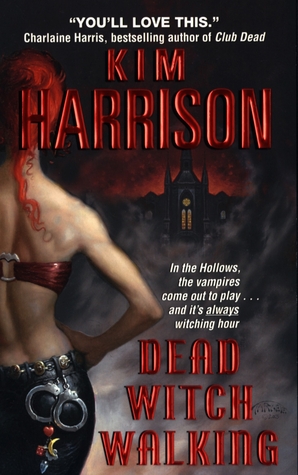 Dead Witch Walking
by
Kim Harrison
Series:
The Hollows #1
Published by
HarperTorch
on July 1, 2004
Genres:
Urban Fantasy
Format:
Paperback
,
AudioBook
Source:
Purchased
Goodreads
Purchase at
Amazon
|
Apple
|
Google Play
|
Kobo

All the creatures of the night gather in "the Hollows" of Cincinnati, to hide, to prowl, to party... and to feed.
Vampires rule the darkness in a predator-eat-predator world rife with dangers beyond imagining - and it's Rachel Morgan's job to keep that world civilized.
A bounty hunter and witch with serious sex appeal and an attitude, she'll bring 'em back alive, dead... or undead.
My Review
I read Dead Witch Walking by Kim Harrison during the Romanceopolyathon the week of April 8th – 14th. Thanks to the audiobook version of the book I was able to finish it in less than two days. I loved listening to Dead Witch Walking, and I will be reading the rest of the series now after finally finishing the first book. I can't believe it took me this long to read/listen to this book. I bought this book as a used copy a long time ago, and it's been collecting dust on my bookshelves. No more.
Some things I loved about this book:
1. It's an Urban Fantasy genre book. I've loved this genre. It doesn't have a romance element to it because it focuses on the story and the action and that is what I was looking for in this book. Every once in a while I need a book that brings my love of fantasy back.
2. I love kick-butt female characters, and that is what Rachel Morgan is in this book. I also adored Ivy Tamwood who is a Vampire, even though she scares me. I know she scares Rachel too. Rachel though is a Witch who is also a Bounty Hunter. Unfortunately, she's going to be on everyone's hit-list when she gives up her job of Bounty Hunting at the IS. You never leave IS willing. Rachel now gets to deal with some crazy bounty hunters of her own that want to kill her. She will have Ivy on her side and Jenks who is a pixy. Jenks is funny in the story, especially with how the narrator portrays him.
3. There are the villains in the story too that played a part in the book that kept the storyline going as well. Rachel did not have it easy at all. There's not only the bounty hunters to worry about in the story. Rachel had some horrible issues to deal with in this book. She got out of them though, but barely. I look forward to reading more in the next book with Rachel, Ivy, and Jenks.
This book was a great start to the series, and I loved how Kim started it all off. I also loved that I listened to the book, instead of reading it. I think I read it. I wouldn't have liked it the way I did. The narrator, Marguerite Gavin, brought the story and characters to life for me. Although, she did make me scared of Ivy and several other characters in the story with the narration. I will be listening to the rest of the book, but I will be buying the books too. I love the covers.
If you are looking for a series with a kick-butt female character, great secondary characters who tag along to keep the main character out of trouble, and excellent world-building, then this is the book for you. I love all the different lore characters in this series too. Thank goodness I gave this book a try thanks to the Read-A-Thon. I'm so thankful I found another series to read to finish and an author to add to my auto-buy list too, for my collection of already growing list at Goodreads.
---
Story Rating: 4 stars
Standalone or part of series: Part of 'The Hollows' series and highly recommend reading in order.
Do I recommend this book?  Yes.
Will I read other books from the author? Yes.
Heroine: Witch; Kick-butt; Bounty Hunter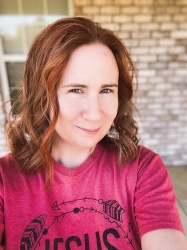 Latest posts by FranJessca
(see all)