Review: 'Faking it with #41' by Piper Rayne
March 31, 2023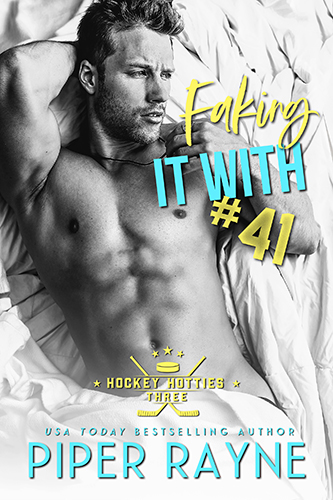 Faking It with #41
by
Piper Rayne
Series:
Hockey Hotties #3
Published by
Self-Published
on September 21, 2021
Genres:
Contemporary Romance
Format:
AudioBook
,
eBook
Source:
Purchased
Goodreads
Purchase at
Amazon
|
Barnes & Noble
|
Kobo

Fake.
Being the heir to Jacobs Enterprises, I've been around fake people my entire life. I promised myself a long time ago that I wouldn't change for anyone. Which is the only reason I'm a professional hockey player who lives on the beach and does as he pleases without answering to anyone—except my father.
And now, my daughter.
Being a single dad wasn't in the plan but after a one-night stand who took off after the baby was born, this is my reality.
My dad's been harping on me to quit hockey and join the company for years and now that I'm a father, he's only intensified his efforts. Until he makes me a deal I can't refuse.
Insert Lena Boyd, the Jacobs' family PR rep. She's beautiful and intelligent and not at all the woman for me—ask anyone.
My dad needs us to act happily engaged and sell the idea that we're in love. If we're successful I won't have to join the family legacy—ever. Of course, I agree.
That's when things get complicated. I thought I had her all figured out until I found out there was more underneath her judgmental sneers and eye rolls. It feels like everything is coming together for the future I really want—with Lena—until my past ruins everything.
---
I'm so glad I was introduced to the author duo, Piper Rayne, at the beginning of this year. I've read their Kingsmen Football Star series, and now I'm going through their backlist and reading their Hockey Hotties series. They've written many books, but I'm determined to read them all. That's how much I'm obsessed. I love that the books are under 300+ pages according to my kindle page count, and I can enjoy them on audio, too. It takes me only a short time to read/listen to them. It also helps when the narrators are excellent, Teddy Hamilton and Erin Mallon.
Storyline/My Thoughts: Now, I knew immediately Ford was going to be the MMC that I needed to read his book after being introduced to him in Countdown to a Kiss and then reading the ending of book two and what happened to him. He's the Florida Fury Hockey player known to be a player who can't seem to settle. His world does a 360 when he is now a Single Father and is forced to raise his baby girl by himself since the mother wasn't ready to take care of her. (I'm putting it nicely for the review.) His family is worried about his image and theirs because of what happened. In comes the PR representative to the Jacobs family, Lena Boyd. Ford and Lena can't stand each other. Ford can't stand that she works for his father. He knows his father wants Ford to take over the family business, but he doesn't want anything to do with it. His father gives him a proposition that Ford can't refuse. He accepts it, but the only issue is that he must convince the woman he can't stand to be a fake engagement with him. Yeah, there's bound to be friction between the two characters, which I thrive on in romance books like this one. I loved the Enemies to Lovers trope, and that is precisely what Ford and Lena are in this Contemporary Romance.
I love reading when the characters who are supposed to hate each other end up being forced together and finding out they have feelings for each other. I don't care how many books I read with this trope; it will always be a fave.
The best part is reading Ford and Lena's POVs and discovering how these two grew their feelings for each other. It took time and grew slowly. Ford has to think of his daughter, and Lena has to guard her heart because she knows Ford's past. Ford meets his match with Lena when they give in to their feelings. Lena is not as innocent and modest as he thinks. Ford is precisely what Lena expects in the bedroom.
The Fake Relationship/Engagement Trope is another favorite trope, but when there are secrets between the characters, then it can bother me. That happened when it came to why the FMC agreed to the arrangement and failed to mention it to the MMC. I don't particularly appreciate it when the characters don't communicate, and I know it's a fictional story, but it's just something that has always bothered me. It's just my opinion. Some readers may enjoy it.
I loved how Ford handled a particular person at the end of this book. That man let that person know, and after he finds out the truth from this person about what they did. Yeah, no spoilers from me. I was ticked for Ford. He handled it better than I would.
If there is one thing I have found with the author duo, Piper Rayne, they know how to write some swoon-worthy MMCs. I can't decide which MMC is my favorite of this series (so far). Ford may be on that list after reading his book; just adding another book boyfriend to my growing list of book boyfriends, thanks to Piper Rayne.
Overall, I give Ford and Lena's story four stars and can't wait to continue reading this series. I'm loving these sexy hockey players.
Standalone or Part of Series: It's part of the Hockey Hotties series, but each book can be read as a standalone.
Steam/Spice: 🌶 🌶
Genre/SubGenre(s)/Trope(s)/Element(s): Romance. Contemporary Romance. Sports Romance. Hockey Romance. Celebrity Romance. Enemies to Lovers. Single Father Romance. Opposite's Attract. Fake Relationship/Engagement. Former Manwhore/Player MMC. PR Specialist FMC.
Would I recommend this book? Yes. If you are in your Hockey Romance Era like me, I recommend the Hockey Hotties series and definitely Ford's book. You get a sexy single father who isn't looking for love but finds it with his enemy, whom he kissed once on New Year's Eve. =)

This post contains affiliate links you can use to purchase the book. If you buy the book using that link, I will receive a small commission from the sale. It will help sponsor future giveaways but costs you nothing extra. You can read the full disclosure underneath the Privacy Policy.
---
---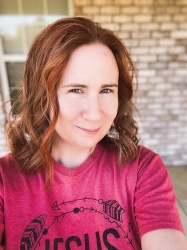 Latest posts by FranJessca
(see all)