Review: 'Seduced by the Wolf' by Terry Spear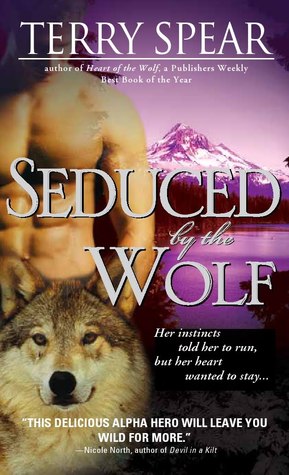 Seduced by the Wolf
by
Terry Spear
Series:
Heart of the Wolf #5
Published by
Sourcebooks
on August 1st 2010
Genres:
Paranormal Romance
Pages:
416
Format:
Paperback
Source:
Purchased
Amazon Kindle
|
Amazon Paperback
Goodreads

His first priority is to protect his pack Werewolf pack leader Leidolf Wildhaven has just taken over a demoralized pack. With rogue wolves on the loose causing havoc and the authorities from the zoo suddenly zeroing in on the local wolf population, the last thing he needs in his territory is a do-gooder female, no matter how beautiful and enticing she is...
She'll do anything to help wolvesBiologist Cassie Roux has dedicated her life to protecting wolves in the wild. On a desperate mission to help a she-wolf with newborn pups, the last thing Cassie needs right now is a nosy and entirely too attractive werewolf pack leader trying to track her down...
With rogue wolves and hunters threatening at every turn, Cassie and Leidolf may find their attraction the most dangerous force of all.
Heart of the Wolf Series: Heart of the Wolf (Book 1) To Tempt the Wolf (Book 2) Legend of the White Wolf (Book 3)Seduced by the Wolf (Book 4)
Praise for Terry Spear: "The vulpine couple's chemistry crackles off the page, but the real strength... lies in Spear's depiction of pack power dynamics as well as in the details of human-wolf interaction. Her wolf world feels at once palpable and even plausible.""-Publishers Weekly""Chilling suspense and sizzling romance... The dark, sexy alpha hero will capture you-body, mind, and soul.""-"Nicole North, author of "Devil in a Kilt""If action, romance, and suspense are what you are looking for in a story, then look no further."-Night Owl Romance
My Review
My opinion on the book is VERY high. I had a hard time putting down this book. Cassie and Leidolf are the perfect match. They both have been loner wolfs and have lost someone(s) they love dearly. They both feel at fault for the deaths of their family members. Cassie has a hard time dealing with the fact she wants to be a part of a pack but doesn't want to lose anyone she loves again. From the moment Leidolf lays eyes on her, he is in love and will do anything to make Cassie his mate forever. The sticky situations they get themselves into and everything that happens at the end with the Leidolfs pack you'll be surprised. I know I was. I give this book two thumbs up and 5 stars. Thanks, Terry Spear for writing this book. You have become one of my favorite authors. All thanks to the used bookstore around Pembroke area for introducing me to this wonderful author. I bought two books written by Terry Spear there at the store and fell in love with the wolf series. Now I can't get enough of this wolf stories and the world that Terry Spear has created for her characters.  Makes me wish they were real.  =)


I guess I should type a bio here. I'm FranJessca or Fran for short. I'm the owner of Book Lovin' Mamas and main Reviewer. I've been reviewing books since I got out of the Navy in 2011. Now 8 years later, I'm still reviewing, but this time with my youngest sidekick.
When I'm not reading and reviewing, you can find me at my day job during the week and on the weekend taking care of our little farm.

Latest posts by FranJessca (see all)