Review: 'Through the Zombie Glass' by Gena Showalter
February 26, 2018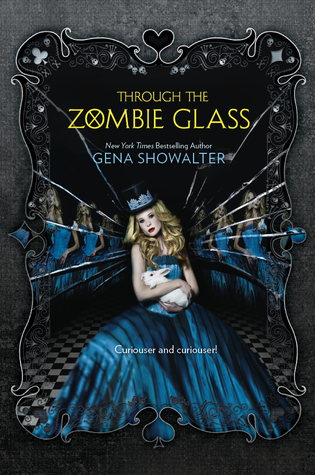 Through the Zombie Glass
by
Gena Showalter
Series:
White Rabbit Chronicles #2
Published by
Harlequin Teen
on September 24th 2013
Genres:
Young Adult Paranormal
Format:
AudioBook
,
Hardcover
Source:
Purchased
Goodreads
Purchase at
Amazon
|
Apple

Zombies stalk the night.
Forget blood and brains. These monsters hunger for human souls.
Sadly, they've got mine...
Alice Bell has lost so much. Family. Friends. A home. She thought she had nothing else to give. She was wrong.
After a new zombie attack, strange things begin to happen to her. Mirrors come to life, and the whispers of the dead assault her ears. But the worst? A terrible darkness blooms inside her, urging her to do very wicked things.
She's never needed her team of zombie slayers more, but ultra bad-boy Cole Holland, the leader and her boyfriend, suddenly withdraws from her...from everyone. Now, with her best friend, Kat, at her side, Ali must kill the zombies, uncover Cole's secret and learn to fight the darkness.
But the clock is ticking...and if she fails at a single task, they're all doomed.
My Review
I listened to Through the Zombie Glass, while recovering from the dreadful 'Influenza A' this weekend. I have to say with Natalie Gold's narration and Gena Showalter's story, even the flu was not going to stop me from finishing the sequel to the White Rabbit Chronicles. I absolutely was hooked from the first page to the last page.
I thought the first book was awesome, well, Gena definitely surpassed 'Awesome' with the sequel. It's awe-inspiring, breathtaking, impressive, dark, twisted, unforgettable, etc. I could go on and on describing the sequel, but I'll go on with my review.
The main character Alice 'Ali' Bell is going to go through some horrific issues in the sequel. Some of them normal teenage issues, while others are dealing with zombies and the awful Hazmats. Gena definitely had a great mixture of both normal and not normal for poor Alice, which made it hard to not continue listening to the book. Natalie Gold definitely is a great narrator for these books. I definitely felt the pain of what Alice went through in this book.
There's also Cole. *sigh* Cole went through quite a bit too, but he definitely acted like a broody teenage male, but he's hard not to love, especially with how he cared for Alice in the story. Now, do not get me wrong there were parts I wanted to kick him in the shins, but then he had to go back to his lovable self. Darn you, Cole. Gena wrote him perfectly!
The storyline has a mixture of Alice healing from what happened at the end of the first book, the slayers battling with zombies, some slayers battling with each other, and now Alice dealing with something really dark and twisted inside of her. Don't look in the mirror, Ali Bell, is all I'm gotta say about this part what Alice is going through. Oh, and there's the issue with hazmat suits as well. So much going on, and it's so easy to get sucked in the story because of everything going on.
I've been in a Young Adult Fantasy/Paranormal kick this month and I'm so glad I decided to go back to read these books. Gena Showalter never fails me with her story telling, kick-butt characters, and hottie book boyfriends. Yes. I said, book boyfriends. Cole has definitely been dubbed one of my book boyfriends. He's a sexy tattooed moody zombie slayer. (I have to remind myself though he's underage and he's also Alice's boyfriend, but he can still be apart of my long list of book boyfriends.)
I give this book 5 stars and highly recommend it to readers of Young Adult Fantasy/Paranormal with a twist to the Alice in Wonderland tale that involves zombies and slayers.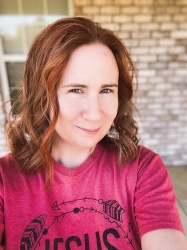 Latest posts by FranJessca
(see all)