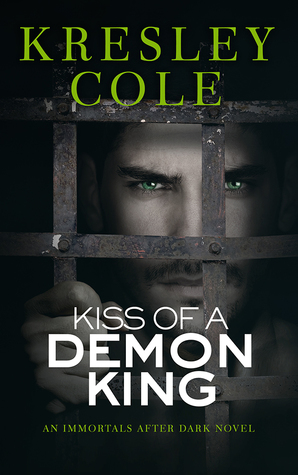 Kiss of a Demon King
by Kresley Cole
Series: Immortals After Dark #7
Published by Pocket Books on January 20, 2009
Genres: Paranormal Romance
Pages: 417
Format: AudioBook, Paperback
Source: Purchased
Amazon Kindle | Amazon Paperback | Audible | Barnes & Noble | Kobo
Goodreads


From New York Times bestselling author Kresley Cole comes this spellbinding story of a demon king trapped by an enchantress for her wanton purposes -- and the scorching aftermath that follows when he turns the tables and claims her as his captive.
HIS OBSESSION...Sabine, Sorceress of Illusions: the evil beauty who surrenders her body, but not her heart.
HER DOWNFALL...Rydstrom Woede: the ruthless warrior who vows to keep her at all costs.
THEY WERE NEVER SUPPOSED TO WANT EACH OTHER THIS MUCH...With each smoldering encounter, their shared hunger only increases. If they can defeat the sinister enemy that stands between them, will Sabine make the ultimate sacrifice for her demon? Or will the proud king lay down his crown and arms to save his sorceress?
My Review Continue reading →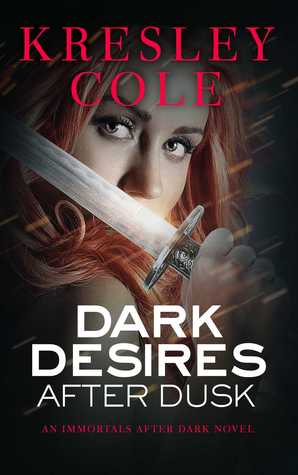 Dark Desires After Dusk
by Kresley Cole
Series: Immortals After Dark #6
Published by Simon & Schuster on May 20, 2008
Genres: Paranormal Romance
Pages: 368
Format: AudioBook, Paperback
Source: Purchased
Amazon Kindle | Amazon Paperback | Audible | Barnes & Noble | Kobo
Goodreads


RITA Award-winning author Kresley Cole continues her bestselling Immortals After Dark series with this electrifying tale of a ruthless demon mercenary and the lovely young halfling who enchants him.
A seductive beauty he can never have, yet can't resist...Cadeon Woede will stop at nothing to atone for the one wrong that will haunt him forever. But once he secures the key to his redemption, the halfling Holly Ashwin, Cade finds that the woman he thought he could use for his own ends and then forget haunts him as much as his past.
A tormented warrior she should fear, but can't deny... Raised as a human, Holly never knew that some frightening legends are real until she encounters a brutal demon who inexplicably guards her like a treasure. Thrust into a sensual new world of myth and power, with him as her protector, she begins to crave the demon's wicked touch.
Surrender to dark desires...Yet just when he earns Holly's trust, will Cade be forced to betray the only woman who can sate his wildest needs -- and claim his heart?
My Review Continue reading →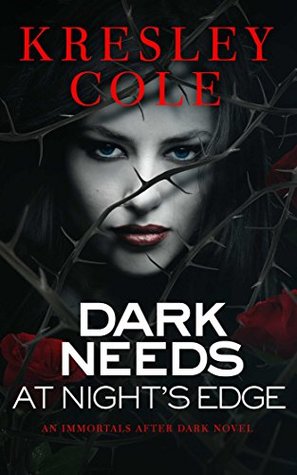 Dark Needs at Night's Edge
by Kresley Cole
Series: Immortals After Dark #5
Published by Pocket Books on April 29, 2008
Genres: Paranormal Romance
Pages: 368
Format: Paperback, AudioBook
Source: Purchased
Amazon Kindle | Amazon Paperback | Audible | Barnes & Noble
Goodreads


Bestselling author Kresley Cole continues her seductive Immortals After Dark series with this tale of a vampire shunned even by his own kind and a beautiful phantom, bound together by a passion they cannot resist.
A RAVEN-HAIRED TEMPTRESS OF THE DARK...
Naomi Laress, a famous ballerina from a past century, became a phantom the night she was murdered. Imbued with otherworldly powers but invisible to the living, she haunts her beloved home, scaring away trespassers -- until she encounters a ruthless
A VAMPIRE WARRIOR CONSUMED BY MADNESS...
To prevent him from harming others, Conrad Wroth's brothers imprison him in an abandoned manor. But there, a female only he can see seems determined to drive him further into madness. The exquisite creature torments him with desire, leaving his body racked with lust and his soul torn as he finds himself coveting her for his own.
HOW FAR WILL HE GO TO CLAIM HER?
Yet even if Conrad can win Naomi, evil still surrounds her. Once he returns to the brutality of his past to protect her, will he succumb to the dark needs seething inside him?
My Review Continue reading →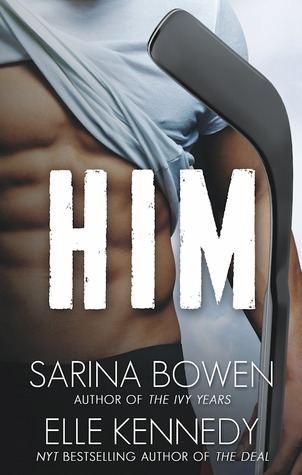 Him
by Sarina Bowen, Elle Kennedy
Series: Him #1
Published by Rennie Road Books on July 28, 2015
Pages: 360
Format: eBook
Source: Purchased
Amazon Kindle | Amazon Paperback | Audible | Barnes & Noble
Goodreads


They don't play for the same team. Or do they?
Jamie Canning has never been able to figure out how he lost his closest friend. Four years ago, his tattooed, wise-cracking, rule-breaking roommate cut him off without an explanation. So what if things got a little weird on the last night of hockey camp the summer they were eighteen? It was just a little drunken foolishness. Nobody died.
Ryan Wesley's biggest regret is coaxing his very straight friend into a bet that pushed the boundaries of their relationship. Now, with their college teams set to face off at the national championship, he'll finally get a chance to apologize. But all it takes is one look at his longtime crush, and the ache is stronger than ever.
Jamie has waited a long time for answers, but walks away with only more questions—can one night of sex ruin a friendship? If not, how about six more weeks of it? When Wesley turns up to coach alongside Jamie for one more hot summer at camp, Jamie has a few things to discover about his old friend... and a big one to learn about himself.
Warning: contains sexual situations, skinnydipping, shenanigans in an SUV and proof that coming out to your family on social media is a dicey proposition.
My Review
Continue reading →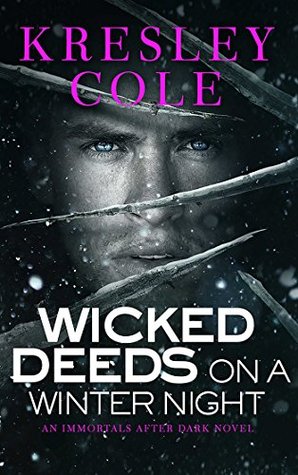 Wicked Deeds on a Winter's Night
by Kresley Cole
Series: Immortals After Dark #4
Published by Simon & Schuster Ltd on November 1st 2007
Genres: Paranormal Romance
Pages: 384
Format: Paperback, AudioBook
Source: Purchased
Amazon Kindle | Amazon Paperback
Goodreads


Bowen MacRieve of the Lykae clan was nearly destroyed when he lost the one woman meant for him. The ruthless warrior grew even colder, never taking another to his bed—until a smoldering encounter with his enemy, Mariketa the Awaited, reawakens his darkest desires. When sinister forces unite against her, the Highlander finds himself using all his strength and skill to keep her alive.

Temporarily stripped of her powers, Mari is forced to take refuge with her sworn adversary. It's rumored that no one can tempt Bowen's hardened heart, but soon passion burns between them. Though a future together is impossible, she fears he has no intention of letting her go.

If they defeat the evil that surrounds them, can Mari deny Bowen when he demands her body and soul—or will she risk everything for her fierce protector?
My Review Continue reading →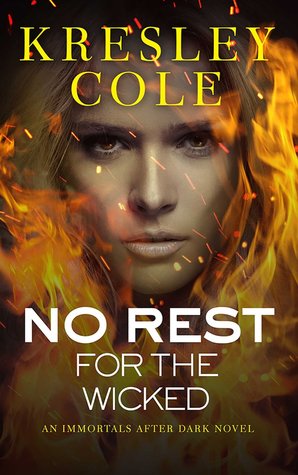 No Rest for the Wicked
by Kresley Cole
Series: Immortals After Dark #3
Published by Pocket Star on October 31, 2006
Genres: Paranormal Romance
Pages: 356
Format: Paperback, AudioBook
Source: Purchased
Amazon Kindle | Amazon Paperback
Goodreads


In this next installment in the Immortals After Dark Series, USA Today Bestselling author Kresley Cole delivers a scorching tale about a forbidding vampire who lives in the shadows and the beautiful assassin who hunts him there.
A vampire soldier weary of life...
Centuries ago, Sebastian Wroth was turned into a vampire—a nightmare in his mind—against his will. Burdened with hatred and alone for ages, he sees little reason to live. Until an exquisite, fey creature comes to kill him, inadvertently saving him instead.
A valkyrie assassin dispatched to destroy him...
When Kaderin the Cold Hearted lost her two beloved sisters to a vampire attack long ago, a benevolent force deadened her sorrow—accidentally extinguishing all of her emotions. Yet whenever she encounters Sebastian, her feelings—particularly lust—emerge multiplied. For the first time, she's unable to complete a kill.
Competitors in a legendary hunt...
The prize of the month-long contest is powerful enough to change history, and Kaderin will do anything to win it for her sisters. Wanting only to win her, forever, Sebastian competes as well, taking every opportunity—as they travel to ancient tombs and through catacombs, seeking relics around the world—to use her new feelings to seduce her. But when forced to choose between the vampire she's falling for and reuniting her family, how can Kaderin live without either?

Continue reading →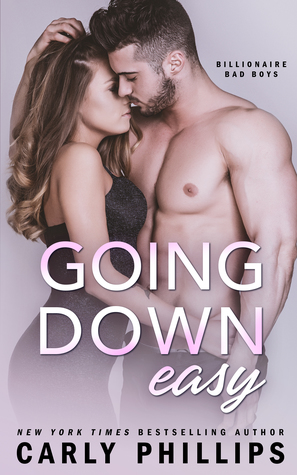 Going Down Easy
by Carly Phillips
Series: Billionaire Bad Boys #1
Published by CP Publishing on July 19, 2016
Genres: Contemporary Romance
Pages: 156
Format: eBook
Source: Purchased
Amazon Kindle | Amazon Paperback | Apple iBooks | Audible
Goodreads


Billionaire Bad Boys: Rich, Powerful and sexy as hell.
Billionaire Kaden Barnes has a reputation for being difficult and always gets his way. With his alpha male tendencies he's unable to keep a secretary for long. Enter his newest hire, Lexie Parker. She's no-nonsense, efficient and all business … she's also hot as sin and soon starring in Kaden's dirtiest fantasies … he may think he's calling the shots, but for this bad boy, going down easy has never felt so good.

Continue reading →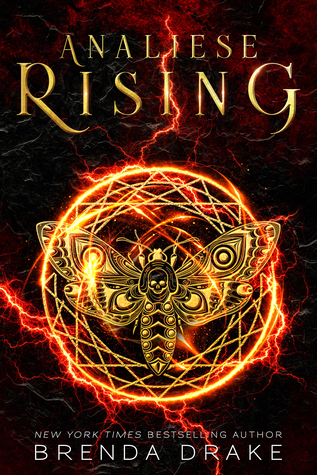 Analiese Rising
by Brenda Drake
Published by Entangled: Teen on January 8, 2019
Pages: 350
Format: eBook
Source: Purchased
Amazon Kindle | Amazon Paperback | Barnes & Noble
Goodreads


Half-Blood meets Antigoddess in a thrilling, romantic new series from New York Times bestselling author Brenda Drake.
When a stranger gives Analiese Jordan a list of names before he dies, the last thing she expects to see is her own on it. Not. Cool. Her search for answers leads to the man's grandson, Marek, who has dangerous secrets of his own. Both are determined to unlock the mystery of the list.
But the truth is deadly. Analiese is a descendant of the God of Death, known as a Riser, with the power to raise the dead and control them. Finding out she has hidden powers? Cool. Finding out she turns corpses into killers? No, thank you.
Now the trail plants her and Marek in the middle of a war between gods who apparently want to raise an army of the Risen, and Analiese must figure out how to save the world—from herself.

Continue reading →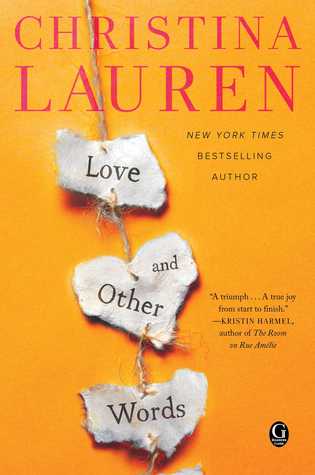 Love and Other Words
by Christina Lauren
Published by Gallery Books on April 10, 2018
Genres: Women's Fiction, Chick Lit
Pages: 432
Format: eBook
Source: Purchased
Amazon Kindle | Audible | Barnes & Noble | Kobo
Goodreads


Love, loss, friendship, and the betrayals of the past all collide in this first fiction novel from New York Times and #1 international bestselling author Christina Lauren (Autoboyography, Dating You / Hating You).
The story of the heart can never be unwritten.
Macy Sorensen is settling into an ambitious if emotionally tepid routine: work hard as a new pediatrics resident, plan her wedding to an older, financially secure man, keep her head down and heart tucked away.
But when she runs into Elliot Petropoulos—the first and only love of her life—the careful bubble she's constructed begins to dissolve. Once upon a time, Elliot was Macy's entire world—growing from her gangly bookish friend into the man who coaxed her heart open again after the loss of her mother...only to break it on the very night he declared his love for her.
Told in alternating timelines between Then and Now, teenage Elliot and Macy grow from friends to much more—spending weekends and lazy summers together in a house outside of San Francisco devouring books, sharing favorite words, and talking through their growing pains and triumphs. As adults, they have become strangers to one another until their chance reunion. Although their memories are obscured by the agony of what happened that night so many years ago, Elliot will come to understand the truth behind Macy's decade-long silence, and will have to overcome the past and himself to revive her faith in the possibility of an all-consuming love.

Continue reading →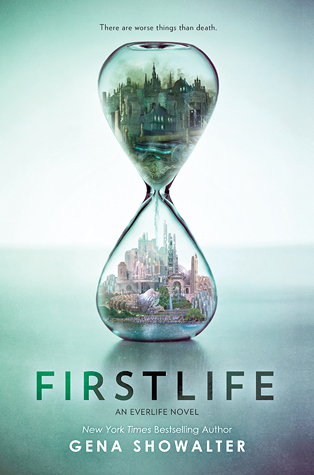 Firstlife
by Gena Showalter
Series: Everlife #1
Published by Harlequin Teen on February 23, 2016
Pages: 467
Format: Hardcover, AudioBook
Source: Purchased
Amazon Kindle | Amazon Paperback | Audible | Barnes & Noble | Kobo
Goodreads


Step one...you die.
ONE CHOICE. TWO REALMS. NO SECOND CHANCE.
Tenley "Ten" Lockwood is an average seventeen-year-old girl…who has spent the past thirteen months locked inside the Prynne Asylum. The reason? Not her obsession with numbers, but her refusal to let her parents choose where she'll live — after she dies. There is an eternal truth most of the world has come to accept: Firstlife is merely a dress rehearsal, and real life begins after death.
In the Everlife, two realms are in power: Troika and Myriad, long-time enemies and deadly rivals. Both will do anything to recruit Ten, including sending their top Laborers to lure her to their side. Soon, Ten finds herself on the run, caught in a wild tug-of-war between the two realms that will do anything to win the right to her soul. Who can she trust? And what if the realm she's drawn to isn't where the boy she's falling for lives? She just has to stay alive long enough to make a decision…

Continue reading →