Review: 'A Bone to Pick' by Melinda Leigh (#KUWeekendAThon)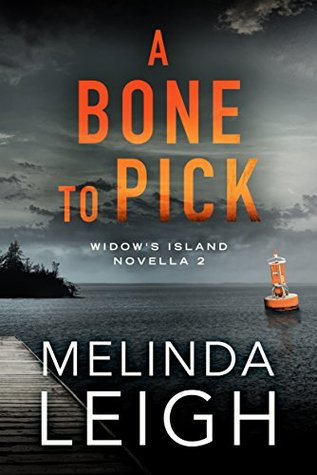 A Bone to Pick
by
Melinda Leigh
Series:
Widow's Island #2
Published by
Montlake Romance
on October 30, 2018
Genres:
Romantic Suspense
Pages:
101
Format:
eBook
Source:
Kindle Unlimited
Amazon Kindle
|
Audible
Goodreads

Deputy Tessa Black gave up her career as a detective with the Seattle PD and returned to the Pacific Northwest island she calls home to care for her ailing mother. Tessa thinks her mother's illness is the worst thing she'll face—until she responds to a routine call in the state park and discovers a local man harpooned to a sign.
As the murder investigation unfolds, it becomes clear that the victim harbored secrets. Together with her FBI agent best friend, Cate, and park ranger Logan Wilde, Tessa must connect the pieces before the murderer strikes again. But the closer she gets to the truth, the more she finds herself—and the ones she loves—in harm's way.
Pressure mounts as Tessa attempts to juggle the current case with her search for the truth behind her childhood friend Samantha's disappearance twenty years ago. Can Tessa find the murderer and uncover answers about Samantha without jeopardizing everything she holds dear?
Thanks to the Kindle Unlimited Weekend Read-A-Thon (Dec. 27 – 29), I was able to make time to read the second book in the Widow's Island novella series. A Bone to Pick is by Melinda Leigh this time, and I was excited to dive back into one of her books/novellas. 
This time readers get to follow Deputy Tessa Black and Park Ranger Logan Wilde in the second novella in the series, and I adored both of these characters. Tessa Black used to be a detective with the Seattle PD until she decided to go back home to Widow's Island to take care of her mother that is suffering from Dementia. Logan Wilde used to be in the Army until he decided not to re-enlist and he wanted a job that didn't involve with death. Unfortunately, both characters will have to investigate a gruesome murder on the Island, which includes a local man being harpooned. They will get help with Tessa's best friend, Cate, who was introduced in the first book. She's an FBI agent who can assist with the murder and also help Tessa take care of her mother. Both Tessa and Logan will learn that the victim of the killing has his secrets that may have been the reason why he was murdered. Who is behind it all, though? Could it be someone on the Island or someone visiting?
I loved the suspense in this novella, and I loved how Tessa kicked butt in this book too. Melinda always writes some kick-butt heroines in her stories. 🙂 The novella is short, but Melinda Leigh does a fantastic job of keeping readers, like myself, on the edge of my seat. I love everything she writes and needs to find more time to catch up on her books, as well as Kendra Elliot. These two authors are fantastic with their story-telling and making me fall for their characters. 
I highly recommend reading this series by Melinda Leigh and Kendra Elliot, and I'm going to make time to read the next two novellas so that I can catch up. I want to find out more about the biggest mystery of them all that involves a friend of Tessa and Cate's that disappeared twenty years ago, Samantha. If you haven't read the first novella, then I highly recommend you do soon. 🙂 


I guess I should type a bio here. I'm FranJessca or Fran for short. I'm the owner of Book Lovin' Mamas and main Reviewer. I've been reviewing books since I got out of the Navy in 2011. Now 8 years later, I'm still reviewing, but this time with my youngest sidekick.
When I'm not reading and reviewing, you can find me at my day job during the week and on the weekend taking care of our little farm.

Latest posts by FranJessca (see all)