Review: 'An Alpha's Path' by Carrie Ann Ryan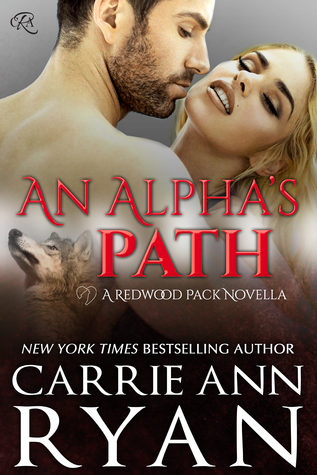 An Alpha's Path
by
Carrie Ann Ryan
Published by
Self-Published
on December 1, 2011
Genres:
Paranormal Romance
Pages:
59
Format:
eBook
Source:
Purchased
Amazon Kindle
Goodreads

Melanie Cross knew nothing of the world beyond her books and thought that was all she needed. When she finds herself on a blind date with a shifter who says she's his mate, she finds out otherwise.
Kade Jamenson knows one day he will be the Alpha of the Redwood Pack but first, he must find his mate. Somehow fate has put her in his path in the most unlikely of ways, but when another tries to block them before they can complete the mating bond, he'll stop at nothing to keep Melanie safe.
As temptation burns bright, two of them must overcome what they thought were differences and fight for something more than a mere night: fate.
My Review
This is the first book I've read from Carrie Ann Ryan, and now I'm kicking myself in the butt for not reading any of her books sooner. I need to make time to read the other books in the series because An Alpha's Path already hooked me. I have been reading too many Contemporary Romance and New Adult books, and I needed a PNR book to gain my interest again. An Alpha's Path did the trick.
In An Alpha's Path is the first book in the Redwood Pack Series, and we're introduced to Melanie who is a chemist. Her friends think she needs to get away from her lab for a while and have some fun. I believe she needed this fun due to how Carrie Ann Ryan wrote her. Melanie was serious about her work, and she needed something to open her up. She tended to take life too seriously, and I was rooting for her to have some fun. Her friends end up setting her up with a blind date and they want her to let loose with her blind date.
Kade is over one hundred years older and has been searching for his mate for a while. He is beyond sexy the minute he is introduced in the book, and I loved his alpha ways. =) He is set up by his brother to go out on a blind date because his brother says he needs to get over his last lover and to let loose. He reminds me of someone, hmmm?
Both Melanie and Kade have an instant connection in the story due to their personalities, and I loved how Carrie Ann Ryan got them together eventually in the end. It wasn't easy, but that is because the story had some major drama in it. For being a short novella, I enjoyed reading it. I need more though after reading it and can't wait to find some time to read the rest of the series back to back. =)
I give this book 4.5 moons and recommend it to readers out there that love PNR, and want a quick read before bed or just a quick read any time. =)


I guess I should type a bio here. I'm FranJessca or Fran for short. I'm the owner of Book Lovin' Mamas and main Reviewer. I've been reviewing books since I got out of the Navy in 2011. Now 8 years later, I'm still reviewing, but this time with my youngest sidekick.
When I'm not reading and reviewing, you can find me at my day job during the week and on the weekend taking care of our little farm.

Latest posts by FranJessca (see all)