Review: 'Wolf Fever' by Terry Spear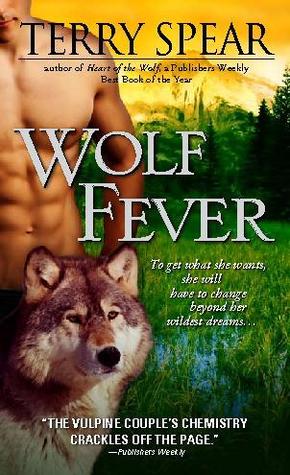 Wolf Fever
by
Terry Spear
Series:
Heart of the Wolf #6
Published by
Sourcebooks Casablanca
on December 1st 2010
Genres:
Paranormal Romance
Pages:
408
Format:
Paperback
Source:
Purchased
Amazon Kindle
|
Amazon Paperback
Goodreads

Fate turned nurse Carol Woods into a wolf, but she refuses to let being a lupus garou define her life. Ordered by her pack leader to find a mate and commit to shifting, there is only one gray wolf that catches Carol's interest; but Chaz McKinley makes it very clear that unless she's willing to accept what she is, he wants nothing to do with her. When a virus outbreak leaves local pack members trapped in their wolf form, will Chaz and Carol learn to trust each other before it's too late for the pack and their one chance at true love?
My Review
(Originally Reviewed on Mrs. Papillion aka "The Book Worm")
I've already known a little about the characters thanks to "Destiny of the Wolf." Carol was human before and trying to become a Nurse in the town of wolves. Ryan is a wolf who was there to research the town's murder that happened a while ago. He happened to come across Carol and had some feelings for her. When Carol got turned into a lupus garou, the pack there had her under lock and key because she wouldn't transform. She was holding back. Her abilities to see what would happen in the future are something everyone thought was making her hold back. Ryan McKinley, of course, was going to try to help her. In this book though, some other red wolf is trying to kidnap Carol and Ryan must find out who before it's too late. There is also something else happening to the gray wolves in town — some illness that only affects them. It's up to Carol and Ryan to help save the town and find out what is happening.
This book clarified on what happened more in "Destiny of the Wolf." I'm happy with what happened between Carol and Ryan at the end. They were holding back their feelings for each other throughout the book which tended to be frustrating.
I'm looking forward to the next book in the series from Terry Spear in the very near future. =)


I guess I should type a bio here. I'm FranJessca or Fran for short. I'm the owner of Book Lovin' Mamas and main Reviewer. I've been reviewing books since I got out of the Navy in 2011. Now 8 years later, I'm still reviewing, but this time with my youngest sidekick.
When I'm not reading and reviewing, you can find me at my day job during the week and on the weekend taking care of our little farm.

Latest posts by FranJessca (see all)