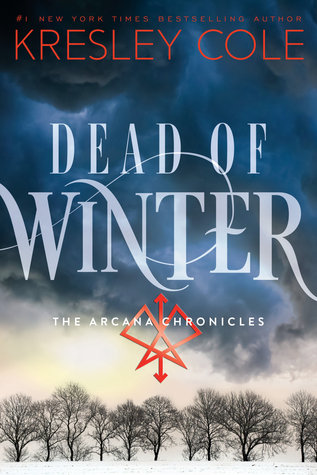 Dead of Winter
by Kresley Cole
Series: The Arcana Chronicles #3
Published by Simon & Schuster Books for Young Readers on January 6th 2015
Pages: 303
Format: AudioBook
Source: Purchased
Amazon Kindle | Amazon Paperback
Goodreads



Heartbreaking decisions
Evie was almost seduced by the life of comfort that Death offered her—until Jack was threatened by two of the most horrific Arcana, The Lovers. She will do anything to save him, even escape Death's uncanny prison, full of beautiful objects, material comforts…and stolen glances from a former love.

Uncertain victory
Despite leaving a part of her heart behind with Death, Evie sets out into a perilous post-apocalyptic wasteland to meet up with her allies and launch an attack on the Lovers. Such formidable enemies require a battle plan, and the only way to kill them may mean Evie, Jack, and Death allying. Evie doesn't know what will prove more impossible: surviving slavers, plague, Bagmen and other Arcana—or convincing Jack and Death to work together.

Two heroes returned
There's a thin line between love and hate, and Evie just doesn't know where she stands with either Jack or Death. Will this unlikely trio be able to defeat The Lovers without killing one another first...?
My Review Continue reading →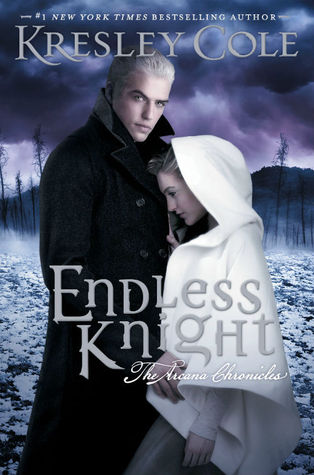 Endless Knight
by Kresley Cole
Series: The Arcana Chronicles #2
on September 2nd 2014
Pages: 320
Format: AudioBook
Source: Purchased
Amazon Kindle | Amazon Paperback
Goodreads


In this seductive follow-up to Poison Princess, #1 New York Times bestselling author Kresley Cole takes us deeper into the dark world of the Arcana Chronicles.
Evie has fully come into her powers as the tarot Empress. And Jack was there to see it all. In the aftermath of killing Arthur, Evie realizes that there is a war brewing between the teens who've been given powers following the apocalypse, and it's kill or be killed. When Evie meets Death, the gorgeous and dangerous Endless Knight, things get even more complicated. Somehow the Empress and Death share a romantic history. One that Evie can't remember, but Death can't forget. Evie is drawn to Death, but in love with Jack. She is determined to discover why she's been granted these powers, and in the process, struggles to accept her place in the prophecy that will either save the world, or destroy it.
My Review Continue reading →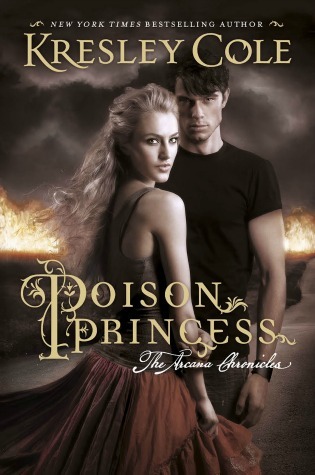 Poison Princess
by Kresley Cole
Series: The Arcana Chronicles #1
Published by Simon & Schuster on October 2nd 2012
Pages: 369
Amazon Kindle | Amazon Paperback
Goodreads


An alternate cover edition for this ISBN13 can be found here.
She could save the world—or destroy it.
Sixteen-year-old Evangeline "Evie" Greene leads a charmed life, until she begins experiencing horrifying hallucinations. When an apocalyptic event decimates her Louisiana hometown, Evie realizes her hallucinations were actually visions of the future—and they're still happening. Fighting for her life and desperate for answers, she must turn to her wrong-side-of-the-bayou classmate: Jack Deveaux.
But she can't do either alone.
With his mile-long rap sheet, wicked grin, and bad attitude, Jack is like no boy Evie has ever known. Even though he once scorned her and everything she represented, he agrees to protect Evie on her quest. She knows she can't totally depend on Jack. If he ever cast that wicked grin her way, could she possibly resist him?
Who can Evie trust?
As Jack and Evie race to find the source of her visions, they meet others who have gotten the same call. An ancient prophesy is being played out, and Evie is not the only one with special powers. A group of twenty-two teens has been chosen to reenact the ultimate battle between good and evil. But it's not always clear who is on which side.
My Review Continue reading →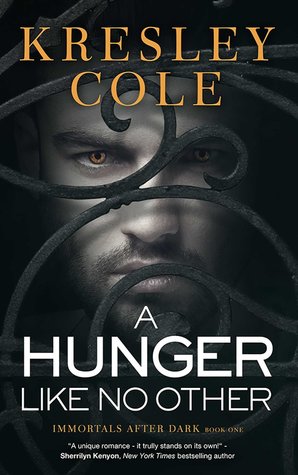 A Hunger Like No Other
by Kresley Cole
Series: Immortals After Dark #2
Published by Pocket Star on April 1st 2006
Genres: Paranormal Romance
Pages: 356
Format: AudioBook
Source: Purchased
Amazon Kindle | Amazon Paperback
Goodreads


In New York Times and USA TODAY bestselling author Kresley Cole's sizzling series, a fierce werewolf and a bewitching vampire become unlikely soul mates whose passion will test the boundaries of life and death.
After enduring years of torture from the vampire horde, Lachlain MacRieve, leader of the Lykae Clan, is enraged to find the predestined mate he's waited millennia for is a vampire. Or partly one. Emmaline Troy is a small, ethereal half Valkyrie/half vampire, who somehow begins to soothe the fury burning within him.
Sheltered Emmaline finally sets out to uncover the truth about her deceased parents—until a powerful Lykae claims her as his mate and forces her back to his ancestral Scottish castle. There, her fear of the Lykae—and their notorious dark desires—ebbs as he begins a slow, wicked seduction to sate her own dark cravings.
Yet when an ancient evil from her past resurfaces, will their desire deepen into a love that can bring a proud warrior to his knees and turn a gentle beauty into the fighter she was born to be?
My Review Continue reading →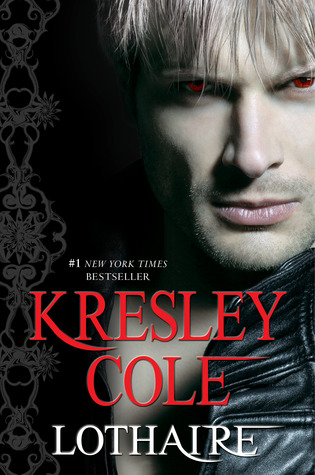 Lothaire
by Kresley Cole
Series: Immortals After Dark #12
Published by Gallery Books on January 10th 2012
Genres: Paranormal Romance
Pages: 468
Format: Hardcover
Source: Purchased
Amazon Kindle | Amazon Paperback
Goodreads


Number-one New York Times best-selling author Kresley Cole continues her electrifying Immortals After Dark series with this thrilling tale, revealing secrets of the Lore, fierce realm of the immortals....
All fear the enemy of old.
Driven by his insatiable need for revenge, Lothaire, the Lore's most ruthless vampire, plots to seize the Horde's crown. But bloodlust and torture have left him on the brink of madness—until he finds Elizabeth Peirce, the key to his victory. He captures the unique young mortal, intending to offer up her very soul in exchange for power, yet Elizabeth soothes his tormented mind and awakens within him emotions Lothaire believed he could no longer experience.
A deadly force dwells within her.
Growing up in desperate poverty, Ellie Peirce yearned for a better life, never imagining she'd be convicted of murder—or that an evil immortal would abduct her from death row. But Lothaire is no savior, as he himself plans to sacrifice Ellie in one month's time. And yet the vampire seems to ache for her touch, showering her with wealth and sexual pleasure. In a bid to save her soul, Ellie surrenders her body to the wicked vampire, while vowing to protect her heart.
Centuries of cold indifference shattered.
Elizabeth tempts Lothaire beyond reason, as only his fated mate could. As the month draws to a close, he must choose between a millennia-old blood vendetta and his irresistible prisoner. Will Lothaire succumb to the miseries of his past—or risk everything for a future with her?
My Review: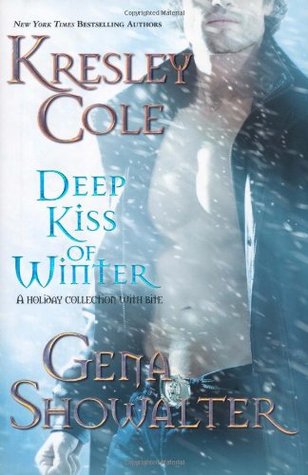 Deep Kiss of Winter
by Kresley Cole, Gena Showalter
Series: Immortals After Dark #8, Alien Huntress #3.5
Published by Pocket Books on October 13th 2009
Genres: Paranormal Romance
Pages: 426
Format: Hardcover
Source: Purchased
Amazon Kindle | Amazon Paperback
Goodreads


Kresley Cole - Untouchable (Immortals After Dark #8)
#1 NEW YORK TIMES BESTSELLING AUTHOR KRESLEY COLE delivers a breathtaking tale of a brutal vampire soldier about to know love for the first time... and a Valkyrie aching for his touch.
Murdoch Wroth will stop at nothing to claim Daniela - the delicate Valkyrie who makes his heart beat for the first time in three hundred years. Yet the exquisite Danii is part ice fey, and her freezing skin can't be touched by anyone but her own kind without inflicting pain beyond measure. Can they conquer an agony of frustration and slake the overwhelming desire burning between them?
Gena Showalter - Tempt Me Eternally (Alien Huntress #4.5)
NEW YORK TIMES AND USA TODAY BESTSELLING AUTHOR GENA SHOWALTER puts a daring spin on a tale of huntress and hunted... and concocts a sensual chemistry that is positively explosive.
With only skin-to-skin contact, Aleaha Love can change her appearance, assume any identity. Now she's an AIR (Alien Investigation and Removal) agent on a mission to capture a group of otherworldly warriors. Only she is held captive when dangerously seductive Breean, a golden-skinned, iron-willed commander, threatens her new life - and for the first time, Aleaha wants only to be herself.
My Review: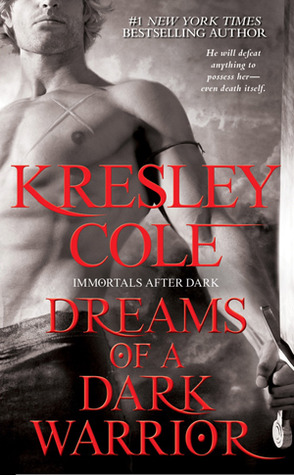 Dreams of a Dark Warrior
by Kresley Cole
Series: Immortals After Dark #11
Published by Pocket on February 15th 2011
Genres: Paranormal Romance
Pages: 515
Format: Paperback
Source: Purchased
Amazon Kindle | Amazon Paperback
Goodreads


From #1 New York Times bestseller Kresley Cole comes this gripping tale of a battle-maddenend warrior driven by revenge and the Valkyrie temptress who haunts his dreams.
He Vowed He'd Come For Her...
Murdered before he could wed Regin the Radiant, warlord Aidan the Fierce seeks his beloved through eternity, reborn again and again into new identities, yet with no memory of his past lives.
She Awaits His Return...
When Regin encounters Declan Chase, a brutal Celtic soldier, she recognizes her proud warlord reincarnated. But Declan takes her captive, intending retribution against all immortals—unaware that he belongs to their world.
To Sate A Desire More Powerful Than Death...
Yet every reincarnation comes with a price, for Aidan is doomed to die when he remembers his past. To save herself from Declan's torments, will Regin rekindle memories of the passion they once shared—even if it means once again losing the only man she could ever love?
My Review