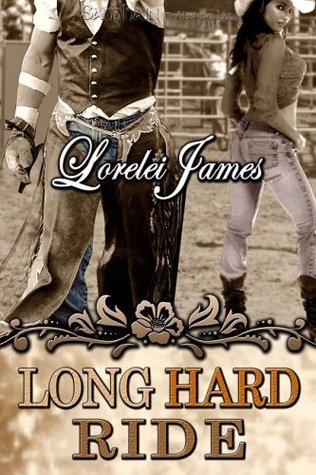 Long Hard Ride
by Lorelei James
Series: Rough Riders #1
Published by Samhain Publishing on March 1, 2008
Genres: Erotic Romance
Pages: 287
Format: eBook
Source: Blog Tour Host
Amazon Paperback
Goodreads


Channing Kinkaid itches for a wild western adventure with an untamed man. Enter Colby McKay, bull rider, saddle bronc buster and calf roper. He knows he's found a woman who's up to the challenge of cutting loose. Intrigued by Channing's bold proposition to "horse around" on the road, Colby proposes sexual escapades not only in his bed, but in those of his two rodeo traveling partners. Can Channing give up total control? Especially when not all is as it seems with the sexy trio?
Rough Riders- Book 1
My Review Continue reading →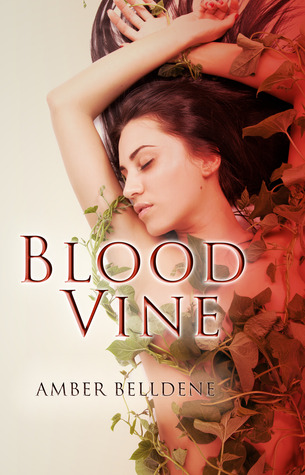 Blood Vine
by Amber Belldene
Series: Blood Vine #1
Published by Omnific Publishing on January 8, 2013
Genres: Paranormal Romance
Pages: 290
Format: eBook
Source: Purchased
Amazon Kindle | Amazon Paperback
Goodreads


In Blood Vine, bites are an inconvenient bliss, exiled vampires are wasting away, and the fate of their kind depends on the perfect PR campaign.
When public relations pro Zoey Porter arrives at an enchanting California winery, she discovers her sexy new client is the almost one-night stand she can't forget. After her husband's suicide, Zoey has vowed never to risk her heart again. But can she walk away from the intriguing winemaker a second time?
Driven from Croatia by his ancient foes, vampire Andre Maras has finally made a blood-like wine to cure his fellow refugees. Now he needs Zoey's PR expertise to reach them. After his wife's death, Andre has a vow of his own—never to risk another painful blood bond. And one taste of the tempting Zoey would bind him to her eternally.
His secrets stall her PR plans. Her jealousy is stoked by the blissed-out beauties leaving his bedroom. At every turn, he utterly fails to resist her. When she discovers he is a vampire, will she be lost to the golden-eyed Hunters, or lose herself to the emptiness in her heart, before she can help him save his kind?
My Review Continue reading →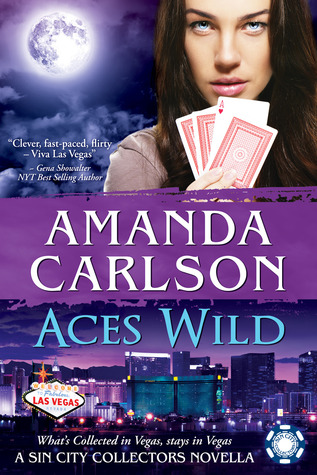 Aces Wild
by Amanda Carlson
Series: Sin City Collectors #1
Published by Amanda Carlson Inc on June 2, 2014
Genres: Paranormal Romance
Pages: 84
Format: eBook
Source: Purchased
Amazon Kindle
Goodreads


Welcome to Vegas. Home of the Sin City Collectors. The job description is easy: Bring the offending supernatural in to the Boss and don't ask any questions.
Nevada Hamilton has learned a few things since becoming a Sin City Collector, and staying away from vampires is one of them. After botching her first Collection, the vamp getting away after causing as much damage as possible, she hasn't been assigned to another one since.
But when she receives her next playing card, she's in for a surprise. Not only is a vampire her next target, but they've paired her up to make sure she gets the job done right. Refusing a Collection is not an option, but when she discovers who she's working with, making the mission as difficult as possible for her new partner becomes her top priority…
Being a hellhound isn't enough to protect Jake Troubadour from Nevada Hamilton, no matter how thick his skin is. Finding out he has to work with the beautiful dhampir, after not seeing her for three years, is a low blow—but Jake is a professional. He takes his Collections as seriously as he does running his bar. He'll do whatever it takes to get the job done, but after that, he's out. No more chances for the girl who wrecked his bike and scarred his soul so long ago. But even with his heart dead set against it, this hellhound quickly finds he's not immune to love after all.
What's Collected in Vegas, stays in Vegas...
My Review Continue reading →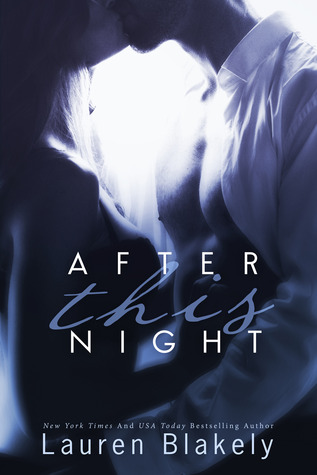 After This Night
by Lauren Blakely
Series: Seductive Nights #2
Published by Lauren Blakely Books on May 12, 2014
Genres: Contemporary Romance
Pages: 282
Format: eBook
Source: Blog Tour Host
Amazon Kindle | Amazon Paperback | Audible
Goodreads


Their world was passion, pleasure and secrets.
Far too many secrets. But Clay Nichols can't get Julia Bell out of his mind. He's so drawn to her, and to the nights they shared, that he can't focus on work or business. Only her. And she's pissing him off with her hot and cold act. She has her reasons though–she's trying to stay one step ahead of the trouble that's been chasing her for months now, thanks to the criminal world her ex dragged her into. If only she can get out of this mess, then maybe she can invite the man who ignites her back in her life, so she can have him–heart, mind and body.
He won't take less than all of her, and the full truth too. When he runs into her again at her sister's wedding, they have a second chance but she'll have to let him all the way in. And they'll learn just how much more there is to the intense sexual chemistry they share, and whether love can carry them well past the danger of her past and into a new future, after this night...
My Review Continue reading →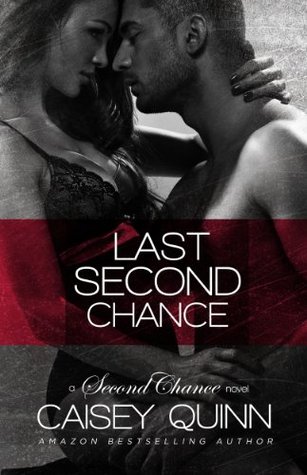 Last Second Chance
by Caisey Quinn
Series: Second Chance #1
Published by Self-Published on May 6, 2014
Genres: New Adult
Format: eBook
Source: Blog Tour Host
Amazon Kindle | Amazon Paperback
Goodreads


When Stella Jo Chandler gets an offer to work at the Second Chance Ranch celebrity rehab facility right after graduating from Texas A&M, she's tempted to turn it down. She wants to help real people with real problems, not spoiled celebrities going on vacation for publicity. But growing up on her family's ranch left her with a love of horses that draws her to the opportunity. How bad can babysitting a bunch of strung out celebrities be?
What she didn't count on was being roped into a tangled mess with infamous rocker and three-time rehab drop out Van Ransom on her first day. And she sure didn't expect to feel the overwhelming attraction that pulls her to the man who has more issues than she can count on both hands. Like the hotel rooms and tour buses he's famous for trashing, the havoc he could wreak on Stella's heart would be irreparable.
Van isn't at Second Chance for publicity or because he's suffering from "exhaustion". He's on the brink of destruction, and he needs the kind of help Stella isn't sure she can give. But without her, he'll lose everything. Because he's on his last second chance.
My Review Continue reading →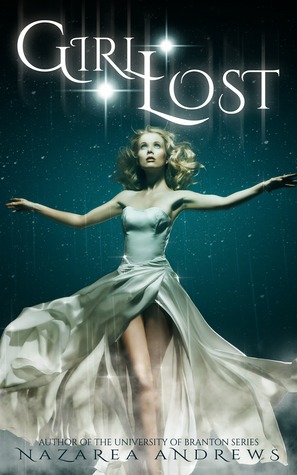 Girl Lost
by Nazarea Andrews
Series: Neverland Lost #1
Published by A&A Literary on April 29, 2014
Format: eBook
Source: Blog Tour Host
Amazon Kindle | Amazon Paperback
Goodreads


Northern was supposed to be a fresh start—a place where people didn't know who I was or how I had spent years in and out of mental institutes. People didn't know about my parents death or the island no one heard of. But when Peter sits next to me in lit class, I can't stop the memories, and I don't want to. He looks too much like the boy from the island, and despite my best intentions, coaxes my secrets from me.
He's gorgeous, irresistible, a little mad, and completely lost—we are a pair of broken cogs in a world neither of us truly fits into. He is somehow gentle and fierce, heartbreaking in his devotion and savage in his defense.
When Belle, his best friend, shows up, pale and lovely and sick, Peter pulls away from me, a startling withdrawal. It's a relationship that scares and confuses me. She is at times warm and friendly, and other times is violent and unpredictable.
Peter says that he wants me, but refuses to let himself get close. And there are secrets, surrounding both of us, that border on nightmares. As the memories close in, as Belle gets sicker and more violent, I'm torn between what is true and what I believe, and what this magical boy knows about my mysterious past.
My Review Continue reading →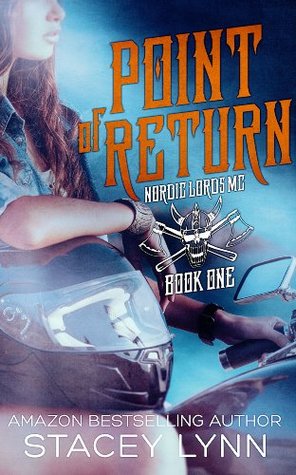 Point of Return
by Stacey Lynn
Series: Nordic Lords MC #1
Published by Self-Published on April 21, 2014
Genres: Contemporary Romance
Format: eBook
Source: Blog Tour Host
Amazon Kindle
Goodreads


Deceit. Destruction. Death.
Olivia Masters grew up familiar with all of them. The daughter of the President of the Nordic Lords Motorcycle Club, Olivia always knew she wanted nothing to do with any of it. Her plans were made to leave the town she grew up in as soon as she and her boyfriend, Daemon Knight, turned eighteen.
But then Olivia was shot. Her mother killed in front of her. Fleeing became her reality. Forced to return to her hometown of Jasper Bay five years later, events beyond Olivia's control put her directly back into the life she swore she'd never return to.
Her dad wants her back in the family. Daemon wants her in his bed. But just as Olivia begins to accept her destiny, history finds a way to repeat itself.
This time, will Olivia be strong enough to fight for the family she once turned her back on? Or will she once again flee from the only life that has ever felt like home?
*Warning: Due to violence, language, and sexual content, this book is not recommended for readers under the age of 18.*
My Review Continue reading →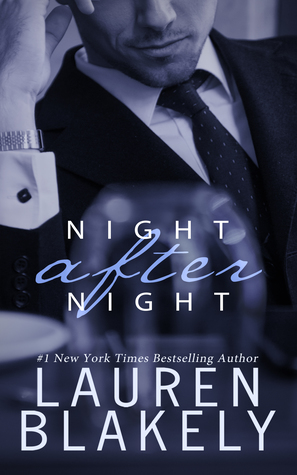 Night After Night
by Lauren Blakely
Series: Seductive Nights #1
Published by Lauren Blakely Books on April 16, 2014
Genres: Contemporary Romance
Pages: 250
Format: eBook
Source: Blog Tour Host
Amazon Kindle | Amazon Paperback | Audible
Goodreads


Their world was sex, love, and lies.He intoxicated her. Commanded. Consumed.With a dirty mind and a mouth to match, Clay Nichols is everything Julia never knew she wanted and exactly what she cannot have. He walked into her life one night and unlocked pleasure in her that she never knew was possible. Possessing her body, captivating her every thought. Which makes him way too dangerous for Julia to risk her heart, given that she has a price tag on her head. She ran after one mind-blowing week with him, but now he's back, and determined to make her his own.No matter the cost.She was a sexy drug to him. Fiery, unforgettable, and never enough, Julia is an enigma, and Clay isn't willing to let her go without a fight. But she's got dark secrets of her own that threaten to destroy any chance of happiness. She's a wanted woman—the stakes are high, her every move is watched, and yet the lure between them can't be denied. Can two people burned by love trust again when desire and passion are met by danger at every turn?
My Review Continue reading →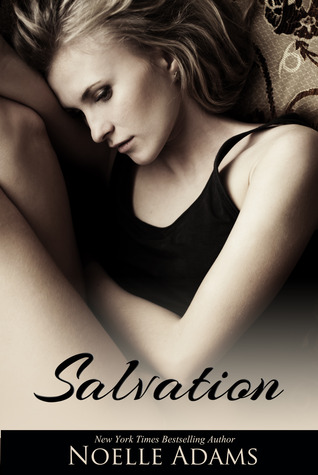 Salvation
by Noelle Adams
Published by Self-Published on February 21, 2014
Genres: Contemporary Romance
Pages: 262
Format: eBook
Source: Blog Tour Host
Amazon Kindle | Amazon Paperback | Audible
Goodreads


You get to the point where you can just say it. There was never anything special about me, except my father is rich and important. That's why it happened.
It was just a normal Tuesday afternoon. I was twenty-three and thinking about my new designer boots. They kidnapped me for ransom. They raped me before I was rescued. My therapist says that talking about it means I'm starting to heal.
I don't really think I am.
It's even harder to talk about Gideon. He couldn't save me when it really mattered, so he keeps trying to save me now. He refuses to give up on me, and I can't make him understand. There are some things you just can't be saved from.
Salvation is a love story that follows a difficult path of healing after sexual assault. It is a true romance, but it addresses very hard issues, including rape and attempted suicide. The novel is not, however, about captivity and violence. It is about love, healing, and hope.
My Review Continue reading →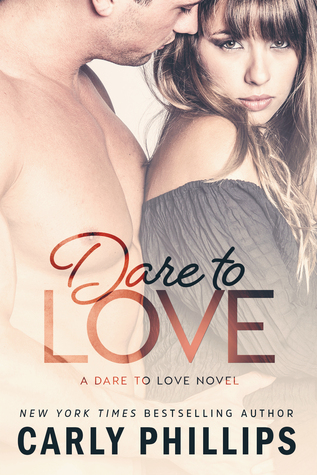 Dare to Love
by Carly Phillips
Series: Dare to Love #1
Published by CP Publishing on January 10, 2014
Genres: Contemporary Romance
Pages: 257
Format: eBook
Source: Blog Tour Host
Amazon Kindle
Goodreads


She arouses his dominant and protective instincts And he will do anything to possess her … And does.
When billionaire Ian Dare gets one glimpse of the sensual and irresistible Riley Taylor, he knows that he must have her. But any future he might have with Riley means he'll have to confront his past — a past he'd rather forget. And that's something this NFL team owner won't dare to do — not even for love.
My Review Continue reading →