ARC Review: 'The Vampire's Mail Order Bride' by Kristen Painter
May 30, 2015
I received a complimentary copy of the book from the author in exchange for an honest review. This does not affect my opinion of the book or the content of my review.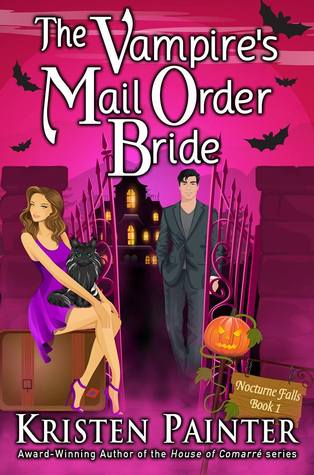 The Vampire's Mail Order Bride
by
Kristen Painter
Series:
Nocturne Falls #1
Published by
Sugar Skull Books
on June 1st 2015
Genres:
Paranormal Romance
Goodreads
Purchase at
Amazon
|
Apple

Welcome to Nocturne Falls, the town where Halloween is celebrated 365 days a year. The tourists think it's all a show: the vampires, the werewolves, the witches, the occasional gargoyle flying through the sky. But the supernaturals populating the town know better. Living in Nocturne Falls means being yourself. Fangs and all.
After seeing her maybe-mobster boss murder a guy, Delaney James assumes a new identity and pretends to be a mail order bride. What she doesn't know is her groom to be is a 400-year-old vampire.
Hugh Ellingham has only agreed to the set up to make his overbearing grandmother happy. His past means love is no longer an option. Except he never counted on Delaney and falling in love for real.Too bad both of them are keeping some mighty big secrets...
My Review:
The Vampire's Mail Order Bride is much different from Kristen Painter's House of Comarre and Crescent City series books. This book falls in the genre of Paranormal Romance, and is written lighter and funnier compared to her serious dark Urban Fantasy series I'm used to reading. It still has a serious storyline to it, but it doesn't take precedence. At least to me I was not focusing on that part of the storyline. I was focusing on everything else and the interesting characters that were being introduced. It also was fascinating to be introduced to the town of Nocturne Falls, where Halloween is every day and those vampires and witches walking around putting on a show for everyone is actually real vampires and witches.
You have Delaney (which is a very pretty name) who happens to run away to Nocturne Falls to get away from her mobster boss. She ends up assuming another identity and becomes a mail order bride to a man she's only read on paper. She has no idea that Hugh is actually a 400 year old vampire, who is just trying to please his Grandmother with his Mail Order bride deal. Hugh is going to realize not everything is the same as it was before and he's going to meet his match in Delaney. Secrets will come forward and that is when the story gets really interesting.
I really enjoyed this new world that Kristen has created. I loved being introduced to other characters in Nocturne Falls and following along with the characters around town. Kristen did an amazing job on describing in detail the main characters, secondary ones, and places around town. I did get bothered by Hugh and his crazy mood swings on handling Delaney, especially with when he couldn't make up his dang mind.
The ending did tear me up a bit though with what Hugh was going to do. I thought Kristen was going to go dark at the end and was going to put me the through the ringer, but she turned it around and made it a HEA.  Thank goodness.  =)
I look forward to reading more in this new series from Kristen and I give this book 4 'amazing' stars. If you're a fan of Kristen's other series she writes with Amanda Carlson Sin City Collectors, you will enjoy this fun PNR series she's created.
Be prepared for Halloween every day in Nocturne Falls. I know my kids wished this was a real town.  =)
P.S. I love the cat in the story…Captain. If you follow Kristen on FB, you'll realize she has a love for cats and the cat reminded me of all the pictures of her adorable cats throughout the day. I'm so glad she wrote in a very lovable kitty in the story who was dear to Delaney.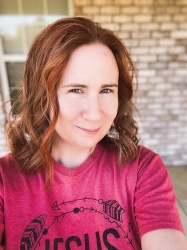 Latest posts by FranJessca
(see all)