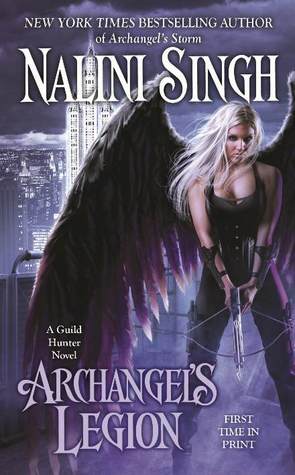 Archangel's Legion
by
Nalini Singh
Series:
Guild Hunter #6
Published by
Jove
on October 29, 2013
Genres:
Paranormal Romance
Pages:
374
Format:
AudioBook
,
Paperback
Source:
Purchased
Amazon Kindle
|
Amazon Paperback
|
Audible
|
Barnes & Noble
|
Kobo
Goodreads

Nalini Singh, the New York Times bestselling "alpha author of paranormal romance" (Booklist) returns to an immortal world of violent passion and lethal power…on the brink of a deadly archangelic war.
Angels are falling from the sky in New York, struck down by a vicious, unknown force.
Vampires are dying impossibly of disease.
Guild hunter Elena Deveraux and the Archangel Raphael must discover the source of the wave of death before it engulfs their city and their people, leaving New York a ruin and Raphael's Tower under siege by enemy archangels.
Yet even as they fight desperately to save the city, an even darker force is stirring, its chill eyes trained on New York…and on Raphael. Rivers of crimson and nightmares given flesh, the world will never again be the same…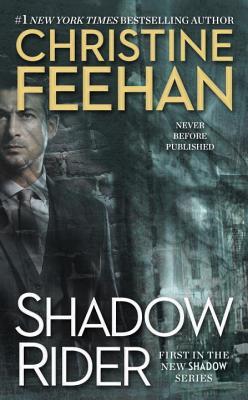 Shadow Rider
by
Christine Feehan
Series:
Shadow Riders #1
Published by
Jove
on June 28, 2016
Genres:
Paranormal Romance
Pages:
448
Format:
Paperback
Source:
Purchased
Amazon Kindle
|
Amazon Paperback
|
Audible
|
Barnes & Noble
|
Google Play
|
Kobo
Goodreads

The #1 New York Times bestselling "queen of paranormal romance"* is back with a sexy new series starring a Chicago crime family that hides a dark, mystical secret...
Whether it's fast cars or fast women, Stefano Ferraro gets what he wants. When he's not fodder for the paparazzi, he commands Ferraro family businesses—both legitimate and illegitimate.
While their criminal activity is simply a rumor yet to be proven, no one knows the real truth. The Ferraros are a family of shadow riders capable of manipulating light and dark, an ability Stefano thought ran in his family alone—until now…
With little left to her name, Francesca Cappello has come to Chicago in hopes of a new life. She wasn't expecting to attract the attention of a man with primal hunger in his eyes, driven to claim her as his to protect and to please. And if he discovers her secret, it could ruin her...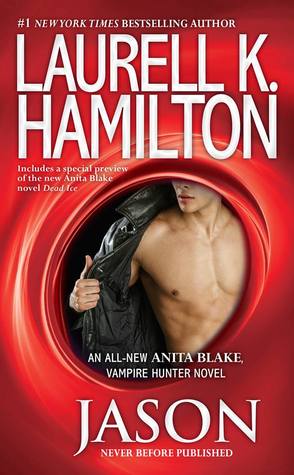 Jason
by
Laurell K. Hamilton
Series:
Anita Blake Vampire Hunter #23
Published by
Jove
on December 2nd 2014
Genres:
Urban Fantasy
Pages:
255
Source:
publisher
Amazon Kindle
|
Amazon Paperback
Goodreads

"Enjoying pain with your pleasure is something you either get, or you don't. If you get it, then you don't really need it explained, because you know how good it feels, and if you don't get it then no amount of talking is going to convince you it makes sense."
But sometimes you have to explain the unexplainable, especially if the love of your life needs to understand, or she'll leave you. Jason Schuyler is one of Anita Blake's best friends and favorite werewolves, with benefits. J.J. is his lady love, an old flame from childhood who dances at one of the top ballet companies in New York. She's accomplished, beautiful, and she's crazy about him, too. Neither of them wants to be monogamous, so what could go wrong?
J.J. is enthusiastically bisexual, with an emphasis on the female side of things. She plans to keep sleeping with women, because Jason can't meet that need, just like she can't meet Jason's need for rough sex and bondage. J.J. doesn't understand why Jason isn't content to go elsewhere for a need she can't fulfil, so Jason asks Anita to help him explain.
Anita is having her own relationship growing pains with her only female lover ever, Jade. Jason suggests that J.J. might be able to help Anita with her girl problem, while she helps him with his kinky explanations. With some encouragement from a few other lovers in Anita's life she reluctantly agrees, and J. J. makes plans to fly into town for an experience that none of them will ever forget.
My Review: Continue reading →