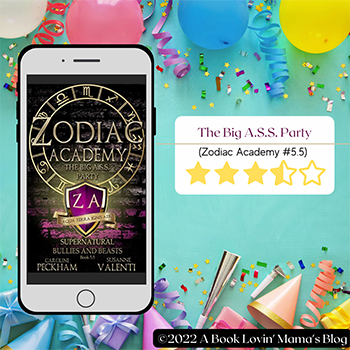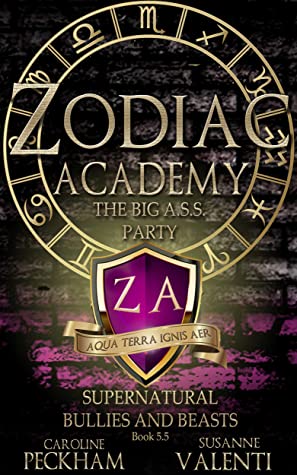 Zodiac Academy: The Big A.S.S. Party
by
Caroline Peckham
,
Susanne Valenti
Series:
Zodiac Academy #5.5
Published by
Self-Published
on August 2, 2020
Genres:
Dark Paranormal Bully Romance
Format:
eBook
Source:
Kindle Unlimited
Goodreads
Purchase at
Amazon

Once upon a moon, the wild wind whispered in my ear that the true queens were returning to Solaria and I made it my mission to open up their path to the throne so that they could slip right in like an oily oyster.
Now, on this most special and wonderous of days, the very day of their birth – I will prove myself to be the most loyal and dependable of their followers. Though of course, Venus is in my chart and Lady Petunia has caught sight of the bothersome barracuda once more.
Max Rigel is my most sinful of temptations, the shark in the dark who wishes to lure me to his sea cave and I don't know if I'm Fae enough to resist him for long.
But one thing is for sure, I will make certain the Vegas get the big A.S.S. party they deserve for their birthday or I'll die trying. Succulent squids be damned!
This is a 25k novella set in the world of Solaria during Book 5 of the Zodiac Academy series, Cursed Fates, featuring Geraldine and Max as they attend the party of the century and try to resist the lure of the moon as it pushes them together once more. It's full of slippery salmons and more buttery bagels than you can shake a stick at and is best read after Cursed Fates.