Review: 'Point of Return' by Stacey Lynn
May 2, 2014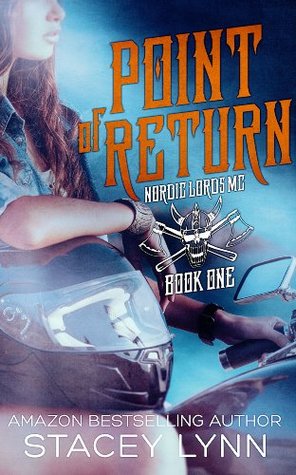 Point of Return
by
Stacey Lynn
Series:
Nordic Lords MC #1
Published by
Self-Published
on April 21, 2014
Genres:
Contemporary Romance
Format:
eBook
Goodreads
Purchase at
Amazon

Deceit. Destruction. Death.
Olivia Masters grew up familiar with all of them. The daughter of the President of the Nordic Lords Motorcycle Club, Olivia always knew she wanted nothing to do with any of it. Her plans were made to leave the town she grew up in as soon as she and her boyfriend, Daemon Knight, turned eighteen.
But then Olivia was shot. Her mother killed in front of her. Fleeing became her reality. Forced to return to her hometown of Jasper Bay five years later, events beyond Olivia's control put her directly back into the life she swore she'd never return to.
Her dad wants her back in the family. Daemon wants her in his bed. But just as Olivia begins to accept her destiny, history finds a way to repeat itself.
This time, will Olivia be strong enough to fight for the family she once turned her back on? Or will she once again flee from the only life that has ever felt like home?
*Warning: Due to violence, language, and sexual content, this book is not recommended for readers under the age of 18.*
My Review
I need something to help me on waiting for the final season of SoA, so books that have MCs in them are a must right now. Point of Return definitely helped fill that void of patiently waiting for SoA and I found a new author to stalk in the mean time. =)
If you haven't seen the show Sons of Anarchy before then you are missing out. Point of Return reminded me so much about the show, but in Point of Return I'm not annoyed by certain characters like I am in SoA. I did get peeved at one particular character in this book, but not at the point where I wanted to slap her around like I did Tara in SoA. Grrr!! Tara drove me crazy in the show at times.
Olivia is back in the town where she grew up, and driving to live her life normally. It's kind of hard when you have your Dad's MC club there at every turn watching you. She doesn't want anything to do with her Dad and the Nordic Lords, but her world is about to come crashing back into the world she left so many years ago. She's even going to end up with the one person, she never wanted to see again…Daemon Knight. He's not the VP of the Nordic Lords, after what happened with his father being killed. He has always loved Olivia and wants nothing more to have her back with him. Olivia is with another guy though and this guy is nothing but trouble.
I don't want to give details away about the book because this definitely was one book I had a hard time putting down at certain scenes. Other times, I had to stop and walk away with some of the decisions the characters made. One in particular in the beginning with Olivia, and what she found out and tried to do. She changed her mind, but it definitely made me stop reading for a bit. There was another incident, where she chose to call her ex-boyfriend instead of her friend Daemon. He just wanted to protect her, and she never listened. You would think growing up in the club and witnessing certain things, she would eventually listened. No, she's a very stubborn character through out the book. I didn't want to slap her, but I did want someone to talk some sense in her.
Daemon was a very strong-willed, sexy guy who had his own issues to deal with, but he dealt with them way better than others. He had to being the VP of the Nordic Lords. He was trying to figure stuff out with what was going on with Black Death (a rival gang) and other things that happened in the book. It was kind of hard time to deal with his duties as VP, if he had to constantly monitor what Olivia was doing. Poor guy had his hands full.
Olivia and Daemon together was definitely tragic at first. What I mean by tragic is what they had to deal with several years ago, and how they ended up back together. They were meant to be from the beginning, it just took closure of what happened in the past, and finally opening up to each other for them to have their HEA together.
I give this book 4 full moons and look forward to reading more of the Nordic Lords. Stacey Lynn did an amazing job on introducing each character in the story (main ones and secondary ones). I'm interested in Ryker, Finn, and Jaden's stories. Finn…sounds very dreamy and I definitely read his parts with an Australian accent in my head. LOL Olivia was one lucky gal to have all these sexy MC guys near her. I'm definitely jealous.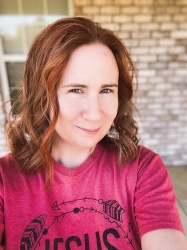 Latest posts by FranJessca
(see all)