Review: 'Storm and Fury' by Jennifer L. Armentrout
April 21, 2021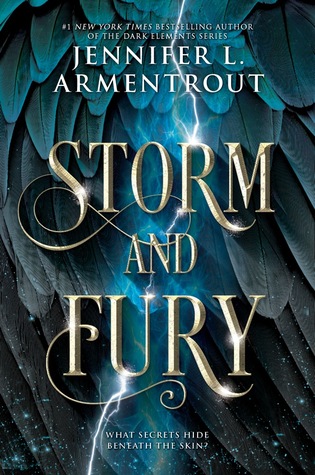 Storm and Fury
by
Jennifer L. Armentrout
Series:
The Harbinger #1
Published by
Inkyard Press
on June 11, 2019
Genres:
Young Adult Fantasy
Format:
Hardcover
Source:
Purchased
Goodreads
Purchase at
Amazon
|
Barnes & Noble
|
Kobo

Eighteen-year-old Trinity Marrow may be going blind, but she can see and communicate with ghosts and spirits. Her unique gift is part of a secret so dangerous that she's been in hiding for years in an isolated compound fiercely guarded by Wardens—gargoyle shape-shifters who protect humankind from demons. If the demons discover the truth about Trinity, they'll devour her, flesh and bone, to enhance their own powers.
When Wardens from another clan arrive with disturbing reports that something out there is killing both demons and Wardens, Trinity's safe world implodes. Not the least because one of the outsiders is the most annoying and fascinating person she's ever met. Zayne has secrets of his own that will upend her world yet again—but working together becomes imperative once demons breach the compound and Trinity's secret comes to light. To save her family and maybe the world, she'll have to put her trust in Zayne. But all bets are off as a supernatural war is unleashed…
---
Storm and Fury is the first book to Jennifer L. Armentrout's The Harbinger series. This series is a spin-off of the Dark Elements series. If it weren't for these books by Jennifer L. Armentrout, I would still be in a reading slump. Thank you, Jennifer, for writing these fictional worlds that keep me entertained and out of my anxious thoughts at the moment. Books have always been the best therapy for me! I was excited to see if Zayne would get a HEA after what happened in the Dark Elements series. 
Storyline/My Thoughts: Firstly, I like Trinity's character in this series. She's much different from Layla (who was introduced in the Dark Elements series). Trinity has been hidden from everyone in a Warden Training/Compound since she was young. No one knows what she truly is except those who took her in (Thierry and Matthew) and her protector, Misha. They've kept her hidden for so long until they start noticing that demons and creatures are getting closer to the compound. There's also the fact the Warden DC clan has come to visit for reinforcements. They are experiencing something that is killing off Wardens and Demons and need help. Readers who read the Dark Elements series will get Nicolai, Dez, and Zayne again in this book. Yes, Zayne. He plays a significant role in this book. Zayne comes off as a stalker in this book when it comes to Trinity. He's always running into her and being there when she ends up in trouble. These two will be inseparable and for a good reason.
There's not only trouble in DC with something killing Wardens and Demons, but someone knows about Trinity's real identity. That someone or something will do anything to get to her, even take someone close to her.
Readers will get Roth and Layla in this book, which I was happy to get more of them (They are from the Dark Elements series). Although, there is tension between Zayne, Layla, and Roth, still in this book. Trinity notices it the first time she meets them. Of course, she is going to be curious and ask, and Roth is the one who will tell her the truth. (Roth speaks up every time)
Several other characters come to play in this book from the previous series. There's a scene with Bambi (Roth's old familiar). I love and miss Bambi. 🙂 Let's not forget Cayman, too. He's a demon broker. I love his character, too.
This book is only told from one point of view, which is in Trinity's voice. Trinity is one character that I will never be able to forget. She's strong and brave. She can hold her own, and she proves it several times, even with everything she is going through. She's one of the first characters I've read in a YA fantasy book with a disability. She has a rare eye disease, which is incurable and can eventually lead to blindness. Jennifer L. Armentrout suffers from the same rare eye disease, so she wrote Trinity's character with what she is impacted with daily with the disease.
The only reason this book is not getting five stars is due to the book being so long and taking a while to build up. (It didn't stop me from reading it, though.) Some scenes were repetitive to me. I'm going to blame it on Zayne. I like the Warden, but he needs someone to knock some sense into him on how he acts around Trinity. I was also able to figure out the ending. I got this funny feeling it was going to be something that would tick me off and leave poor Trinity in shock. I felt for Trinity at the end. She was put in a hard place. Other than those two things, I loved being back in this paranormal world that Jennifer created. It took me away from reality. (My husband, though, would rather I stay in reality and watch tv shows with him. Books have been helping me since I was a kid, so I'll stick with them.)
Someday in the future, I'll keep my reviews shorter, but not today. 🙂 I can't wait until the next book in the Harbinger series. I'm determined to catch up before the next book releases.
Standalone or Part of Series: It's part of the Harbinger series, and I would recommend reading it in order. It's also a spin-off series of the Dark Elements. If you have not read that series first, I would recommend reading it and then diving into the Harbinger series. You will miss out on meeting Layla and Roth for the first time. 🙂
Cliffhanger: Yes.
Would I recommend this book? Yes. If you are a Young Adult Fantasy addict like I am currently, I would recommend this book/series.
P.S. My all-time favorite scene in this book was when Cayman finally realized what Trinity was in the book. He was scared of Trinity. It was funny when a demon says, "you scare him." LOL ? Even, Zayne gave him a hard time about it.

This post contains affiliate links you can use to purchase the book. If you buy the book using that link, I will receive a small commission from the sale. It will help sponsor future giveaways but costs you nothing extra. You can read the full disclosure underneath the Privacy Policy.
---
---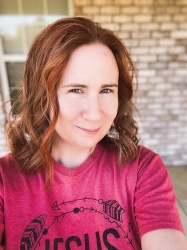 Latest posts by FranJessca
(see all)