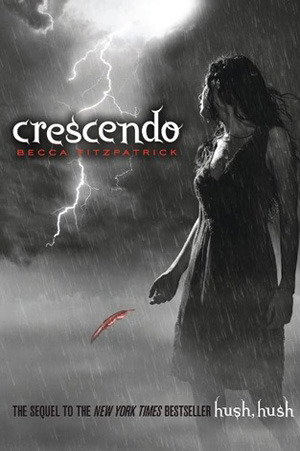 Crescendo
by Becca Fitzpatrick
Published by Simon & Schuster Books for Young Readers on October 19th 2010
Pages: 427
Format: eBook
Source: Purchased
Amazon Kindle | Amazon Paperback
Goodreads


Nora Grey's life is still far from perfect. Surviving an attempt on her life wasn't pleasant, but at least she got a guardian angel out of it. A mysterious, magnetic, gorgeous guardian angel. But despite his role in her life, Patch has been acting anything but angelic. He's more elusive than ever (if that's possible) and what's worse, he seems to be spending time with Nora's archenemy, Marcie Millar.
Nora would have hardly noticed Scott Parnell, an old family friend who has moved back to town, if Patch hadn't been acting so distant. Even with Scott's totally infuriating attitude, Nora finds herself drawn to him - despite her lingering feelings that he is hiding something.
If that weren't enough, Nora is haunted by images of her murdered father, and comes to question whether her Nephilim bloodline has anything to do with his death. Desperate to figure out what happened, she puts herself in increasingly dangerous situations to get the answer. But maybe some things are better left buried, because the truth could destroy everything - and everyone - she trusts.
My Review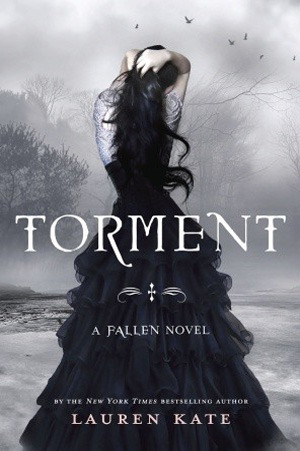 Torment
by Lauren Kate
Series: Fallen #2
Published by Delacorte Press on September 28th 2010
Pages: 452
Format: eBook
Source: Purchased
Amazon Kindle | Amazon Paperback
Goodreads


How many lives do you need to live before you find someone worth dying for?
In the aftermath of what happened at Sword & Cross, Luce has been hidden away by her cursed angelic boyfriend, Daniel, in a new school filled with Nephilim, the offspring of fallen angels and humans. Daniel promises she will be safe here, protected from those who would kill her. At the school Luce discovers what the Shadows that have followed her all her life mean – and how to manipulate them to see into her other lives. Yet the more Luce learns about herself, the more she realizes that the past is her only key to unlocking her future . . . and that Daniel hasn't told her everything. What if his version of the past isn't actually the way things happened . . . what if Luce was really meant to be with someone else?
The second novel in the addictive FALLEN series...where love never dies.
My Review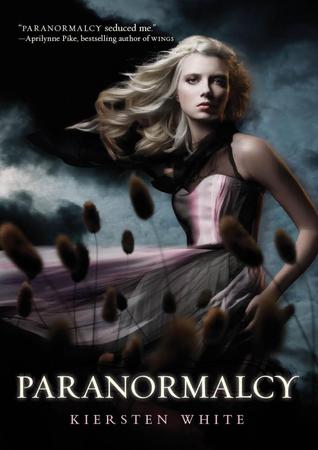 Paranormalcy
by Kiersten White
Series: Paranormalcy #1
Published by HarperTeen on August 31st 2010
Pages: 335
Format: Hardcover
Source: Library
Amazon Kindle | Amazon Paperback
Goodreads


Evie's always thought of herself as a normal teenager, even though she works for the International Paranormal Containment Agency, her ex-boyfriend is a faerie, she's falling for a shape-shifter, and she's the only person who can see through paranormals' glamours.
But Evie's about to realize that she may very well be at the center of a dark faerie prophecy promising destruction to all paranormal creatures.
So much for normal.
My Review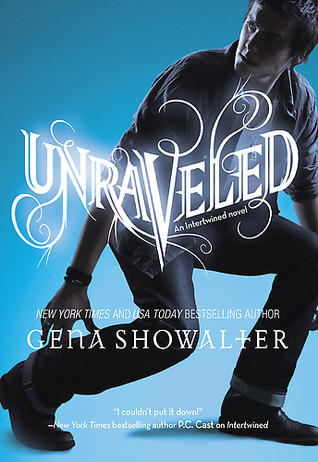 Unraveled
by Gena Showalter
Series: Intertwined #2
Published by Harlequin Teen on August 31st 2010
Pages: 572
Format: Hardcover
Source: Purchased
Amazon Kindle | Amazon Paperback
Goodreads


Since coming to Crossroads, Oklahoma, former outcast Aden Stone has been living the good life. Never mind that one of his best friends is a werewolf, his girlfriend is a vampire princess who hungers for his blood, and he's supposed to be crowned Vampire King—while still a human! Well, kind of.
With four—oops, three now—human souls living inside his head, Aden has always been "different" himself. These souls can time-travel, raise the dead, possess another's mind and, his least favorite these days, tell the future.
The forecast for Aden? A knife through the heart.
Because a war is brewing between the creatures of the dark, and Aden is somehow at the center of it all. But he isn't about to lie down and accept his destiny without a fight. Not when his new friends have his back, not when Victoria has risked her own future to be with him, and not when he has a reason to live for the first time in his life….
My Review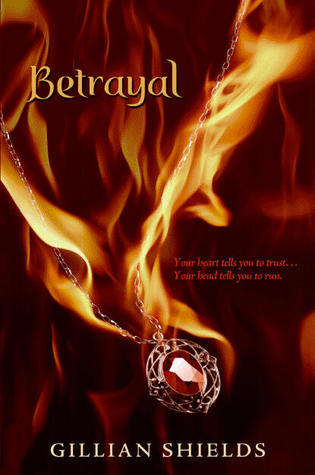 Betrayal
by Gillian Shields
Series: Immortal #2
Published by Katherine Tegen Books on August 3rd 2010
Pages: 359
Format: eBook
Source: Purchased
Amazon Kindle | Amazon Paperback
Goodreads


There are the small betrayals: the unkind word, the petty lies. And there are the betrayals that break hearts, destroy worlds, and turn the strong sweet light of day into bitter dust.

When Evie Johnson started at Wyldcliffe Abbey School for Young Ladies, her life changed in ways she couldn't possibly have envisioned: the discovery of her link with Lady Agnes, her special bond with Helen and Sarah, and their sisterhood in the astonishing secrets of the Mystic Way. Above all, Evie's love for Sebastian has turned her world upside down.
Now Evie returns to Wyldcliffe for another term and more danger. Surrounded by enemies, she lives every day in fear that Sebastian will fall into the darkness of servitude to the Unconquered Lords. The Wyldcliffe coven is plotting to destroy Evie and use Sebastian to secure their own immortality. Evie and her sisters must master the power of the Talisman before it is too late. But could it be Sebastian himself who will ultimately betray Evie?
In this companion to Gillian Shields's dazzling Immortal, magic and sweeping romance cross the bounds of time to deliver heart-stopping emotion and suspense.
My Review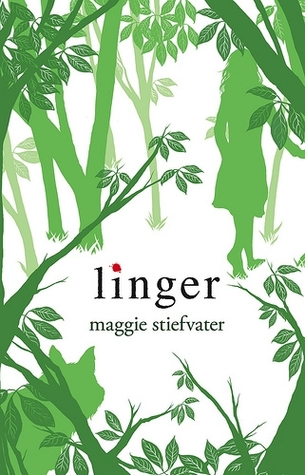 Linger
by Maggie Stiefvater
Series: The Wolves of Mercy Falls #2
Published by Scholastic Press on July 13th 2010
Pages: 360
Format: Paperback
Source: Purchased
Amazon Kindle | Amazon Paperback
Goodreads


the longing.
Once Grace and Sam have found each other, they know they must fight to stay together. For Sam, this means a reckoning with his werewolf past. For Grace, it means facing a future that is less and less certain.
the loss.
Into their world comes a new wolf named Cole, whose past is full of hurt and danger. He is wrestling with his own demons, embracing the life of a wolf while denying the ties of being a human.
the linger.
For Grace, Sam, and Cole, life a constant struggle between two forces--wolf and human--with love baring its two sides as well. It is harrowing and euphoric, freeing and entrapping, enticing and alarming. As their world falls apart, love is what lingers. But will it be enough?
My Review: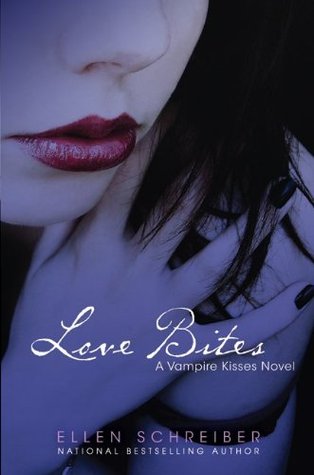 Love Bites
by Ellen Schreiber
Series: Vampire Kisses #7
Published by HarperCollins Canada / Other on May 18th 2010
Pages: 179
Format: Paperback
Source: Purchased
Amazon Kindle | Amazon Paperback
Goodreads


As a mortal girl dating a vampire, Raven knows that love isn't always easy. Now that Alexander's parents have returned to Romania, Raven and her dreamy vampire boyfriend are happy to resume their cryptic romance.
But soon another visitor comes knocking: Sebastian, Alexander's best friend, arrives for a stay at the mansion. At first Raven is wary, then thrilled--this is the perfect chance to learn more about her darkly handsome boyfriend and his past. Raven has been wondering whether Alexander will ever bite her and make their love immortal, and Sebastian could be her guide to the love habits of Alexander and his kind. But when Sebastian falls for a particular Dullsvillian, will another mortal beat Raven to the bite?
With suspense, danger, and a fabulous vampire party, this seventh book in the bestselling Vampire Kisses series continues the exciting nocturnal romance of Raven and Alexander.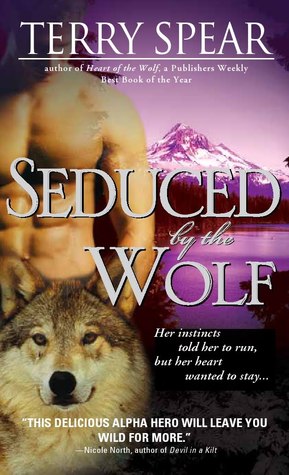 Seduced by the Wolf
by Terry Spear
Series: Heart of the Wolf #5
Published by Sourcebooks on August 1st 2010
Genres: Paranormal Romance
Pages: 416
Format: Paperback
Source: Purchased
Amazon Kindle | Amazon Paperback
Goodreads


His first priority is to protect his pack Werewolf pack leader Leidolf Wildhaven has just taken over a demoralized pack. With rogue wolves on the loose causing havoc and the authorities from the zoo suddenly zeroing in on the local wolf population, the last thing he needs in his territory is a do-gooder female, no matter how beautiful and enticing she is...
She'll do anything to help wolvesBiologist Cassie Roux has dedicated her life to protecting wolves in the wild. On a desperate mission to help a she-wolf with newborn pups, the last thing Cassie needs right now is a nosy and entirely too attractive werewolf pack leader trying to track her down...
With rogue wolves and hunters threatening at every turn, Cassie and Leidolf may find their attraction the most dangerous force of all.
Heart of the Wolf Series: Heart of the Wolf (Book 1) To Tempt the Wolf (Book 2) Legend of the White Wolf (Book 3)Seduced by the Wolf (Book 4)
Praise for Terry Spear: "The vulpine couple's chemistry crackles off the page, but the real strength... lies in Spear's depiction of pack power dynamics as well as in the details of human-wolf interaction. Her wolf world feels at once palpable and even plausible.""-Publishers Weekly""Chilling suspense and sizzling romance... The dark, sexy alpha hero will capture you-body, mind, and soul.""-"Nicole North, author of "Devil in a Kilt""If action, romance, and suspense are what you are looking for in a story, then look no further."-Night Owl Romance
My Review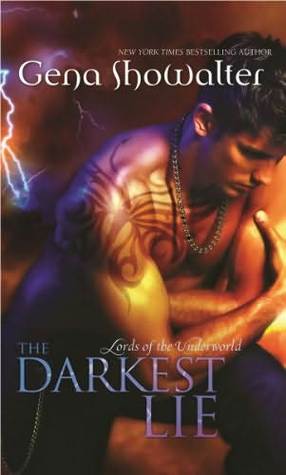 The Darkest Lie
by Gena Showalter
Series: Lords of the Underworld #6
Published by Mira on July 2nd 2010
Genres: Paranormal Romance
Pages: 442
Format: Paperback
Source: Purchased
Amazon Kindle
Goodreads


Forced to his knees in agony whenever he speaks the truth, Gideon can recognize any lie—until he captures Scarlet, a demon-possessed immortal who claims to be his long-lost wife. He doesn't remember the beautiful female, much less wedding — or bedding — her. But he wants to . . . almost as much as he wants her.

But Scarlet is keeper of Nightmares, too dangerous to roam free, and a future with her could mean ultimate ruin. Especially as Gideon's enemies draw closer . . . and the truth threatens to destroy all he's come to love . . .
My Review: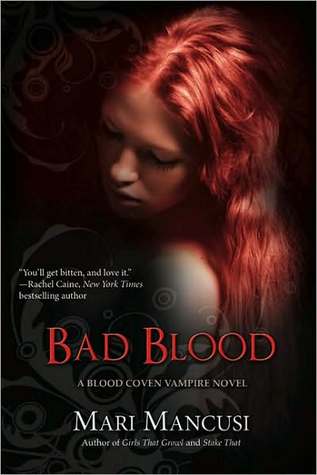 Bad Blood
by Mari Mancusi
Series: Blood Coven Vampire #4
Published by Berkley on January 5th 2010
Pages: 256
Format: eBook
Source: Purchased
Amazon Kindle | Amazon Paperback
Goodreads


The newest Blood Coven novel-accompanied by edgy repackages of the rest of the series
Sunny McDonald is in the ultimate forbidden relationship. Her boyfriend Magnus is a vampire, and the leader of the Blood Coven. And when the Coven decides that Magnus needs a mate to be his co-ruler, Sunny's humanity puts her out of the running. The Coven's chosen candidate is Jane Johnson, a magna cum laude graduate of Oxford University who just happens to look like a vampiric supermodel.
Sunny is suspicious of a Rhodes Scholar who can't answer the most basic poli-sci questions, but Magnus brushes it off as petty jealousy. Still, when the Blood Coven goes to Las Vegas for a vampire convention, Sunny and her twin sister Rayne secretly tag along. And Sunny's not going home before she learns the truth about Jane. Because not everything stays in Vegas-especially bad blood.
My Review: