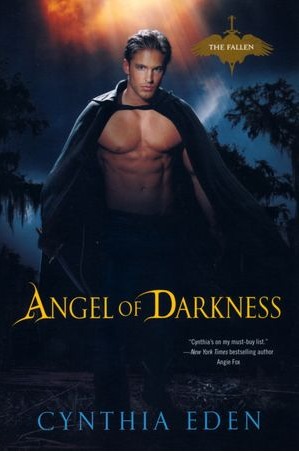 Angel of Darkness
by Cynthia Eden
Series: The Fallen #1
Published by Brava on November 29th 2011
Genres: Paranormal Romance
Pages: 305
Format: Paperback
Source: Library
Amazon | B&N
Goodreads


As an angel of death, Keenan's job is to collect the souls on his list. He's carried out his duty for two thousand years and never faltered once. Until he meets Nicole St. James. When the moment of death comes, Keenan hesitates, and instead of taking Nicole, Keenan touches the vampire who's attacking her.
Cast out of heaven for disobedience, Keenan plummets to earth. Six months later, he finally manages to track Nicole to a bar in Mexico. He's stunned to discover that the woman he remembers has undergone a dramatic change—she's become a vampire. And when he realizes that she's the target of all manner of enemies—other vampires, demons, even shifters—he'll do whatever it takes to protect her, even if all hell breaks loose…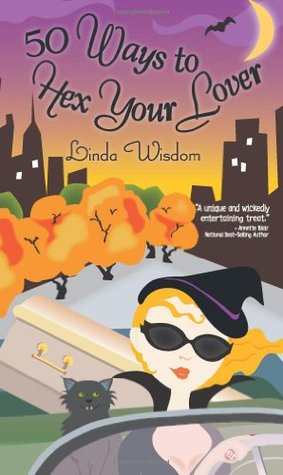 50 Ways to Hex Your Lover
by Linda Wisdom
Series: Hex #1
Published by Sourcebooks Inc on March 1st 2008
Genres: Paranormal Romance
Pages: 364
Format: eBook
Amazon | B&N
Goodreads


Jazz can't decide whether to scorch him with a fireball or jump into bed with him.
Jasmine Tremaine, a witch who can't stay out of trouble.
Nikolai Gregorivich, a drop-dead gorgeous vampire cop on the trail of a serial killer.
The sizzling love affair between Jazz and Nick has been off-again, on-again-for about 300 years. Mostly off, lately. But now Nick needs Jazz's help, and while Jazz and Nick try to figure out their own hearts and resist their ever-increasing attraction, they must steer clear of a maniacal killer with super-supernatural powers. They are surrounded by a hilarious cast of oddball paranormal characters, including Irma, the chain-smoking ghost who haunts Jazz's sports car, Dweezil, her ghoul of a boss, and Fluff and Puff, a pair of bunny slippers with sharp teeth and short tempers (watch your ankles)!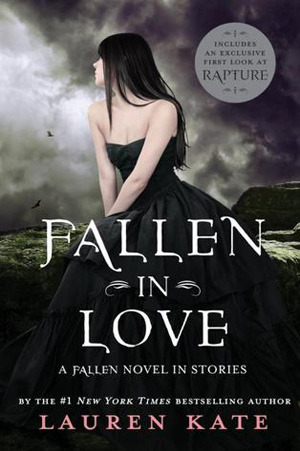 Fallen in Love
by Lauren Kate
Series: Fallen #3.5
Published by Delacorte Press on January 24th 2012
Pages: 201
Format: eBook
Source: Purchased
Amazon | B&N
Goodreads


Unexpected. Unrequited. Forbidden. Eternal. Everyone has their own love story.
And in a twist of fate, four extraordinary love stories combine over the course of a romantic Valentine's Day in Medieval England. Miles and Shelby find love where they least expect it. Roland learns a painful lesson about finding and losing love. Arianne pays the price for a love so fierce it burns. And for the first and last time, Daniel and Luce will spend a night together like none other. Lauren Kate's Fallen in Love is filled with love stories . . . the ones everyone has been waiting for.
True love never says goodbye . . .
My Review: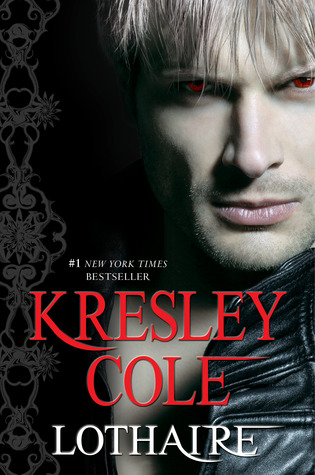 Lothaire
by Kresley Cole
Series: Immortals After Dark #12
Published by Gallery Books on January 10th 2012
Genres: Paranormal Romance
Pages: 468
Format: Hardcover
Source: Purchased
Amazon | B&N
Goodreads


Number-one New York Times best-selling author Kresley Cole continues her electrifying Immortals After Dark series with this thrilling tale, revealing secrets of the Lore, fierce realm of the immortals....
All fear the enemy of old.
Driven by his insatiable need for revenge, Lothaire, the Lore's most ruthless vampire, plots to seize the Horde's crown. But bloodlust and torture have left him on the brink of madness—until he finds Elizabeth Peirce, the key to his victory. He captures the unique young mortal, intending to offer up her very soul in exchange for power, yet Elizabeth soothes his tormented mind and awakens within him emotions Lothaire believed he could no longer experience.
A deadly force dwells within her.
Growing up in desperate poverty, Ellie Peirce yearned for a better life, never imagining she'd be convicted of murder—or that an evil immortal would abduct her from death row. But Lothaire is no savior, as he himself plans to sacrifice Ellie in one month's time. And yet the vampire seems to ache for her touch, showering her with wealth and sexual pleasure. In a bid to save her soul, Ellie surrenders her body to the wicked vampire, while vowing to protect her heart.
Centuries of cold indifference shattered.
Elizabeth tempts Lothaire beyond reason, as only his fated mate could. As the month draws to a close, he must choose between a millennia-old blood vendetta and his irresistible prisoner. Will Lothaire succumb to the miseries of his past—or risk everything for a future with her?
My Review:
I received this book for free from the Author in exchange for an honest review. This does not affect my opinion of the book or the content of my review.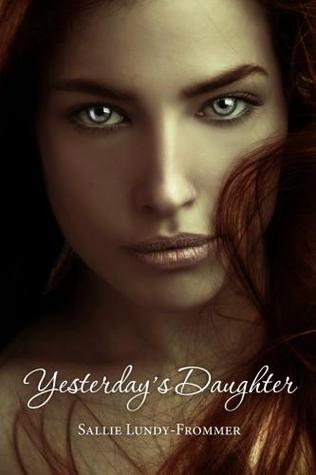 Yesterday's Daughter
by Sallie Lundy-Frommer
Published by Createspace on January 24, 2011
Genres: Paranormal Romance
Pages: 250
Format: eBook
Amazon | B&N
Goodreads


Yesterday's Daughter is an emotionally laden vampire romance novel woven with layers of betrayal, love and loss. Grace Stone, who later learns her true identity is Sapphira, is a loner who survives abuse in the foster care system after being abandoned as a child.
A brilliant student, she escapes from her brutal foster parents as a teenager and creates a life for herself. But, her life is little more than existence; plagued with questions about what she really is, a family that she has never known and the never-ending need to keep her differences hidden. She is alone and lonely, believing it will always remain so until Malachi appears in her life.
Malachi, a Guardian of the vampire communities, has searched for his life mate, Sapphira, for decades. He refuses to cease searching for Sapphira even though she is believed dead by all. Conflict arises over the decades between Malachi and his family because of his refusals to accept another mate. But his very soul drives him on to continue his search, knowing that he could not exist if Sapphira were not in the world, somewhere.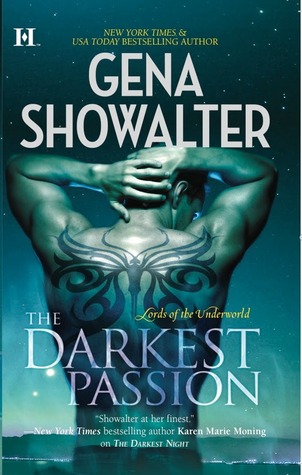 The Darkest Passion
by Gena Showalter
Series: Lords of the Underworld #5
Published by Mira on May 21st 2010
Genres: Paranormal Romance
Pages: 438
Format: Paperback
Source: Purchased
Amazon | B&N
Goodreads


For weeks, the immortal warrior Aeron has sensed an invisible female presence. An angel-demon-assassin has been sent to kill him. Or has she? Olivia claims she fell from the heavens, giving up immortality because she couldn't bear to harm him. But trusting - and falling for - Olivia will endanger them all. So how has this mortal with the huge blue eyes already unleashed Aeron's darkest passion?
With an enemy hot on his trail and his faithful demon companion determined to remove Olivia from his life, Aeron is trapped between duty and consuming desire. Worse still, a new executioner has been sent to do the job Olivia wouldn't...
 My Review: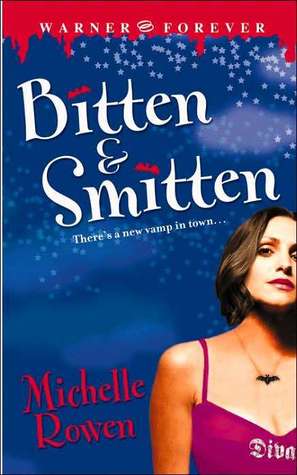 Bitten & Smitten
by Michelle Rowen
Series: Immortality Bites #1
Published by Warner Forever on January 1, 2006
Genres: Paranormal Romance
Pages: 369
Format: Paperback
Source: Library
Amazon | B&N
Goodreads


Dear Mom,
I might be a wee bit late for Cousin Missy's wedding. It's been a tough week. Turns out, my blind date from hell was literally from hell. Guy bit me. Next thing I know, I'm being chased all over the city by vampire hunters. And did I mention that I got fired, too?
Bright side-I met a man. Thierry de Bennicoeur. How great is that name? Anyway, he's sexy, six-hundred years old, and a tad suicidal, but no one's perfect, right? And we have a deal-he's gonna show me the ropes of the vampire world, and I'm supposed to help him end his existence. Or maybe I'll just try to convince him life is worth living – no small challenge with the mostly immortal, let me tell you. I'll admit it's a complicated relationship. But with any luck, I just might have a date for that wedding after all…
Hugs and Kisses,
Sarah
My Review Continue reading →
I received this book for free from the Author in exchange for an honest review. This does not affect my opinion of the book or the content of my review.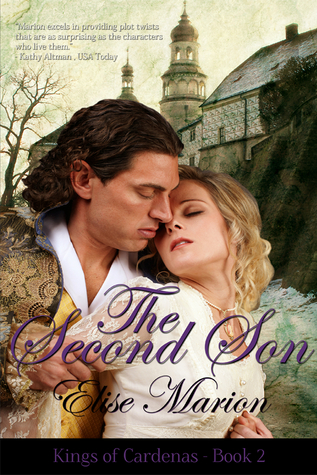 The Second Son
by Elise Marion
Series: Kings of Cardenas #2
Published by Marion Press on January 14th 2014
Genres: Historical Romance
Pages: 228
Format: eArc
Source: the Author
Amazon
Goodreads


He has always loved her. She is still reeling from the lost of her first love. Can a marriage of convenience give birth to true love? Can the second son of a king prove his worth? Will a pampered princess stand beside her husband to save her country and her people?
My Review Continue reading →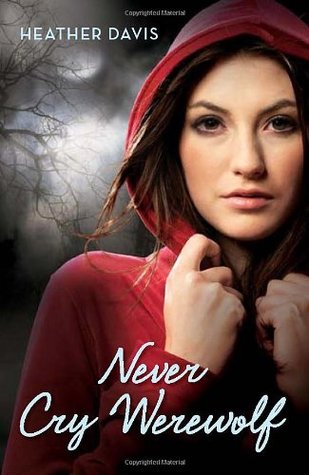 Never Cry Werewolf
by Heather Davis
Series: Never Cry Werewolf #1
Published by HarperTeen on September 1st 2009
Pages: 216
Format: eBook
Source: Purchased
Amazon | B&N
Goodreads


Moonlight can totally change your life.
And it all starts so simply.
You. Him.
The moon.
You're toast.

Okay, so maybe Shelby has made a few mistakes with boys lately (how was she supposed to know Wes had "borrowed" that Porsche?). But her stepmother totally overreacts when she catches Shelby in a post-curfew kiss with a hot senior: Suddenly Shelby's summer plans are on the shelf, and she's being packed off to brat camp. It's good-bye, prom dress; hello, hiking boots.
Things start looking up, though, when Shelby meets fellow camper (and son of a rock star) Austin Bridges III. But soon she realizes there's more to Austin than crush material—his family has a dark secret, and he wants Shelby's help guarding it. Shelby knows that she really shouldn't be getting tangled up with another bad boy . . . but who is she to turn her back on a guy in need, especially such a good-looking one? One thing's for sure: That pesky full moon is about to get her into trouble all over again.
My Review:
I received this book for free from Netgalley in exchange for an honest review. This does not affect my opinion of the book or the content of my review.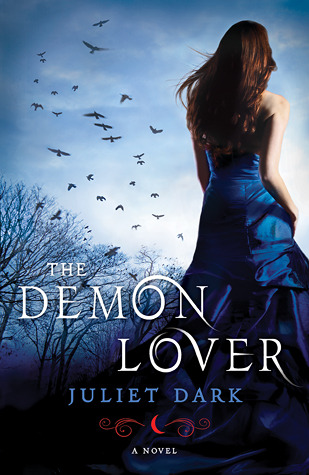 The Demon Lover
by Juliet Dark
Series: Fairwick Chronicles #1
Published by Ballantine Books on December 27th 2011
Genres: Paranormal Romance
Pages: 450
Format: eArc
Source: Netgalley
Amazon | B&N
Goodreads



I gasped . . . or tried to. My mouth opened, but I couldn't draw breath. . . . His lips, pearly wet, parted and he blew into my mouth. My lungs expanded beneath his weight. When I exhaled he sucked in my breath and his weight turned from cold marble into warm living flesh.

Since accepting a teaching position at remote Fairwick College in upstate New York, Callie McFay has experienced the same disturbingly erotic dream every night: A mist enters her bedroom, then takes the shape of a virile, seductive stranger who proceeds to ravish her in the most toe-curling, wholly satisfying ways possible. Perhaps these dreams are the result of writing her bestselling book, The Sex Lives of Demon Lovers. After all, Callie's lifelong passion is the intersection of lurid fairy tales and Gothic literature—which is why she finds herself at Fairwick's renowned folklore department, living in a once-stately Victorian house that, at first sight, seemed to call her name.
But Callie soon realizes that her dreams are alarmingly real. She has a demon lover—an incubus—and he will seduce her, pleasure her, and eventually suck the very life from her. Then Callie makes another startling discovery: He's not the only mythical creature in Fairwick. As the tenured witches of the college and the resident fairies in the surrounding woods prepare to cast out the incubus, Callie must accomplish something infinitely more difficult—banishing this demon lover from her heart.
My Review Continue reading →