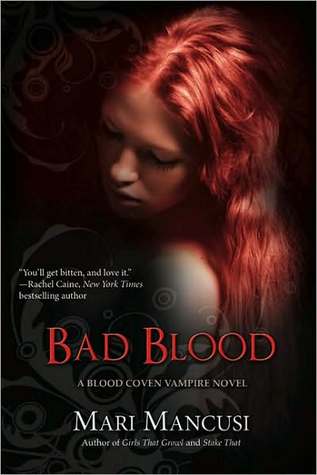 Bad Blood
by
Mari Mancusi
Series:
Blood Coven Vampire #4
Published by
Berkley
on January 5th 2010
Pages:
256
Format:
eBook
Source:
Purchased
Amazon Kindle
|
Amazon Paperback
Goodreads

The newest Blood Coven novel-accompanied by edgy repackages of the rest of the series
Sunny McDonald is in the ultimate forbidden relationship. Her boyfriend Magnus is a vampire, and the leader of the Blood Coven. And when the Coven decides that Magnus needs a mate to be his co-ruler, Sunny's humanity puts her out of the running. The Coven's chosen candidate is Jane Johnson, a magna cum laude graduate of Oxford University who just happens to look like a vampiric supermodel.
Sunny is suspicious of a Rhodes Scholar who can't answer the most basic poli-sci questions, but Magnus brushes it off as petty jealousy. Still, when the Blood Coven goes to Las Vegas for a vampire convention, Sunny and her twin sister Rayne secretly tag along. And Sunny's not going home before she learns the truth about Jane. Because not everything stays in Vegas-especially bad blood.
My Review: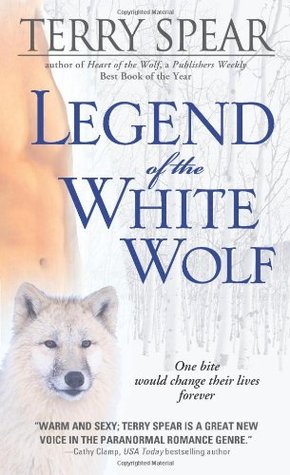 Legend of the White Wolf
by
Terry Spear
Series:
Heart of the Wolf #4
Published by
Sourcebooks Casablanca
on February 1st 2010
Genres:
Paranormal Romance
Pages:
371
Format:
Paperback
Source:
Purchased
Amazon Kindle
|
Amazon Paperback
Goodreads

In this fourth in Spear's series, Private Eye Cameron MacPherson and Faith O'Mallery are both on quests that lead them into the world of magical wolves…
Cameron arrives in the Canadian Arctic to search for his partners in his P.I. business who are late returning from a hunting trip. Faith is there to discover what her father had seen in the same area years earlier that had made him lose touch with reality—man-wolves, he called them.
The two tumble into an icy world of enemies bent on destroying the lupus garou kind. As they turn into lupus garou themselves, and bond with the pack that only they can rescue from destruction, Cameron and Faith find their soul mates in each other.
My Review: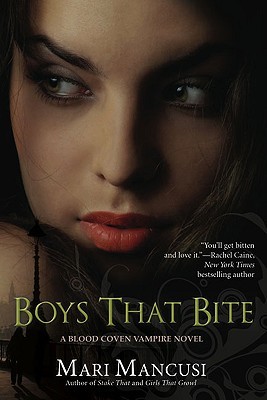 Boys that Bite
by
Mari Mancusi
Series:
Blood Coven Vampire #1
Published by
Berkley
on April 4th 2006
Pages:
272
Format:
eBook
Source:
Purchased
Amazon Kindle
|
Amazon Paperback
Goodreads

Two sisters—as different as the sun and the rain. For one, getting into the Blood Coven is to die for. But for the other, getting out could be lethal...
When Sunny McDonald gets dragged to Club Fang by her twin sister Rayne, she doesn't expect to find anything besides a bunch of Goth kids playing at being vampires. But when some guy mistakes Sunny for her dark-side-loving sister and bites her on the neck, she finds out that his fangs are real—and deadly.
Now, Sunny has less than a week to figure out how to reverse the bite, or else she's going to end up as the perpetually undead. And not only will she be a vampire, she'll also be bonded to Magnus—the bloodsucker who bit her—forever. And forever is a really long time...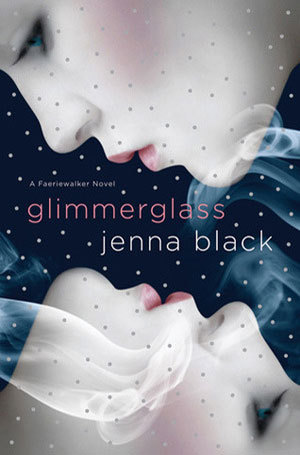 Glimmerglass
by
Jenna Black
Series:
Faeriewalker #1
Published by
St. Martin's Griffin
on May 25th 2010
Pages:
294
Format:
eBook
Source:
Purchased
Amazon Kindle
|
Amazon Paperback
Goodreads

It's all she's ever wanted to be, but it couldn't be further from her grasp...
Dana Hathaway doesn't know it yet, but she's in big trouble. When her alcoholic mom shows up at her voice recital drunk, again, Dana decides she's had enough and runs away to find her mysterious father in Avalon: the only place on Earth where the regular, everyday world and the captivating, magical world of Faerie intersect. But from the moment Dana sets foot in Avalon, everything goes wrong, for it turns out she isn't just an ordinary teenage girl, she's a Faeriewalker, a rare individual who can travel between both worlds, and the only person who can bring magic into the human world and technology into Faerie.
Dana finds herself tangled up in a cutthroat game of Fae politics. Someone's trying to kill her, and everyone seems to want something from her, from her new-found friends and family to Ethan, the hot Fae guy Dana figures she'll never have a chance with... until she does. Caught between two worlds, Dana isn't sure where she'll ever fit in and who can be trusted, not to mention if her world will ever be normal again.
 My Review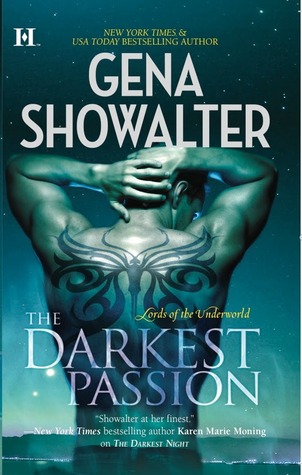 The Darkest Passion
by
Gena Showalter
Series:
Lords of the Underworld #5
Published by
Mira
on May 21st 2010
Genres:
Paranormal Romance
Pages:
438
Format:
Paperback
Source:
Purchased
Amazon Kindle
|
Amazon Paperback
Goodreads

For weeks, the immortal warrior Aeron has sensed an invisible female presence. An angel-demon-assassin has been sent to kill him. Or has she? Olivia claims she fell from the heavens, giving up immortality because she couldn't bear to harm him. But trusting - and falling for - Olivia will endanger them all. So how has this mortal with the huge blue eyes already unleashed Aeron's darkest passion?
With an enemy hot on his trail and his faithful demon companion determined to remove Olivia from his life, Aeron is trapped between duty and consuming desire. Worse still, a new executioner has been sent to do the job Olivia wouldn't...
 My Review: