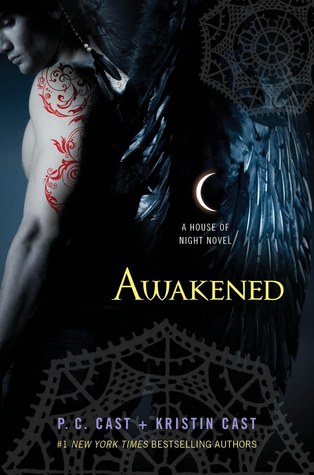 Awakened
by
P.C. Cast
,
Kristin Cast
Series:
House of Night #8
Published by
St. Martin's Griffin
on January 4th 2011
Pages:
290
Format:
Hardcover
Source:
Purchased
Amazon Kindle
|
Amazon Paperback
Goodreads

Exonerated by the Vampyre High Council and returned to her position of High Priestess at Tulsa's House of Night, Neferet has sworn vengeance on Zoey. Dominion over her immortal consort Kalona is only one of the weapons she plans to use against Z. But Zoey has found sanctuary on the Isle of Skye and is being groomed by Queen Sgiach to take over for her there. Being Queen would be cool, wouldn't it? Why should she return to Tulsa? After losing her human consort, Heath, she will never be the same – and her relationship with her super-hot-warrior, Stark, may never be the same either… And what about Stevie Rae and Rephaim? The Raven Mocker refuses to be used against Stevie Rae, but what choice does he have when no one in the entire world, including Zoey, would be okay with their relationship? Does he betray his father or his heart?
My Review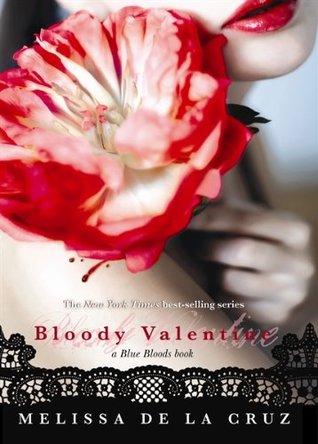 Bloody Valentine
by
Melissa de la Cruz
Series:
Blue Bloods #5.5
Published by
Hyperion
on December 28th 2010
Pages:
147
Format:
Hardcover
Source:
Purchased
Amazon Kindle
|
Amazon Paperback
Goodreads

The Blue Bloods have powers beyond human comprehension: strength that defies logic, speed that cannot be captured on film, the ability to shape-shift, and more. But in matters of the heart, no one, not even those immortal vampires, has total control.
In Bloody Valentine, part of the best-selling Blue Bloods series, author Melissa de la Cruz offers three tantalizing stories that delve deep into the love lives of the all-powerful vamps (and their Red Blood friends) from New York's Upper East Side. Might a witchy new girl help cure Oliver's broken heart? How did Allegra fall in love with a human? Will Schuyler and Jack finally be bonded?
Romantic and sensual, Bloody Valentine reveals the undying love, the hope and devastation, and the lust and longing that have defined the Blue Bloods throughout history. Prepare to be swept off your feet.
My Review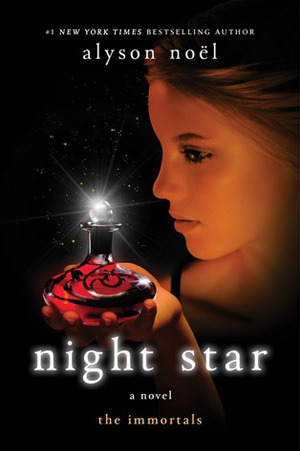 Night Star
by
Alyson Noel
Series:
The Immortals #5
Published by
St. Martin's Griffin
on November 16th 2010
Pages:
302
Format:
Hardcover
Source:
Purchased
Amazon Kindle
|
Amazon Paperback
Goodreads

Haven still blames Ever for the death of her boyfriend Roman, no matter how hard Ever's tried to convince her it was an accident. Now she's determined to take Ever down…and destroy Damen and Jude along the way. Her first step is to tear Ever and Damen apart—and she has just the ammunition to do it.
Hidden in one of Ever's past lives is a terrible secret about Damen—a secret that illuminates new facts about her relationship with Jude, but that's so dark and brutal it might be enough to drive her and Damen apart once and for all. As Ever faces her greatest fears about the guy she wants to spend eternity with, she's thrust into a deadly clash with Haven that could destroy them all.
Now it'll take everything she's got—and bring out powers she never knew she had—to face down her most formidable enemy. But in order to win, she must first ask herself: is her own survival worth dooming Haven to an eternity of darkness in the Shadowland? And will learning the truth about Damen's past hold the key to their future?
My Review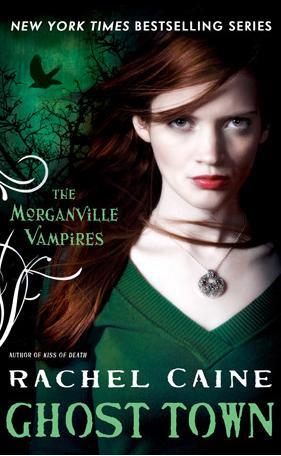 Ghost Town
by
Rachel Caine
Series:
The Morganville Vampires #9
Published by
New American Library
on October 26, 2010
Pages:
335
Format:
Hardcover
Source:
Purchased
Amazon Kindle
|
Amazon Paperback
Goodreads

Deep in the heart of Texas, Morganville is a small college town full of laid-back students and eccentric townies, not to mention the sort of creatures you wouldn't want to run into after dark. Despite their obvious differences, the human and vampire residents of Morganville have learned to coexist, but that doesn't stop genius student Claire Danvers from keeping up her guard. Because in Morganville, nothing is as it seems...
While developing a new system to maintain the town's defences, Claire discovers a way to use the vampires' powers to help keep outsiders from spreading news of Morganville's "unique" situation once they've crossed the city limits.
But the new system has an unexpected and possibly deadly consequence: People inside the town start forgetting who and what they are - even the vampires. And when Claire's boyfriend, Shane, and her best friend, Eve, start treating her like a perfect stranger, Claire realizes she has to figure out a way to pull the plug on her experiment - before she forgets how to save herself... and Morganville.
My Review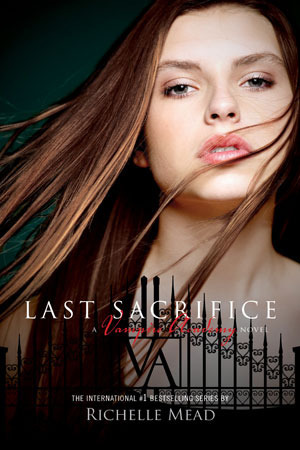 Last Sacrifice
by
Richelle Mead
Series:
Vampire Academy #6
Published by
Razorbill
on December 7th 2010
Pages:
608
Format:
Hardcover
Source:
Purchased
Amazon Kindle
|
Amazon Paperback
Goodreads

This book has Alternate Cover Editions for this ISBN [ACE]
ACE #1

They come first.
My vision was growing dimmer, the blackness and ghosts closing in. I swore it was like I could hear Robert whispering in my ear: The world of the dead won't give you up a second time. Just before the light completely vanished, I saw Dimitri's face join Lissa's. I wanted to smile. I decided then that if the two people I loved most were safe, I could leave this world.
The dead could finally have me.
Rose Hathaway has always played by her own rules. She broke the law when she ran away from St. Vladimir's Academy with her best friend and last surviving Dragomir princess, Lissa. She broke the law when she fell in love with her gorgeous, off-limits instructor, Dimitri. And she dared to defy Queen Tatiana, leader of the Moroi world, risking her life and reputation to protect generations of dhampir guardians to come.
Now the law has finally caught up with Rose - for a crime she didn't even commit. She's in prison for the highest offense imaginable: the assassination of a monarch. She'll need help from both Dimitri and Adrian to find the one living person who can stall her execution and force the Moroi elite to acknowledge a shocking new candidate for the royal throne: Vasilisa Dragomir.
But the clock on Rose's life is running out. Rose knows in her heart the world of the dead wants her back...and this time she is truly out of second chances. The big question is, when your whole life is about saving others, who will save you?
Join Rose, Dimitri, Adrian, and Lissa in Last Sacrifice, the epic, unforgettable finale to Richelle Mead's international #1 bestselling Vampire Academy series.
My Review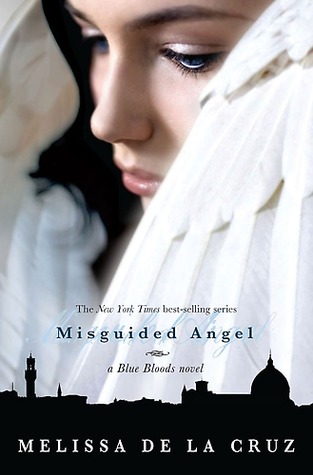 Misguided Angel
by
Melissa de la Cruz
Series:
Blue Bloods #5
Published by
Hyperion
on October 26th 2010
Pages:
265
Format:
Hardcover
Source:
Purchased
Amazon Kindle
|
Amazon Paperback
Goodreads

After inheriting the dark Van Alen Legacy, Schuyler fled to Florence with her forbidden love, Jack. Now the two of them must embark on the mission Schuyler was destined to complete: to find and protect the five remaining gates that guard the earth from Lucifer, lord of the Silver Bloods.
Back in New York, Mimi has been elected Regent of a crumbling coven. Struggling with her heartache over the loss of Kingsley and with her overwhelming desire to destroy Jack, she must focus all of her energy on a perilous new threat. Vampires are being abducted and their captors are planning to burn them alive online...for all the world to see. Help arrives in the form of Deming Chen, a Venator from Shanghai, who must untangle the web of deceptions before the killers strike again.
As the young vampires struggle for the survival of the coven, they uncover a deadly secret, a truth first discovered by Schuyler's mother during the Renaissance but kept buried for centuries. And as the Blue Blood enclave weakens yet further, fate leads Schuyler to a terrible choice that will ultimately map the destiny of her heart.
My Review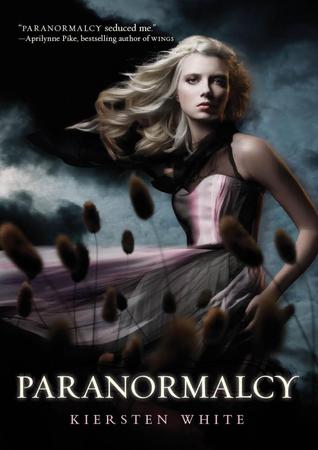 Paranormalcy
by
Kiersten White
Series:
Paranormalcy #1
Published by
HarperTeen
on August 31st 2010
Pages:
335
Format:
Hardcover
Source:
Library
Amazon Kindle
|
Amazon Paperback
Goodreads

Evie's always thought of herself as a normal teenager, even though she works for the International Paranormal Containment Agency, her ex-boyfriend is a faerie, she's falling for a shape-shifter, and she's the only person who can see through paranormals' glamours.
But Evie's about to realize that she may very well be at the center of a dark faerie prophecy promising destruction to all paranormal creatures.
So much for normal.
My Review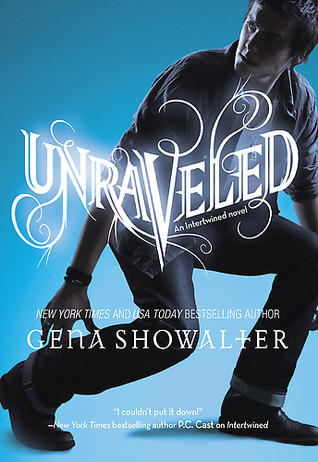 Unraveled
by
Gena Showalter
Series:
Intertwined #2
Published by
Harlequin Teen
on August 31st 2010
Pages:
572
Format:
Hardcover
Source:
Purchased
Amazon Kindle
|
Amazon Paperback
Goodreads

Since coming to Crossroads, Oklahoma, former outcast Aden Stone has been living the good life. Never mind that one of his best friends is a werewolf, his girlfriend is a vampire princess who hungers for his blood, and he's supposed to be crowned Vampire King—while still a human! Well, kind of.
With four—oops, three now—human souls living inside his head, Aden has always been "different" himself. These souls can time-travel, raise the dead, possess another's mind and, his least favorite these days, tell the future.
The forecast for Aden? A knife through the heart.
Because a war is brewing between the creatures of the dark, and Aden is somehow at the center of it all. But he isn't about to lie down and accept his destiny without a fight. Not when his new friends have his back, not when Victoria has risked her own future to be with him, and not when he has a reason to live for the first time in his life….
My Review