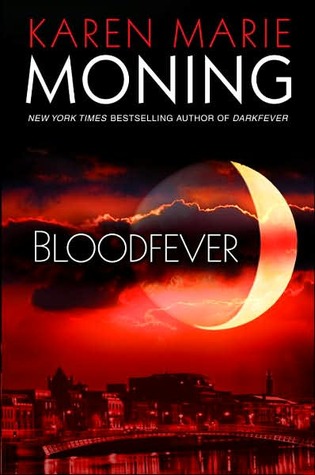 Bloodfever
by
Karen Marie Moning
Series:
Fever #2
Published by
Delacorte Press
on October 16th 2007
Genres:
Urban Fantasy
Pages:
303
Format:
Hardcover
Source:
Library
Amazon Kindle
|
Amazon Paperback
Goodreads

I used to think my sister and I were just two nice southern girls who'd get married in a few years and settle down to a quiet life. Then I discovered that Alina and I descend, not from good wholesome southern stock, but from an ancient Celtic bloodline of powerful sidhe-seers, people who can see the Fae. Not only can I see the terrifying otherworldly race, but I can sense the sacred Fae relics that hold the deadliest of their magic.
When my sister was found dead in a trash-filled alley in Dublin, I came over to get answers. Now all I want is revenge. And after everything I've learned about myself, I know I have the power to get it….
MacKayla Lane's ordinary life underwent a complete makeover when she landed on Ireland's shores and was plunged into a world of deadly sorcery and ancient secrets.
In her fight to stay alive, Mac must find the Sinsar Dubh–a million-year-old book of the blackest magic imaginable, which holds the key to power over both the worlds of the Fae and of Man. Pursued by Fae assassins, surrounded by mysterious figures she knows she cannot trust, Mac finds herself torn between two deadly and irresistible men: V'lane, the insatiable Fae who can turn sensual arousal into an obsession for any woman, and the ever-inscrutable Jericho Barrons, a man as alluring as he is mysterious.
For centuries the shadowy realm of the Fae has coexisted with that of humans. Now the walls between the two are coming down, and Mac is the only thing that stands between them.…
My Review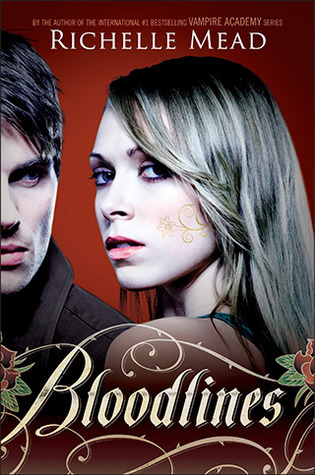 Bloodlines
by
Richelle Mead
Series:
Bloodlines #1
Published by
Penguin Group
on August 23rd 2011
Pages:
421
Format:
Hardcover
Source:
Purchased
Amazon Kindle
|
Amazon Paperback
Goodreads

I wasn't free of my past, not yet.
Sydney's blood is special. That's because she's an alchemist - one of a group of humans who dabble in magic and serve to bridge the worlds of humans and vampires. They protect vampire secrets - and human lives. But the last encounter Sydney had with vampires got her in deep trouble with the other alchemists. And now with her allegiences in question, her future is on the line.
When Sydney is torn from her bed in the middle of the night, at first she thinks she's still being punished for her complicated alliance with dhampir Rose Hathaway. But what unfolds is far worse. Jill Dragomir - the sister of Moroi Queen Lissa Dragomir - is in mortal danger, and the Moroi must send her into hiding. To avoid a civil war, Sydney is called upon to act as Jill's guardian and protector, posing as her roommate in the unlikeliest of places: a human boarding school in Palm Springs, California. The last thing Sydney wants is to be accused of sympathizing with vampires. And now she has to live with one.
The Moroi court believe Jill and Sydney will be safe at Amberwood Prep, but threats, distractions, and forbidden romance lurk both outside - and within - the school grounds. Now that they're in hiding, the drama is only just beginning.
My Review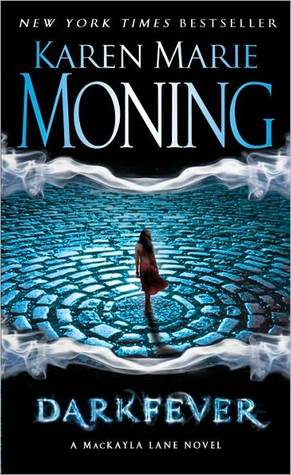 Darkfever
by
Karen Marie Moning
Series:
Fever #1
Published by
Delacorte Press
on October 31st 2006
Genres:
Urban Fantasy
Pages:
309
Format:
Hardcover
Source:
Library
Amazon Kindle
|
Amazon Paperback
Goodreads

When her sister is murdered, leaving a single clue to her death—a cryptic message on MacKayla Lane's cell phone–Mac journeys to Ireland in search of answers. The quest to find her sister's killer draws her into a shadowy realm where nothing is as it seems, where good and evil wear the same treacherously seductive mask. She is soon faced with an even greater challenge: staying alive long enough to learn how to handle a power she had no idea she possessed—a gift that allows her to see beyond the world of man, into the dangerous realm of the Fae.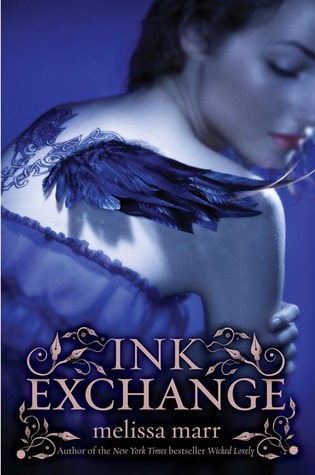 Ink Exchange
by
Melissa Marr
Series:
Wicked Lovely #2
Published by
HarperTeen
on April 24th 2008
Pages:
325
Format:
Hardcover
Source:
Library
Amazon Kindle
|
Amazon Paperback
Goodreads

Unbeknownst to mortals, a power struggle is unfolding in a world of shadows and danger. After centuries of stability, the balance among the Faery Courts has altered, and Irial, ruler of the Dark Court, is battling to hold his rebellious and newly vulnerable fey together. If he fails, bloodshed and brutality will follow.
Seventeen-year-old Leslie knows nothing of faeries or their intrigues. When she is attracted to an eerily beautiful tattoo of eyes and wings, all she knows is that she has to have it, convinced it is a tangible symbol of changes she desperately craves for her own life.
The tattoo does bring changes—not the kind Leslie has dreamed of, but sinister, compelling changes that are more than symbolic. Those changes will bind Leslie and Irial together, drawing Leslie deeper and deeper into the faery world, unable to resist its allures, and helpless to withstand its perils. . . .
My Review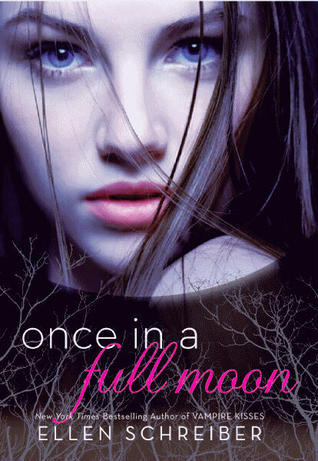 Once in a Full Moon
by
Ellen Schreiber
Series:
Full Moon #1
Published by
Katherine Tegen Books
on December 28th 2010
Pages:
292
Format:
Hardcover
Source:
Purchased
Amazon Kindle
|
Amazon Paperback
Goodreads

Beware of a kiss under the full moon. It will change your life forever.
Celeste Parker is used to hearing scary stories about werewolves—Legend's Run is famous for them. She's used to everything in the small town until Brandon Maddox moves to Legend's Run and Celeste finds herself immediately drawn to the handsome new student. But when, after an unnerving visit with a psychic, she encounters a pack of wolves and gorgeous, enigmatic Brandon, she must discover whether his transformation is more than legend or just a trick of the shadows in the moonlight.
Her best friends may never forgive her if she gives up her perfect boyfriend, Nash, for Brandon, who's from the wrong side of town. But she can't deny her attraction or the strong pull he has on her. Brandon may be Celeste's hero, or he may be the most dangerous creature she could encounter in the woods of Legend's Run.
Psychic predictions, generations-old secrets, a town divided, and the possibility of falling in love with a hot and heroic werewolf are the perfect formula for what happens . . . once in a full moon.
My Review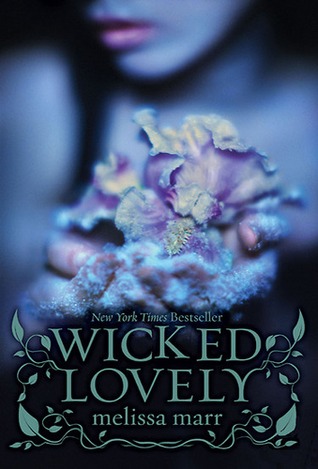 Wicked Lovely
by
Melissa Marr
Series:
Wicked Lovely #1
Published by
HarperTeen
on June 12th 2007
Pages:
328
Format:
Hardcover
Source:
Library
Amazon Kindle
|
Amazon Paperback
Goodreads
Rule #3: Don't stare at invisible faeries.Aislinn has always seen faeries. Powerful and dangerous, they walk hidden in the mortal world. Aislinn fears their cruelty - especially if they learn of her Sight - and wishes she were as blind to their presence as other teens.
Rule #2: Don't speak to invisible faeries.Now faeries are stalking her. One of them, Keenan, who is equal parts terrifying and alluring, is trying to talk to her, asking questions Aislinn is afraid to answer.
Rule #1: Don't ever attract their attention.But it's too late. Keenan is the Summer King, who has sought his queen for nine centuries. Without her, summer itself will perish. He is determined that Aislinn will become the Summer Queen at any cost — regardless of her plans or desires.
Suddenly none of the rules that have kept Aislinn safe are working anymore, and everything is on the line: her freedom; her best friend, Seth; her life; everything.
Faery intrigue, mortal love, and the clash of ancient rules and modern expectations swirl together in Melissa Marr's stunning twenty-first-century faery tale.
My Review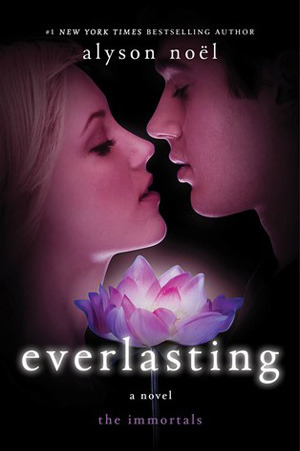 Everlasting
by
Alyson Noel
Series:
The Immortals #6
Published by
St. Martin's Griffin
on June 7th 2011
Pages:
336
Format:
Hardcover
Source:
Purchased
Amazon Kindle
|
Amazon Paperback
Goodreads

Their darkest enemies now defeated, Damen and Ever are free to embark upon their final quest—to free Damen from the poison lingering in his body. If they can just find the antidote, they'll finally be able to feel each other's touch—and experience the passionate night they've been longing for. But their fight to be together will lead them into the most formidable terrain yet…into the dark heart of Summerland.
Here in a land of scorched earth and endless rain, Ever and Damen will discover their relationship's hidden origins, expose a secret history they never imagined…and come face to face with the true reason fate keeps tearing them apart. Only then, when the final mystery is unraveled and the last secret revealed, Ever and Damen's future will hinge on one ultimate decision that will put everything at stake….even eternity.
My Review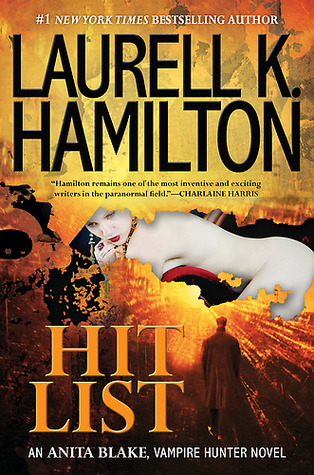 Hit List
by
Laurell K. Hamilton
Series:
Anita Blake Vampire Hunter #20
Published by
Berkley Hardcover
on June 7th 2011
Genres:
Urban Fantasy
Pages:
320
Format:
Hardcover
Source:
Purchased
Amazon Kindle
|
Amazon Paperback
Goodreads

A serial killer is hunting the Pacific Northwest, murdering victims in a gruesome and spectacular way. The local police suspect "monsters" are involved, and have called in Anita Blake and Edward, U.S. Marshals who really know their monsters, to catch the killer.
My Review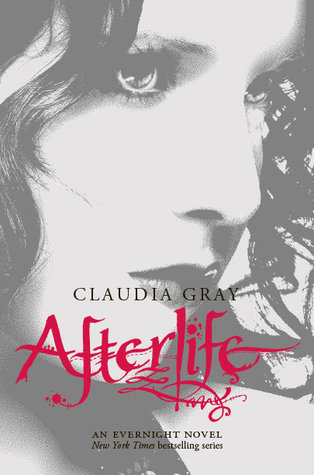 Afterlife
by
Claudia Gray
Published by
HarperTeen
on March 8th 2011
Pages:
360
Format:
Hardcover
Source:
Purchased
Amazon Kindle
|
Amazon Paperback
Goodreads

Bianca and Lucas have always believed they could endure anything to be together. When a twist of fate not only transforms Bianca into a wraith but also turns Lucas into a vampire—the very creature he spent his life hunting—they are left reeling.
Haunted by his powerful need to kill, Lucas can turn to only one place for help... Evernight Academy. Bianca is determined to remain with him. But with the vampire leader of Evernight waging a war against wraiths, her former home has become the most dangerous place she could be, despite the new powers her ghostly transformation has given her.
A battle between wraiths and vampires looms, and Bianca and Lucas face a terrifying new reality. They've overcome every obstacle life has thrown at them, but is their love strong enough to survive the challenges "after" life?
My Review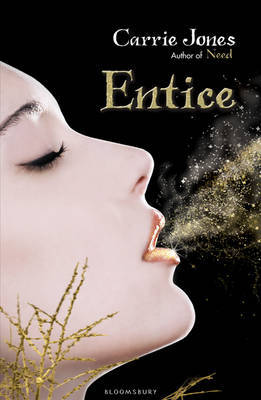 Entice
by
Carrie Jones
Series:
Need #3
Published by
Bloomsbury
on January 3rd 2011
Pages:
266
Format:
Hardcover
Source:
Purchased
Amazon Kindle
Goodreads

Zara and Nick are soul mates, meant to be together for ever. But that's not quite how things have worked out. For starters, Nick has gone. He has been taken to the mythical place for warriors known as Valhalla. Zara and her friends might be able to get him back, it's just not going to be easy. Meanwhile a group of evil pixies is devastating Bedford, with more teens going missing every day. An all-out war seems imminent, and the good guys need all the warriors they can find. But even if Zara and her friends do discover the route to Valhalla, there's that other small problem: Zara's been pixie kissed. When she finds Nick, will he even want to go with her? Especially since she hasn't turned into just any pixie... She's Astley's queen.
 My Review