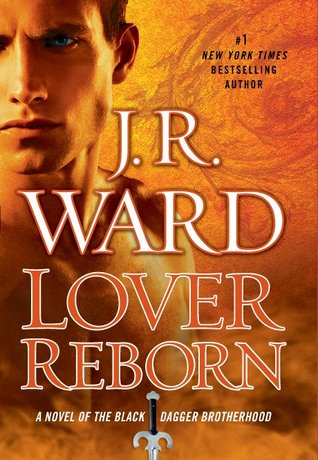 Lover Reborn
by
J.R. Ward
Series:
Black Dagger Brotherhood #10
Published by
NAL
on March 27th 2012
Genres:
Paranormal Romance
Pages:
592
Format:
Hardcover
Source:
Purchased
Amazon Kindle
|
Amazon Paperback
Goodreads

Ever since the death of his shellan, Tohrment has been unrecognizable from the vampire leader he once was. Physically emaciated and heartbroken beyond despair, he has been brought back to the Brotherhood by a self-serving fallen angel. Now, fighting once again with ruthless vengeance, he is unprepared to face a new kind of tragedy.
When Tohr begins to see his beloved in his dreams—trapped in a cold, isolated netherworld far from the peace and tranquillity of the Fade—he turns to the angel in hopes of saving the one he has lost. But because Lassiter tells him he must learn to love another to free his former mate, Tohr knows they are all doomed....
Except then a female with a shadowed history begins to get through to him. Against the backdrop of the raging war with the lessers, and with a new clan of vampires vying for the Blind King's throne, Tohr struggles between the buried past and a very hot, passion-filled future…but can his heart let go and set all of them free?
My Review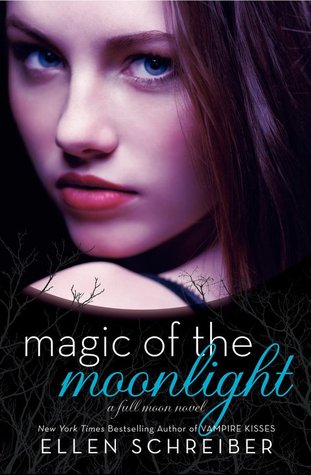 Magic of the Moonlight
by
Ellen Schreiber
Series:
Full Moon #2
Published by
Katherine Tegen Books
on December 27, 2011
Pages:
240
Format:
Hardcover
Source:
Library
Amazon Kindle
|
Amazon Paperback
|
Barnes & Noble
Goodreads

Beware of a bite under a full moon . . . It will complicate your love life.
Celeste has more to worry about than a secret romance with a hot guy from the wrong side of town. That guy, Brandon, is a werewolf. With gossip and hostility swirling at school, it's time to find a cure for his nocturnal condition, and perhaps the one person who can help is his scientist father. But what if a "cure" makes things worse and Brandon becomes a werewolf full time?
To keep Brandon's secret safe, Celeste must hide her relationship with him from her best friends, but with the Moonlight Ball approaching, she must make a choice. Her dream is to go with her one true love—Brandon. But once the sun goes down, the clouds separate, and the full moon appears, could she really walk into the dance on the arm of a werewolf?
In this installment of the sumptuously romantic Full Moon series, Celeste faces her fears and her friends and finds out whether she's strong enough to stand up for herself and her one true love.

Continue reading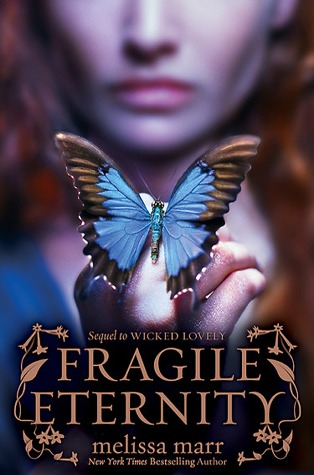 Fragile Eternity
by
Melissa Marr
Series:
Wicked Lovely #3
Published by
Bowen Press
on April 21, 2009
Pages:
389
Format:
Hardcover
Source:
Library
Amazon Kindle
|
Amazon Paperback
Goodreads

Seth never expected he would want to settle down with anyone - but that was before Aislinn. She is everything he'd ever dreamed of, and he wants to be with her forever. Forever takes on new meaning, though, when your girlfriend is an immortal faery queen.
Aislinn never expected to rule the very creatures who'd always terrified her - but that was before Keenan. He stole her mortality to make her a monarch, and now she faces challenges and enticements beyond any she'd ever imagined.
In Melissa Marr's third mesmerizing tale of Faerie, Seth and Aislinn struggle to stay true to themselves and each other in a milieu of shadowy rules and shifting allegiances, where old friends become new enemies and one wrong move could plunge the Earth into chaos.
My Review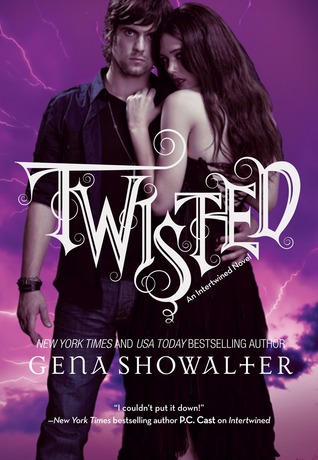 Twisted
by
Gena Showalter
Series:
Intertwined #3
Published by
Harlequin
on August 30th 2011
Pages:
564
Format:
Hardcover
Source:
Purchased
Amazon Kindle
|
Amazon Paperback
Goodreads

His vampire girlfriend might have brought him back to life, but he's never felt more out of control. There's a darkness within him, something taking over; changing him. Worse, because he was meant to die, death now stalks him at every turn. Any day could be his last.
Once upon a time, the three souls trapped inside his head could have helped him. He could have protected himself. But as the darkness grows stronger, the souls grow weaker - just like his girlfriend. The more vampire Aden becomes, the more human Victoria becomes, until everything they know and love is threatened.
Life couldn't get any worse. Could it?
My Review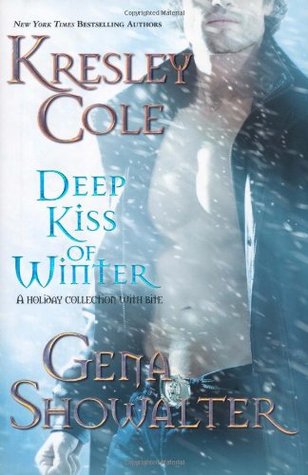 Deep Kiss of Winter
by
Kresley Cole
,
Gena Showalter
Series:
Immortals After Dark #8
,
Alien Huntress #3.5
Published by
Pocket Books
on October 13th 2009
Genres:
Paranormal Romance
Pages:
426
Format:
Hardcover
Source:
Purchased
Amazon Kindle
|
Amazon Paperback
Goodreads

Kresley Cole - Untouchable (Immortals After Dark #8)
#1 NEW YORK TIMES BESTSELLING AUTHOR KRESLEY COLE delivers a breathtaking tale of a brutal vampire soldier about to know love for the first time... and a Valkyrie aching for his touch.
Murdoch Wroth will stop at nothing to claim Daniela - the delicate Valkyrie who makes his heart beat for the first time in three hundred years. Yet the exquisite Danii is part ice fey, and her freezing skin can't be touched by anyone but her own kind without inflicting pain beyond measure. Can they conquer an agony of frustration and slake the overwhelming desire burning between them?
Gena Showalter - Tempt Me Eternally (Alien Huntress #4.5)
NEW YORK TIMES AND USA TODAY BESTSELLING AUTHOR GENA SHOWALTER puts a daring spin on a tale of huntress and hunted... and concocts a sensual chemistry that is positively explosive.
With only skin-to-skin contact, Aleaha Love can change her appearance, assume any identity. Now she's an AIR (Alien Investigation and Removal) agent on a mission to capture a group of otherworldly warriors. Only she is held captive when dangerously seductive Breean, a golden-skinned, iron-willed commander, threatens her new life - and for the first time, Aleaha wants only to be herself.
My Review: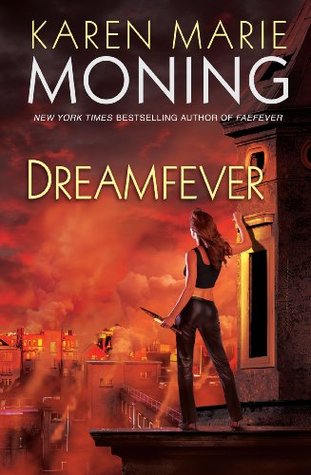 Dreamfever
by
Karen Marie Moning
Series:
Fever #4
Published by
Delacorte Press
on August 18th 2009
Genres:
Urban Fantasy
Pages:
386
Format:
Hardcover
Source:
Library
Amazon Kindle
|
Amazon Paperback
Goodreads

MacKayla Lane lies naked on the cold stone floor of a church, at the mercy of the erotic Fae master she once swore to kill. Far from home, unable to control her sexual hungers, MacKayla is now fully under the Lord Master's spell.…In New York Times bestselling author Karen Marie Moning's stunning new novel, the walls between human and Fae worlds have come crashing down. And as Mac fights for survival on Dublin's battle-scarred streets, she will embark on the darkest—and most erotically charged—adventure of her life.
He has stolen her past, but MacKayla will never allow her sister's murderer to take her future. Yet even the uniquely gifted sidhe-seer is no match for the Lord Master, who has unleashed an insatiable sexual craving that consumes Mac's every thought—and thrusts her into the seductive realm of two very dangerous men, both of whom she desires but dares not trust.
As the enigmatic Jericho Barrons and the sensual Fae prince V'lane vie for her body and soul, as cryptic entries from her sister's diary mysteriously appear and the power of the Dark Book weaves its annihilating path through the city, Mac's greatest enemy delivers a final challenge.…
It's an invitation Mac cannot refuse, one that sends her racing home to Georgia, where an even darker threat awaits. With her parents missing and the lives of her loved ones under siege, Mac is about to come face-to-face with a soul-shattering truth—about herself and her sister, about Jericho Barrons…and about the world she thought she knew.
My Review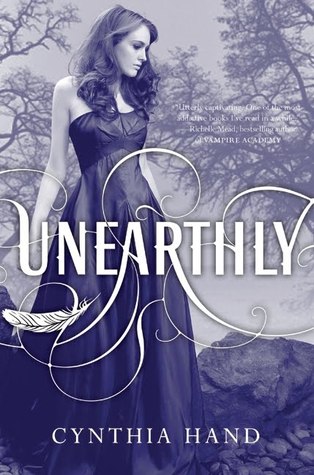 Unearthly
by
Cynthia Hand
Series:
Unearthly #1
Published by
HarperTeen
on January 4th 2011
Pages:
435
Format:
Hardcover
Source:
Library
Amazon Kindle
|
Amazon Paperback
Goodreads

In the beginning, there's a boy standing in the trees...Clara Gardner has recently learned that she's part angel. Having angel blood run through her veins not only makes her smarter, stronger, and faster than humans (a word, she realizes, that no longer applies to her), but it means she has a purpose, something she was put on this earth to do. Figuring out what that is, though, isn't easy.
Her visions of a raging forest fire and an alluring stranger lead her to a new school in a new town. When she meets Christian, who turns out to be the boy of her dreams (literally), everything seems to fall into place and out of place at the same time. Because there's another guy, Tucker, who appeals to Clara's less angelic side.
As Clara tries to find her way in a world she no longer understands, she encounters unseen dangers and choices she never thought she'd have to make between honesty and deceit, love and duty, good and evil. When the fire from her vision finally ignites, will Clara be ready to face her destiny?
Unearthly is a moving tale of love and fate, and the struggle between following the rules and following your heart.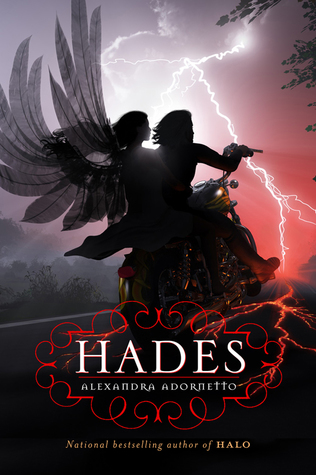 Hades
by
Alexandra Adornetto
Series:
Halo #2
Published by
Feiwel & Friends
on August 30th 2011
Pages:
425
Format:
Hardcover
Source:
Library
Amazon Kindle
|
Amazon Paperback
Goodreads

Heaven Help Her.
Bethany Church is an angel sent to Earth to keep dark forces at bay. Falling in love was never part of her mission, but the bond between Beth and her mortal boyfriend, Xavier Woods, is undeniably strong. But even Xavier's love, and the care of her archangel siblings, Gabriel and Ivy, can't keep Beth from being tricked into a motorcycle ride that ends up in Hell. There, the demon Jake Thorn bargains for Beth's release back to Earth. But what he asks of her will destroy her, and quite possibly, her loved ones, as well.
The story that Alexandra Adornetto built in her New York Times - bestselling debut, Halo, comes alive in action-packed and unexpected ways, as angels battle demons, and the power of love is put to the test.
My Review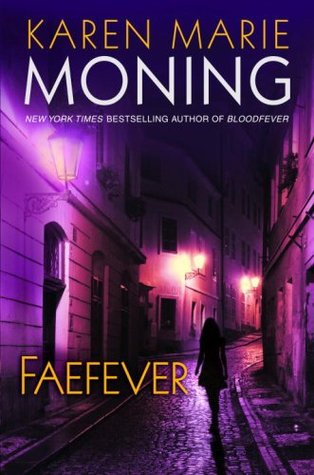 Faefever
by
Karen Marie Moning
Series:
Fever #3
Published by
Delacorte Press
on September 16th 2008
Genres:
Urban Fantasy
Pages:
327
Format:
Hardcover
Source:
Library
Amazon Kindle
|
Amazon Paperback
Goodreads

The New York Times bestselling author of Darkfever and Bloodfever returns to Dublin's Fae-infested shores in a bold, sensual new novel. Hurtling us into a realm of seduction and shadows, Karen Marie Moning tells the enthralling tale of a woman who explores the limits of her mysterious powers as she enters a world of ancient sorcery—and confronts an enemy more insidious than she could ever have imagined.
He calls me his Queen of the Night. I'd die for him. I'd kill for him, too. When MacKayla Lane receives a torn page from her dead sister's journal, she is stunned by Alina's desperate words. And now MacKayla knows that her sister's killer is close. But evil is closer. And suddenly the sidhe-seer is on the hunt: For answers. For revenge. And for an ancient book of dark magic so evil, it corrupts anyone who touches it.
Mac's quest for the Sinsar Dubh takes her into the mean, shape-shifting streets of Dublin, with a suspicious cop on her tail. Forced into a dangerous triangle of alliance with V'lane, an insatiable Fae prince of lethally erotic tastes, and Jericho Barrons, a man of primal desires and untold secrets, Mac is soon locked in a battle for her body, mind, and soul.
As All Hallows' Eve approaches and the city descends into chaos, as a shocking truth about the Dark Book is uncovered, not even Mac can prevent a deadly race of immortals from shattering the walls between worlds—with devastating consequences.…
My Review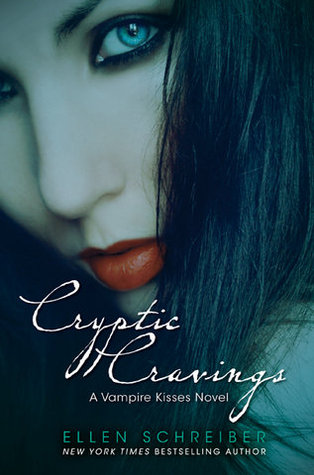 Cryptic Cravings
by
Ellen Schreiber
Series:
Vampire Kisses #8
Published by
Katherine Tegan Books
on May 17th 2011
Pages:
211
Format:
Hardcover
Source:
Purchased
Amazon Kindle
|
Amazon Paperback
Goodreads

The morbidly monotonous Dullsville has finally become the most exciting place on earth now that Raven is madly in love with her hot vampire boyfriend Alexander, and a crew of vampires has taken residence in Dullsville's old mill. Raven discovers Jagger's plan to open a new club, The Crypt, right here in Dullsville. But is it her dream come true, or her worst nightmare? Raven and Alexander have to figure out what the nefarious vampire has in store for Dullsville's teen and vampire population. Can Raven convince Jagger to listen to her plans to make the Crypt the morbidly magnificent dance club it could be? Will it be safe for mortals and vampires alike?
And as Sebastian and Luna's relationship heats up, Raven wonders about her own amorous fate: Will Alexander ever turn her? Does he crave her and does he want to spend eternity together? And what does she really want?
With cryptic secrets and cravings, this eighth installment in the Vampire Kisses series is a romantic and mysterious thrill ride.