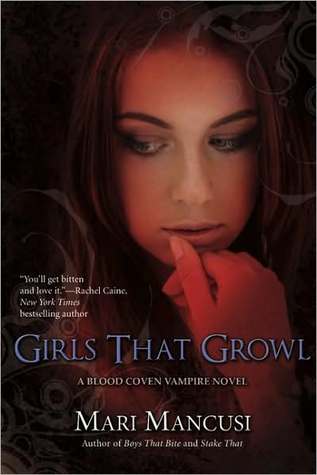 Girls That Growl
by Mari Mancusi
Series: Blood Coven Vampire #3
Published by Berkley on October 2nd 2007
Pages: 256
Format: eBook
Source: Purchased
Amazon | B&N
Goodreads


Rayne McDonald thought getting into the Blood Coven was the hard part. But now there's a new breed of trouble in town...and the former slayer and her vampire boyfriend may be the only ones who can stop it.
Now that she's an official vampire and full-fledged member of The Blood Coven, Rayne assumes her vampire slaying days are over. Sure, she doesn't have any vampire powers, thanks to a mutated blood virus, but she and Jareth can go out in the sun, which is a pretty good trade-off.
But just when Rayne's starting to enjoy her afterlife, she's contacted by Slayer Inc once again. It seems that a member of her high school's football team has disappeared—and the powers-that-be think the cheerleaders had something to do with it. Now Rayne has to infiltrate the squad before the cheerleaders have a chance to sink their teeth into someone else...
My Review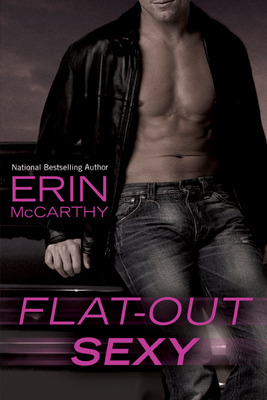 Flat-Out Sexy
by Erin McCarthy
Series: Fast Track #1
Published by Berkley on November 4th 2008
Genres: Contemporary Romance
Pages: 291
Format: Paperback
Source: Library
Amazon | B&N
Goodreads

Independent single mother Tamara Briggs wanted to find a new, sexy, no-strings-attached man--just not one as young as NASCAR driver Elec Monroe. But he sure does get her heart racing. And after she's tricked into a blind date with him, Tamara gives in to her passion. Things screech to a halt, though, when he asks to meet her children. Whatever happened to wham-bam-thank-you ma'am? Suddenly Tamara has to decide how much risk she's willing to take to experience the power of true love.
My Review
I received this book for free from Netgalley in exchange for an honest review. This does not affect my opinion of the book or the content of my review.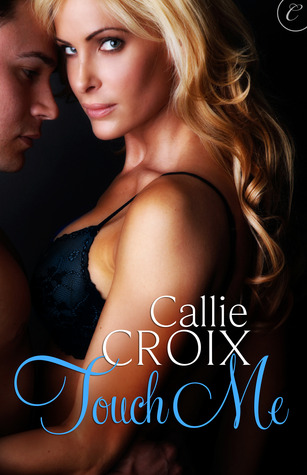 Touch Me
by Callie Croix
Published by Carina Press on January 2nd 2012
Format: eArc
Source: Netgalley
Amazon | B&N
Goodreads


Arriving home on leave from his tour of duty, Army Captain Alex Montoya knows there's a beautiful woman waiting for him-his best friend's sister. She's always been off limits...until now. He fully intends to move them out of being "just friends" and encourage her to release the sexual needs he senses she's buried deep.
Tianna McIntyre is starting over after her marriage ended. Her ex-husband weakened her self-esteem and caused her to deny her true sexual desires. But being around Alex brings all her dormant fantasies to the surface, and now Tianna feels the stirrings of her secret, submissive wishes.
Determined to help repair the damage Tianna's ex did to her self-worth, Alex will use whatever means necessary to convince her they're meant for each other, including tying her down to make sure he has her full attention while he takes her to the heights of pleasure she's always dreamed of...
My Review :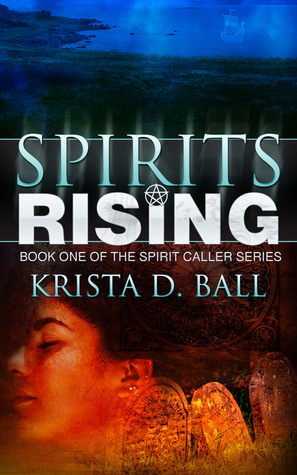 Spirits Rising
by Krista D. Ball
Series: Spirit Caller #1
Published by Amazon Digital Services on January 3, 2012
Genres: Urban Fantasy
Pages: 80
Format: eBook
Source: the Author
Amazon
Goodreads


Rachel Mills has one wish in life: for the spirit world to shut up and leave her alone. She thought her move to a remote fishing village in Northern Newfoundland would help.
Population: Twenty. What could go wrong?
Instead of peace, however, she relocates to a land of superstitution, the air alive with the presence of others.
When a local teenager accidentally summons the spirits of the area, including those from a thousand-year-old Viking settlement, all supernatural breaks loose. As the spirits stalk her and each other, Rachel finds herself in over her head. With the help of Mrs. Saunders, her 93-year-old neighbour, Rachel has to put aside her own prejudices long enough to send the spirits back to rest, or risk being caught in the midst of a spirit war.
My Review Continue reading →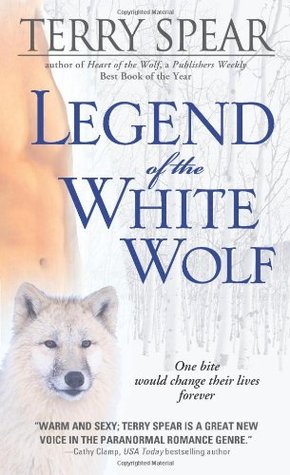 Legend of the White Wolf
by Terry Spear
Series: Heart of the Wolf #4
Published by Sourcebooks Casablanca on February 1st 2010
Genres: Paranormal Romance
Pages: 371
Format: Paperback
Source: Purchased
Amazon | B&N
Goodreads


In this fourth in Spear's series, Private Eye Cameron MacPherson and Faith O'Mallery are both on quests that lead them into the world of magical wolves…
Cameron arrives in the Canadian Arctic to search for his partners in his P.I. business who are late returning from a hunting trip. Faith is there to discover what her father had seen in the same area years earlier that had made him lose touch with reality—man-wolves, he called them.
The two tumble into an icy world of enemies bent on destroying the lupus garou kind. As they turn into lupus garou themselves, and bond with the pack that only they can rescue from destruction, Cameron and Faith find their soul mates in each other.
My Review: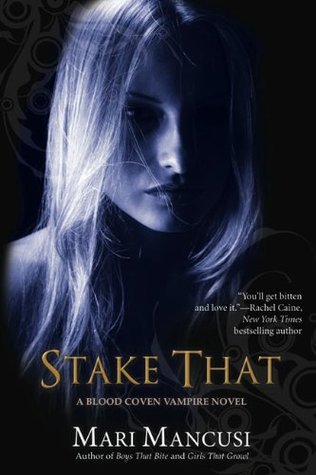 Stake That
by Mari Mancusi
Series: Blood Coven Vampire #2
Published by Berkley on December 5th 2006
Pages: 288
Format: eBook
Source: Purchased
Amazon | B&N
Goodreads


Two sisters—as different as the sun and the rain. For one, getting into the Blood Cover is to die for, but it seems destiny has something else in mind...
Rayne McDonald had it all figured out. Get turned into a vampire, become the mate of the Blood Coven leader, and live the high-life for all eternity. Too bad the head vamp took a bite out of her twin sister by mistake. Now, not only is Rayne still not a vampire, but she learns she's a slayer instead—destined to destroy vamps gone bad.
After being recruited by a secret organization, Rayne is given her first mission: infiltrate a seedy bar downtown and expose its vampire owner, Maverick, for purposely spreading a nasty blood virus. Luckily the Blood Coven sends some help—in the form of sexy vampire Jareth. Will vampire and slayer be able to settle their differences and work together to bring down the evil Maverick? Or will they find their own hearts on the line?
My Review: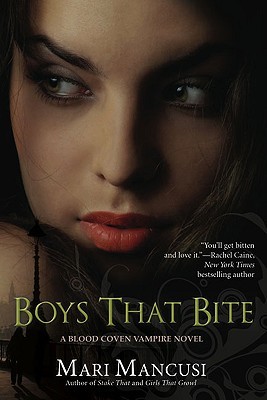 Boys that Bite
by Mari Mancusi
Series: Blood Coven Vampire #1
Published by Berkley on April 4th 2006
Pages: 272
Format: eBook
Source: Purchased
Amazon | B&N
Goodreads


Two sisters—as different as the sun and the rain. For one, getting into the Blood Coven is to die for. But for the other, getting out could be lethal...
When Sunny McDonald gets dragged to Club Fang by her twin sister Rayne, she doesn't expect to find anything besides a bunch of Goth kids playing at being vampires. But when some guy mistakes Sunny for her dark-side-loving sister and bites her on the neck, she finds out that his fangs are real—and deadly.
Now, Sunny has less than a week to figure out how to reverse the bite, or else she's going to end up as the perpetually undead. And not only will she be a vampire, she'll also be bonded to Magnus—the bloodsucker who bit her—forever. And forever is a really long time...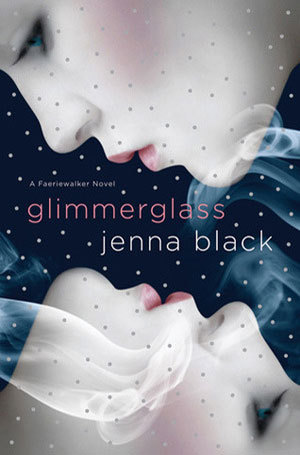 Glimmerglass
by Jenna Black
Series: Faeriewalker #1
Published by St. Martin's Griffin on May 25th 2010
Pages: 294
Format: eBook
Source: Purchased
Amazon | B&N
Goodreads


It's all she's ever wanted to be, but it couldn't be further from her grasp...
Dana Hathaway doesn't know it yet, but she's in big trouble. When her alcoholic mom shows up at her voice recital drunk, again, Dana decides she's had enough and runs away to find her mysterious father in Avalon: the only place on Earth where the regular, everyday world and the captivating, magical world of Faerie intersect. But from the moment Dana sets foot in Avalon, everything goes wrong, for it turns out she isn't just an ordinary teenage girl, she's a Faeriewalker, a rare individual who can travel between both worlds, and the only person who can bring magic into the human world and technology into Faerie.
Dana finds herself tangled up in a cutthroat game of Fae politics. Someone's trying to kill her, and everyone seems to want something from her, from her new-found friends and family to Ethan, the hot Fae guy Dana figures she'll never have a chance with... until she does. Caught between two worlds, Dana isn't sure where she'll ever fit in and who can be trusted, not to mention if her world will ever be normal again.
 My Review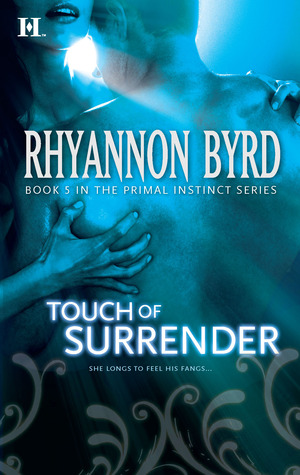 Touch of Surrender
by Rhyannon Byrd
Series: Primal Instinct #5
Published by HQN Books on April 27th 2010
Genres: Paranormal Romance
Pages: 345
Format: Paperback
Source: Purchased
Amazon | B&N
Goodreads


With his auburn hair and lean build, Kierland Scott looks more man than lycan. But his wolf instincts are aroused by the gray-eyed Morgan Cantrell. Not because of her beauty, but because of her long-ago betrayal, a fateful choice that made their love impossible.
Now, however, the two Watchmen must team up, leaving the placid Lake Country for the forests of Scandinavia. To rescue Kierland's brother, they must track a vampire—and use their combined shape-shifting sensitivities in a battle that will take them beyond death. As the two learn to seek together, they begin to understand the history that has driven them apart. But they will have to overcome death itself, if their shared passion is to have a chance.
 My Review:
I received this book for free from the Author in exchange for an honest review. This does not affect my opinion of the book or the content of my review.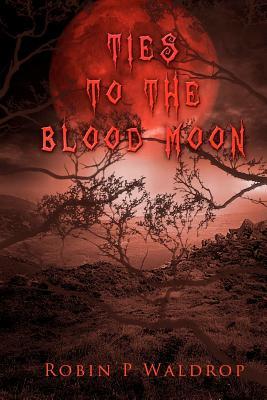 Ties to the Blood Moon
by Robin P. Waldrop, Claudia McKinney
Series: Blood Moon #1
Published by Createspace on January 31st 2012
Pages: 325
Format: eArc
Amazon | B&N
Goodreads


Myths. Legends. fairytales. For most people they are stories, but for one girl they are her history. Genevieve finds herself in a world she never knew existed. And she's not sure if she wants to be a part of it.
My Review